Textbook
Fundamentals of Geographical Information Systems, 4th Edition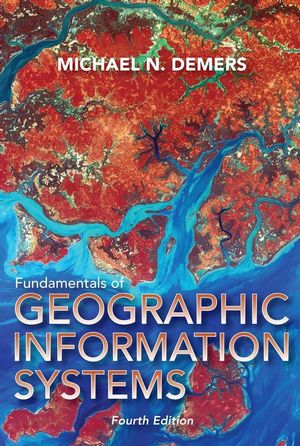 Locate your place in the exciting field of GIS

In existence since 1962, Geographical Information Systems (GIS) are really coming into their own today. And not just in your car's GPS system or your cell phone's tracking capabilities. GIS is finding applications throughout science, government, business, and industry, from regional and community planning, architecture, and transportation to public health, crime mapping, and national defense.

Michael DeMers's Fundamentals of Geographic Information, Fourth Edition brings an already essential text up to date, capturing the significant developments in the field and responding to the needs of a diverse set of readers, from geographers to students in a host of other fields.

If you are a non-geographer or new to GIS, get a quick introduction to the "lay of the land" of GIS through the new "Spatial Learner's Permit" section. Then join in the excitement of discovery with GIS databases as you absorb the such concepts and skills as digital geographic data and maps, GIS data models, spatial analysis, measurement and classification, cartographic modeling, and GIS design.

Responding to both the needs and technical skills of today's students, this Fourth Edition:
* Makes concepts accessible to students from a wide range of backgrounds
* Offers more practical and relevant coverage of GIS design and implementation
* Reflects the latest changes in GIS applications
* Examines in greater depth the underlying computer science behind GIS
* Uncovers the most recent developments on GIS research
* Expands coverage of the increasingly robust literature on cartographic visualization
* Includes Web-based labs and links to current and updated dataset resources

Taking an open-ended, hands-on approach that gets you to ask your own questions about the underlying concepts, the Fourth Edition helps you not only master the basics but acquire the active problem-solving skills that are a key component of success in the GIS industry.
See More
Unit 1. Introduction.
Chapter 1: Introduction to Digital Geography.
Unit 2. Digital Geographic Data and Maps.
Chapter 2. Basic Geographic Concepts.
Chapter 3. Map Basics.
Chapter 4. GIS: Computer Structure Basics.
Chapter 5. GIS Data Models.
Unit 3. Input, Storage, and Editing.
Chapter 6. GIS Input.
Chapter 7. Data Storage and Editing.
Unit 4. Spatial Analysis.
Chapter 8. Query and Description.
Chapter 9. Measurement.
Chapter 10. Classification.
Chapter 11. Statistical Surfaces.
Chapter 12. Terrain Analysis.
Chapter 13. Spatial Arrangement.
Chapter 14. Map Overlay.
Chapter 15. Cartographic Modeling.
Unit 5. GIS Output.
Chapter 16. Cartography and Visualization.
Unit 6. GIS Design Issues.
Chapter 17. GIS Design.
See More
Michael N. DeMers is an Associate Professor of Geography at New Mexico State University.  He holds a BS and MS from University of North Dakota, and a Ph.D from University of Kansas.
See More
New introductory chapter, Spatial Learner s Permit makes this text even more accessible to students without GIS backgrounds.
More in-depth examination of the underlying computer science behind GIS.
Expanded coverage of the increasingly robust literature on cartographic visualization.
See More
Explicit learning objectives at the beginning of each chapter detail precisely what students will be expected to know, allowing professors to create lesson plans and strategies to match.
End-of-chapter questions test students' knowledge of key concepts.
See More
Instructors Resources
ENHANCE YOUR COURSE
Digital evaluation copy available for this title
Request Copy

Contact your Wiley Representative
Find Your Rep

See More
See Less
Purchase Options

Information about Wiley E-Texts:
Wiley E-Texts are powered by VitalSource and accessed via the VitalSource Bookshelf reader, available online and via a downloadable app.
Wiley E-Texts are accessible online and offline, and can be read on a variety of devices, including smartphones and tablets.
Wiley E-Texts are non-returnable and non-refundable.
Wiley E-Texts are protected by DRM. For specific DRM policies, please refer to our FAQ.
WileyPLUS registration codes are NOT included with any Wiley E-Text. For informationon WileyPLUS, click here .
To learn more about Wiley E-Texts, please refer to our FAQ.

Information about e-books:
E-books are offered as e-Pubs or PDFs. To download and read them, users must install Adobe Digital Editions (ADE) on their PC.
E-books have DRM protection on them, which means only the person who purchases and downloads the e-book can access it.
E-books are non-returnable and non-refundable.
To learn more about our e-books, please refer to our FAQ.