Textbook
A History of Modern Psychology, 3rd Edition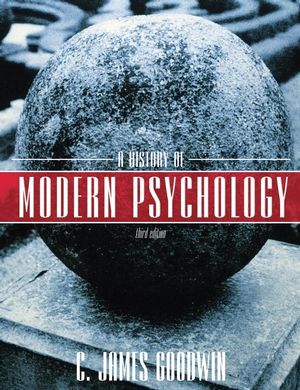 With the Third Edition of Goodwin's
A History of Modern Psychology
, students will learn about the fascinating men and women who helped create and shape the field of psychology. They will also develop a deeper understanding of the many interconnections that exist among the different areas of psychology. Goodwin's book not only provides accounts of the lives and contributions of psychology's pioneers set into historical context; it also contains original writings by these psychologists, interwoven with informative comments from the author. The text is written in a conversational and engaging style with discrete attention to recent scholarship in the history of psychology, especially that of the past 150 years.
Interested in the text? Be sure to take a look at its companion, Annotated Readings in the History of Modern Psychology, 1e at www.wiley.com/college/goodwin.
See More
Chapter 1. Introducing Psychology's History.
Chapter 2. The Philosophical Context.
Chapter 3. The Neurophysiological Context.
Chapter 4. Wundt and German Psychology.
Chapter 5. Darwin's Century: Evolutionary Thinking.
Chapter 6. American Pioneers.
Chapter 7. Structuralism and Functionalism.
Chapter 8. Applying the New Psychology.
Chapter 9. Gestalt Psychology.
Chapter 10. The Origins of Behaviorism.
Chapter 11. The Evolution of Behaviorism.
Chapter 12. Mental Illness and its Treatment.
Chapter 13. Psychology's Practitioners.
Chapter 14. Psychological Science in the Post-War Era.
Chapter 15. Linking Psychology's Past and Present.
See More
Greater coverage of the history of research methodologies and statistics.
More detailed contextual and psychological information added to Key Date Boxes
In Perspective sections at the end of each chapter demonstrate how the information in the chapter has relevance for the 21st century psychology major.
30 new references and a myriad of new photos and figures.
See More
The writing style is conversational and congenial for undergraduates, while maintaining academic rigor.
Organization enables students to connect history with the rest of the psychology curriculum.
Timelines are included throughout the text to further enable students to link psychology to the rest of the world.
See More
Purchase Options
Hardcover&nbsp&nbsp&nbsp
A History of Modern Psychology, 3rd Edition
ISBN : 978-0-470-12912-8
592 pages
February 2008, ©2009
$181.95&nbsp&nbsp&nbsp
BUY

Information about Wiley E-Texts:
Wiley E-Texts are powered by VitalSource technologies e-book software.
With Wiley E-Texts you can access your e-book how and where you want to study: Online, Download and Mobile.
Wiley e-texts are non-returnable and non-refundable.
WileyPLUS registration codes are NOT included with the Wiley E-Text. For informationon WileyPLUS, click here .
To learn more about Wiley e-texts, please refer to our FAQ.

Information about e-books:
E-books are offered as e-Pubs or PDFs. To download and read them, users must install Adobe Digital Editions (ADE) on their PC.
E-books have DRM protection on them, which means only the person who purchases and downloads the e-book can access it.
E-books are non-returnable and non-refundable.
To learn more about our e-books, please refer to our FAQ.