Textbook
Fundamentals of Human Resource Management, 10th Edition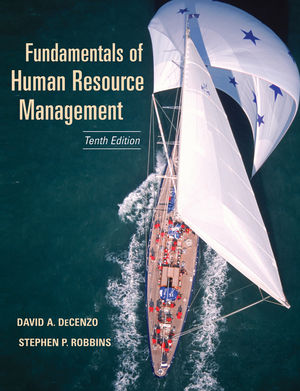 When organizations face challenges such as an economy in recession, they depend on thoroughly trained professionals to react quickly to changes and create strategies for success. 
Fundamentals of Human Resource Management
offers a concise and practical approach to selecting and training people with the skills necessary to pursue strategies effectively.  This engaging text offers a managerial decision-making context through a wealth of real-world applications, including real-world cases and hands-on interactive scenarios.
Bestselling authors David DeCenzo and Stephen Robbins have channeled their significant industry experience for students throughout the U.S. and across the world.  For every element of HRM—recruitment, training, motivation, retention, safety, employment law, globalization, and compensation—the new 10th Edition contains content, cases, and questions both broad and thorough enough to equip all students with a solid foundation to achieve professional success.
See More
PART 1 UNDERSTANDING HRM.
Chapter 1 The Dynamic Environment of HRM.
Chapter 2 Fundamentals of Strategic HRM.
PART 2 THE LEGAL AND ETHICAL CONTEXT OF HRM.
Chapter 3 Equal Employment Opportunity.
Chapter 4 Employee Rights and Discipline.
PART 3 STAFFING THE ORGANIZATION.
Chapter 5 Human Resource Planning and Job Analysis.
Chapter 6 Recruiting.
Chapter 7 Foundations of Selection.
PART 4 TRAINING AND DEVELOPMENT.
Chapter 8 Socializing, Orienting, and Developing Employees.
Chapter 9 Managing Careers.
PART 5 MAINTAINING HIGH PERFORMANCE.
Chapter 10 Establishing the Performance Management System.
Chapter 11 Establishing Rewards and Pay Plans.
Chapter 12 Employee Benefits.
Chapter 13 Ensuring a Safe and Healthy Work Environment.
PART 6 LABOR-MANAGEMENT ENVIRONMENTS.
Chapter 14 Understanding Labor Relations and Collective Bargaining.
Endnotes.
Glossary.
Company Index.
Subject Index.
See More
New and updated topics in every chapter:
Chapter 1:  International Diversity, HRM Challenges

Chapter 2:  The link between HR and business strategy, HR careers, and Outsourcing HR

Chapter 3:  Small business and the USERRA and VIBA, Recruiting Diversity, English-Only Rules, EEOC, and younger workers

Chapter 4:  Reorganized to include Employee Discipline, Employee Dismissal; Company Monitoring of Employees; Workplace Romance, and Fraternization Policies

Chapter 5:  Department of Labor O*NET Database and Content Model, Turnover at Transportation, and Communication Skills Activity

Chapter 6:  Employment Branding

Chapter 7:  Acceptable and Unacceptable Interview Questions, social networking sites including Facebook and LinkedIn, Effective Interviewing, Creating Effective Interview Questions Activity

Chapter 8:  Addition of Employee Handbook and Communication sections

Chapter 9:  Career, Growing and Declining Jobs

Chapter 10:  Technology in the Appraisal Process, Creating a Performance Appraisal team activity, How to Write Effective Appraisal Comments

Chapter 11:  Salary Negotiation and Discrimination, Violations of Fair Labor Standards Act, Merit Pay learning activity

Chapter 12:  Social Security and the "Silver Tsunami," Reducing Healthcare Costs for Employers, Decline of Defined Benefit Retirement Plans, Paid Time Off (PTO)

Chapter 13:  OSHA Assistance to Employers, OSHA's Top Ten Violations
See More
Concise, thorough coverage. 
Clear, conversational style.
A practical look at the most critical issues in human resource management.
Features proven to facilitate learning:
Learning Outcomes, Chapter Summaries, Key Terms, Review and Discussion Questions

The HRM Workshop: End-of-chapter sections promote analytical, diagnostic, team-building, investigative, presentation, communication, and writing skills.  These experiential exercises provide opportunities to work with real cases, short research papers, or class presentations.

Examples and cases from real companies such as the Major League Baseball Players Association, UPS, General Electric, OSHA, and more.

Integrated theme boxes: HRM Skill Boxes, HRM Ethical Situations, Meet an HRM Professional.
See More
Instructors Resources
ENHANCE YOUR COURSE
Digital evaluation copy available for this title
Request Copy

Contact your Wiley Representative
Find Your Rep

See More
See Less
Students Resources
See More
See Less
Purchase Options
Fundamentals of Human Resource Management, 10th Edition
ISBN : 978-0-470-57171-2
432 pages
June 2010, ©2010
Loose-leaf&nbsp&nbsp&nbsp
Fundamentals of Human Resource Management, 10th Edition Binder Ready Version
ISBN : 978-0-470-55668-9
448 pages
November 2009, ©2010
Paperback&nbsp&nbsp&nbsp
Fundamentals of Human Resource Management, 10th Edition
ISBN : 978-0-470-16968-1
432 pages
November 2009, ©2010

Information about Wiley E-Texts:
Wiley E-Texts are powered by VitalSource technologies e-book software.
With Wiley E-Texts you can access your e-book how and where you want to study: Online, Download and Mobile.
Wiley e-texts are non-returnable and non-refundable.
WileyPLUS registration codes are NOT included with the Wiley E-Text. For informationon WileyPLUS, click here .
To learn more about Wiley e-texts, please refer to our FAQ.

Information about e-books:
E-books are offered as e-Pubs or PDFs. To download and read them, users must install Adobe Digital Editions (ADE) on their PC.
E-books have DRM protection on them, which means only the person who purchases and downloads the e-book can access it.
E-books are non-returnable and non-refundable.
To learn more about our e-books, please refer to our FAQ.
This title is also available on :