Textbook
Patterns of Entrepreneurship Management, 3rd Edition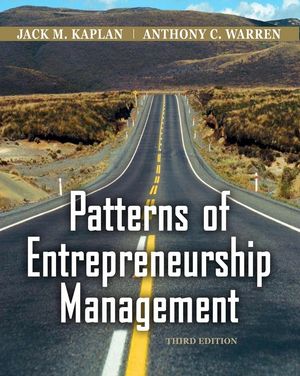 Patterns of Entrepreneurship Management
 is the essential road-map for anyone interested in starting a new business.  Years of teaching, writing, and launching numerous successful ventures have made Kaplan and Warren experts in the area of entrepreneurship.  Revised and updated, the 3
rd
edition provides students with the cases, applications, tools, mindset, and inspiration to achieve their goals.
Clearly and methodically, Patterns outlines the key issues, current thinking, problems, and solutions students will face throughout the course of their entrepreneurial careers.  Coverage extends from developing an idea and business plan, finding financing, maintaining high profits, going public, and everything in between.
See More
PART ONE: GETTING STARTED AS AN ENTREPRENEUR
Chapter 1: What is an Entrepreneur?
Chapter 2: The Entrepreneurial Process 
Chapter 3: The Art of Innovation—Developing Ideas and Business Opportunities 
Chapter 4: Analyzing the Market, Customers, and Competition 
Chapter 5: Writing the Winning Business Plan 
Chapter 6: Setting Up the Company
PART TWO: MONEY SOURCES – FINDING AND MANAGING THE PROCESS
Chapter 7: Bootstrapping and Financing the Closely Held Company 
Chapter 8: Equity Financing for High Growth 
Chapter 9: Managing the Money
PART THREE: IMPLEMENTATION
Chapter 10: Discovering Value in Intellectual Property: The Competitive Edge 
Chapter 11: Business Models and the Power of Information 
Chapter 12: Managing the Team 
PART FOUR: COMMUNICATING AND EXITING
Chapter 13: Communicating the Opportunity and Making a Presentation
Chapter 14: Scaling and Exiting the Venture
See More
NEW featured case on real-life entrepreneur Wayne McVicker's Starting Something. McVicker's award-winning book is condensed into a 90-page casebook available for download on the student BCS.  Follow the engrossing story of software firm-turned-dotcom powerhouse Neoforma.  Paired with the text, this casebook gives the 3rd edition a more experiential approach!
NEW real-world case studies:  Even more new or revised examples have students confront the problems that challenge every entrepreneur—over 36 cases, mini-cases, and profiles!
NEW "Management Track" added:   Based on the master case's company, Neoforma, key management topics in entrepreneurship are addressed and explored in an academic context.  Alongside the Introduction to Entrepreneurship and Entrepreneurial Finance tracks, this text lends itself to use in multiple courses!
Greater emphasis on application:   In four roadmap phases of entrepreneurship, students practice the skills required to start and build a company in today's complex world.
See More
A Real-World Focus:  Conceptual material is linked to the plans, problems, and solutions that real entrepreneurs have encountered in their own businesses.
A Clear Road Map for Success:  The four stages of entrepreneurship—starting the venture, financing, implementation, and launching the business—provides the framework in which objectives, outlines, practical tasks, and checklists are incorporated.
Opportunities for Practice via Exercises, Roadmap actions, and critical thinking questions give students chances to test, apply, and hone their entrepreneurial skills.
Brimming with Insight:  tips, tried-and-true methods, pitfalls to avoid, and other important considerations based on real life experiences.
Extensive supplemental material:  Additional interactive cases, demonstrations of financial techniques, sample business plans and sample legal documents are all available on the book's website, making this a very comprehensive introduction to entrepreneurship.
See More
Brilliant Book by Brilliant Columbia Business Professor!

I purchased this book for the Entrepreneurship course for the MBA program at Columbia Business School.  There are hundreds of entrepreneurship books out there, but this book is truly differentiated from the rest of the crowd because it is written by Professor Kaplan. Professor Kaplan has taught many of the successful entrepreneurs and top business school students. He has proven track record for his own venture activities. His amazing network of entrepreneurs, venture capitalists, angels, and other entrepreneurship organizations has helped the class to learn tremendously and gain confidence to start our own ventures. For those who can't take his course, getting this book will be like taking his course indirectly. The book will provide detailed concepts required for a successful entrepreneur based on his teaching, real world experience, and industry network. His course, which is accurately summarized in this book, was by far the best course I took at Columbia Business School for my MBA degree. Therefore, I recommend this book with my utmost confidence. This book has saved me from repeating common mistakes for starting my own venture and guided me with step-by-step road map to follow.

     - Joshua K., Student Review
See More
Instructors Resources
ENHANCE YOUR COURSE
Digital evaluation copy available for this title
Request Copy

Contact your Wiley Representative
Find Your Rep

See More
See Less
Students Resources
See More
See Less
Purchase Options
Wiley E-Text&nbsp&nbsp&nbsp

Patterns of Entrepreneurship Management, 3rd Edition
ISBN : 978-0-470-55977-2
432 pages
September 2009, ©2010
Paperback&nbsp&nbsp&nbsp
Patterns of Entrepreneurship Management, 3rd Edition
ISBN : 978-0-470-16969-8
432 pages
August 2009, ©2010
$183.95&nbsp&nbsp&nbsp
BUY

Information about Wiley E-Texts:
Wiley E-Texts are powered by VitalSource technologies e-book software.
With Wiley E-Texts you can access your e-book how and where you want to study: Online, Download and Mobile.
Wiley e-texts are non-returnable and non-refundable.
WileyPLUS registration codes are NOT included with the Wiley E-Text. For informationon WileyPLUS, click here .
To learn more about Wiley e-texts, please refer to our FAQ.

Information about e-books:
E-books are offered as e-Pubs or PDFs. To download and read them, users must install Adobe Digital Editions (ADE) on their PC.
E-books have DRM protection on them, which means only the person who purchases and downloads the e-book can access it.
E-books are non-returnable and non-refundable.
To learn more about our e-books, please refer to our FAQ.
This title is also available on :