Textbook
Marketing Mistakes and Successes, 11th Edition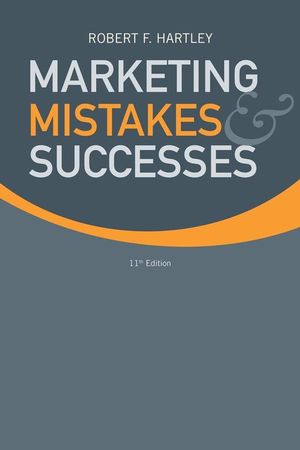 This best-selling casebook, now in its 11
th
edition, presents a series of fascinating scenarios that let you learn from some of today's most prominent business players.  In an engaging, conversational style, Robert Hartley provides detailed analyses of the decisions and practices that led to major marketing wars, comebacks, mistakes, and successes. These real-life accounts are packed with practical tips, insider insights, and marketing advice.
As a supplement or main text, this book can be used in a variety of courses, both undergraduate and graduate, ranging from introduction to marketing, marketing management and strategic marketing.
See More
Chapter 1: Introduction.
Part I: Entrepreneurial Adventures.
Chapter 2: Google: An Entrepreneurial Juggernaut.
Chapter 3: Starbucks: A Paragon of Growth and Employee Benefits Finds Storms.
Chapter 4: Boston Beer: Is Greater Growth Possible?
Part II: Marketing Wars.
Chapter 5: Cola Wars: Coca-Cola vs. Pepsi.
Chapter 6: PC Wars: Hewlett-Packard vs. Dell.
Chapter 7: Airliner Wars: Boeing vs. Airbus; and Recent Outsourcing Woes.
Part III: Comebacks.
Chapter 8: McDonald's: Rebirth Through Moderation.
Chapter 9: Harley-Davidson: Creating An Enduring Mystique.
Chapter 10: Continental Airlines: Salvaging From the Ashes.
Part I: Marketing Management Mistakes.
Chapter 11: Borden: Letting Brands Wither.
Chapter 12: United Way: A Nonprofit Tries to Cope with Image Destruction.
Chapter 13: DaimlerChrysler: A Merger Made in Hades.
Chapter 14: Newell's Acquisition of Rubbermaid Becomes an Albatross.
Chapter 15: Euro Disney: Bungling a Successful Format.
Chapter 16: Maytag: An Incredible Sales Promotion in England; and Outsourcing.
Chapter 17: Kmart and Sears: A Hedge Fund Manager's Challenge.
Part V: Notable Marketing Successes.
Chapter 18: Southwest Airlines: Success Is Finally Contested.
Chapter 19: Nike: A Powerhouse Brand.
Chapter 20: Vanguard: Is Advertising Really Needed?
Part VI: Ethical Mistakes.
Chapter 21: Merck's Vioxx: Catastrophe and Other Problems.
Chapter 22: MetLife: Deceptive Sales Practices.
Chapter 23: Ford Explorers with Firestone Tires: A Killer Scenario Ill Handled.
Chapter 24 Conclusions: What We Can Learn.
See More
Robert F. Hartley is currently professor emeritus in the marketing department at Cleveland State University.
See More
New Cases on popular companies such as Google and Starbucks.
Ethical Mistakes section returns in the 11th edition because organizations need to be responsive to society's best interests now more than ever. 
Comebacks section, which highlights firms rising from adversity, has also been reinstated by popular demand.
Make Your Own Analysis section, based on reviewer recommendations, asks students to stretch themselves by drawing their own conclusions to the cases and defending them.
Assess the Latest Developments sections appear in cases that are so current they are still developing.  
Three cases address social and ethical concerns in today's environment of close scrutiny over business practices.
See More
Learning insights help students see how certain practices--both mistakes and successes--cross company lines and are prone to be either traps for the unwary or success modes. 
Information Boxes and Issue Boxes are included within each chapter to highlight relevant concepts and issues.
Profile Boxes introduce students to the marketers involved in the case and how they made their decisions.
Discussion Questions and Hands-On Exercises encourage and stimulate student involvement. 
Team Debate Exercises involve students in debates on issues discussed in the respective cases. 
Invitation to Research questions allow students to take the cases a step further, to investigate what has happened since the case was written.
Devil's Advocate exercises allow students to argue against a proposed course of action to test its merits.
The various learning insights are summarized and classified into general conclusions in the final chapter.
Popular Marketing Wars cases pit archrivals against one another in three hotly contested arenas.
See More
Instructors Resources
ENHANCE YOUR COURSE

Instant access to textbooks as eTextbooks.
Learn more

Digital evaluation copy available for this title
Request Copy

Contact your Wiley Representative
Find Your Rep

See More
See Less
Purchase Options

Information about Wiley E-Texts:
Wiley E-Texts are powered by VitalSource technologies e-book software.
With Wiley E-Texts you can access your e-book how and where you want to study: Online, Download and Mobile.
Wiley e-texts are non-returnable and non-refundable.
WileyPLUS registration codes are NOT included with the Wiley E-Text. For informationon WileyPLUS, click here .
To learn more about Wiley e-texts, please refer to our FAQ.

Information about e-books:
E-books are offered as e-Pubs or PDFs. To download and read them, users must install Adobe Digital Editions (ADE) on their PC.
E-books have DRM protection on them, which means only the person who purchases and downloads the e-book can access it.
E-books are non-returnable and non-refundable.
To learn more about our e-books, please refer to our FAQ.
This title is also available on :