Textbook
How Everything Works: Making Physics Out of the Ordinary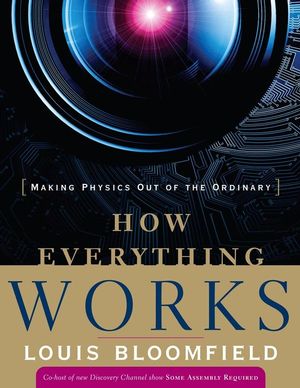 By explaining the physics behind ordinary objects, this book unravels the mysteries of how things work. Using familiar examples from everyday life and modern technology, this book explains the seemingly inexplicable phenomena we encounter all around us. As it examines everything from roller coasters to radio, musical instruments to makeup, and knuckleballs to nuclear weapons, How Everything Works provides the answers to such questions as why the sky is blue, why metal is a problem in microwave ovens, and why some clothes require dry cleaning. With fascinating and fun real-life examples that provide the answers to scores of questions, How Everything Works is nothing short of a user's manual to our everyday world.
See More
Chapter 1. Things That Move.
Chapter 2. More Things That Move.
Chapter 3. Mechanical Things.
Chapter 4. More Mechanical Things.
Chapter 5. Things Involving Fluids.
Chapter 6. Things That Move With Fluids.
Chapter 7. Thermal Things.
Chapter 8. Things That Work With Heat.
Chapter 9. Things With Resonances and Mechanical Waves.
Chapter 10. Electric Things.
Chapter 11. Magnetic and Electromagnetic Things.
Chapter 12. Electronic Things.
Chapter 13. Things That Use Electromagnetic Waves.
Chapter 14. Things That Involve Light.
Chapter 15. Optical Things.
Chapter 16. Things That Use Recent Physics.
Chapter 17. Things That Involve Materials.
Chapter 18. Things That Involve Chemical Physics.
Appendix A. Relevant Mathematics.
Appendix B. Units, Conversion of Units.
Glossary.
Photo Credits.
Index.
See More
Louis A. Bloomfield
is Professor of Physics at the
University of Virginia
. He also works extensively with professional societies and the media to explain physics to the general public. He maintains a website where he answers a wide range of questions on physics.
Bloomfield
received his Ph.D. from Stanford and was a postdoctoral fellow at AT&T Bell Laboratories.
Bloomfield
has been widely recognized for his teaching of physics and science to thousands of non-science students at the
University
of
Virginia
and is the recipient of a 1998 State of
Virginia Outstanding Faculty Award
and the 2001 Pegram Medal of the Southeastern Section of the American Physical Society. He is the author of almost 100 publications in the fields of atomic clusters, autoionizing states, high-resolution laser spectroscopy, nonlinear optics, computer science, and general science literacy, and of the successful introductory textbook
How Things Work: The Physics of Everyday Life, 3rd Edition
(Wiley 2006).
See More
Purchase Options

Information about Wiley E-Texts:
Wiley E-Texts are powered by VitalSource and accessed via the VitalSource Bookshelf reader, available online and via a downloadable app.
Wiley E-Texts are accessible online and offline, and can be read on a variety of devices, including smartphones and tablets.
Wiley E-Texts are non-returnable and non-refundable.
Wiley E-Texts are protected by DRM. For specific DRM policies, please refer to our FAQ.
WileyPLUS registration codes are NOT included with any Wiley E-Text. For informationon WileyPLUS, click here .
To learn more about Wiley E-Texts, please refer to our FAQ.

Information about e-books:
E-books are offered as e-Pubs or PDFs. To download and read them, users must install Adobe Digital Editions (ADE) on their PC.
E-books have DRM protection on them, which means only the person who purchases and downloads the e-book can access it.
E-books are non-returnable and non-refundable.
To learn more about our e-books, please refer to our FAQ.