Textbook
Project Management: A Managerial Approach, 7th Edition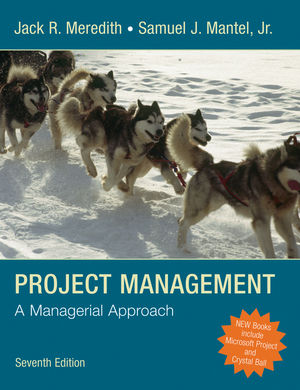 The use of project management to accomplish the goals of society's varied organizations continues to grow.  Insight into human behavior, knowledge of organizational issues, and skill with quantitative methods are all necessary for successful project management.
Meredith and Mantel have drawn from personal experiences in the workplace to develop a text that teaches the reader how to build upon skills necessary for selecting, initiating, operating, and controlling all types of projects.
Suitable for students and professionals alike, Project Management 7e equips the reader with the tools essential for effective project management. 
See More
CHAPTER 1: Projects in Contemporary Organizations.
1.1 The Definition of a "Project".
1.2 Why Project Management?
1.3 The Project Life Cycle.
1.4 The Structure of This Text.
DIRECTED READING: Lessons for an Accidental Profession.
PART I: PROJECT INITIATION.
CHAPTER 2: Strategic Management and Project Selection.
2.1 Project Management Maturity.
2.2 Project Selection and Criteria of Choice.
2.3 The Nature of Project Selection Models.
2.4 Types of Project Selection Models.
2.5 Analysis under Uncertainty—The Management of Risk.
2.6 Comments on the Information Base for Selection.
2.7 Project Portfolio Process.
2.8 Project Proposals.
CASE: Pan Europa Foods S.A.
DIRECTED READING: From Experience: Linking Projects to Strategy.
CHAPTER 3: The Project Manager.
3.1 Project Management and the Project Manager.
3.2 Special Demands on the Project Manager.
3.3 Selecting the Project Manager.
3.4 Problems of Cultural Differences.
3.5 Impact of Institutional Environments.
3.6 Multicultural Communications and Managerial Behavior.
CASE: The National Jazz Hall of Fame.
DIRECTED READING: What It Takes to Be a Good Project Manager.
CHAPTER 4: Negotiation and the Management of Conflict.
4.1 The Nature of Negotiation.
4.2 Partnering, Chartering, and Scope Change.
4.3 Conflict and the Project Life Cycle.
4.4 Some Requirements and Principles of Negotiation.
DIRECTED READING: Methods of Resolving Interpersonal Conflict.
CHAPTER 5: The Project in the Organizational Structure.
5.1 The Project as Part of the Functional Organization.
5.2 Pure Project Organization.
5.3 The Matrix Organization.
5.4 Mixed Organizational Systems.
5.5 Choosing an Organizational Form.
5.6 Two Special Cases—Risk Management and the Project Office.
5.7 The Project Team.
5.8 Human Factors and the Project Team.
CASE: Oilwell Cable Company, Inc.
DIRECTED READING: The Virtual Project: Managing Tomorrow's Team Today.
PART II: PROJECT PLANNING.
CHAPTER 6: Project Planning.
6.1 Initial Project Coordination and the Project Plan.
6.2 Systems Integration.
6.3 The Action Plan.
6.4 The Work Breakdown Structure and Linear Responsibility Chart.
6.5 Interface Coordination through Integration Management.
CASE: A Project Management and Control System for Capital Projects.
DIRECTED READING: Planning for Crises in Project Management.
CHAPTER 7: Budgeting and Cost Estimation.
7.1 Estimating Project Budgets.
7.2 Improving the Process of Cost Estimation.
CASE: Automotive Builders, Inc.: The Stanhope Project.
DIRECTED READING: Three Perceptions of Project Cost.
CHAPTER 8: Scheduling.
8.1 Background.
8.2 Network Techniques: PERT (ADM) and CPM (PDM).
8.3 Risk Analysis Using Simulation with Crystal Ball.
8.4 Using these Tools.
CASE: The Sharon Construction Corporation.
CHAPTER 9: Resource Allocation.
9.1 Critical Path Method—Crashing a Project.
9.2 The Resource Allocation Problem.
9.3 Resource Loading.
9.4 Resource Leveling.
9.5 Constrained Resource Scheduling.
9.6 Multiproject Scheduling and Resource Allocation.
9.7 Goldratt's Critical Chain.
CASE: D.U. Singer Hospital Products Corp.
PART III: PROJECT EXECUTION.
CHAPTER 10: Monitoring and Information Systems.
10.1 The Planning-Monitoring-Controlling Cycle.
10.2 Information Needs and Reporting.
10.3 Earned Value Analysis.
10.4 Computerized PMIS (Project Management Information Systems).
CASE: The Project Manager/Customer Interface.
CHAPTER 11: Project Control.
11.1 The Fundamental Purposes of Control.
11.2 Three Types of Control Processes.
11.3 The Design of Control Systems.
11.4 Control: A Primary Function of Management.
11.5 Control of Change and Scope Creep.
CASE: Peerless Laser Processors.
CHAPTER 12: Project Auditing.
12.1 Purposes of Evaluation—Goals of the System.
12.2 The Project Audit.
12.3 Construction and Use of the Audit Report.
12.4 The Project Audit Life Cycle.
12.5 Some Essentials of an Audit/Evaluation.
12.6 Measurement.
CASE: Theater High Altitude Area Defense (THAAD).
DIRECTED READING: An Assessment of PostProject Reviews.
CHAPTER 13: Project Termination.
13.1 The Varieties of Project Termination.
13.2 When to Terminate a Project.
13.3 The Termination Process.
13.4 The Final Report—A Project History.
See More
Jack Meredith is currently Professor of Management & Broyhill Distinguished Scholar & Chair in Operations at the Graduate School of Management at Wake Forest University.  Dr. Meredith's research has focused on the strategic and operational problems that managers face, particularly those concerning the management of advanced technology.  He received his BS and BSME at Oregon State University and his MBA and PhD at the University of California at Berkeley.  Dr. Meredith has written eight books on operations management, project management and management science, including "Project Management" and "Operations Management for MBAs." He serves as outgoing editor in chief of the Journal of Operations Management. He received the school's inaugural Cowan Research Prize in 2002, the Academy of Management's 2003 Distinguished OM Scholar Award, and was inducted into the Oregon State University Engineering Hall of Fame in 2004.
See More
Updated and revised, this edition features current coverage of topics such as:
Six-Sigma
Ethics
Charting and Partnering
The Role of the Project Management Office
SAP
Stage Gates
A free 140-day trial edition of Crystal Ball and a 60-day trial of Microsoft Project Management 2007 are also included in each new copy of the book. 
See More
The project life cycle remains the primary organizational guideline of the book.
The need to deal with change is the one constant task for the project manager. The text reflects this in repeated references to the organizational, interpersonal, economic, and technical glitches that create crises in the life cycle of every project.
The text includes material concerning the major areas of the Project Management Body of Knowledge (PMBOK) as defined by the PMI.  Icons are included throughout the text to bring attention to its importance.
Text material is based on the managers and students who helped solidify ideas about proper methods for managing projects and proper ways of teaching the subject.
See More
Instructors Resources
ENHANCE YOUR COURSE
Digital Evaluation Available
Request Copy

Contact your Wiley Representative
Find Your Rep

See More
See Less
Students Resources
See More
See Less
Purchase Options
Wiley E-Text&nbsp&nbsp&nbsp

Project Management: A Managerial Approach, 7th Edition
ISBN : 978-0-470-46585-1
November 2008, ©2009
Hardcover&nbsp&nbsp&nbsp
Project Management: A Managerial Approach, 7th Edition
ISBN : 978-0-470-22621-6
608 pages
December 2008, ©2009
$219.95&nbsp&nbsp&nbsp
BUY

Information about Wiley E-Texts:
Wiley E-Texts are powered by VitalSource technologies e-book software.
With Wiley E-Texts you can access your e-book how and where you want to study: Online, Download and Mobile.
Wiley e-texts are non-returnable and non-refundable.
WileyPLUS registration codes are NOT included with the Wiley E-Text. For informationon WileyPLUS, click here .
To learn more about Wiley e-texts, please refer to our FAQ.

Information about e-books:
E-books are offered as e-Pubs or PDFs. To download and read them, users must install Adobe Digital Editions (ADE) on their PC.
E-books have DRM protection on them, which means only the person who purchases and downloads the e-book can access it.
E-books are non-returnable and non-refundable.
To learn more about our e-books, please refer to our FAQ.
This title is also available on :