Textbook
Essentials of Business Processes and Information Systems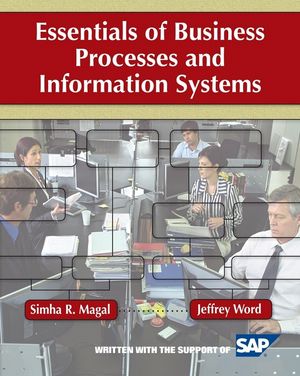 Essentials of Business Processes and Information Systems bridges the gap between the fundamentals of how businesses operate (processes) and the tools that business people use to accomplish their tasks (systems). The authors have developed this supplement text for an introductory MIS or general business course to establish a fundamental understanding of business processes. Business students, regardless of their functional discipline, will be able to apply the real-world concepts discussed in this text immediately upon entering the workforce. As more and more businesses adopt enterprise systems globally, it becomes increasingly important for business schools to offer a process-based curriculum to better reflect the realities of modern business. Given the integration of business operations and enterprise systems, Magal and Word have designed this text to reflect, in a practical and accessible format, how real-world business processes are managed and executed.
See More
Chapter 1: Organizations, Processes, and Information Systems.

Chapter 2: Enterprise Systems.

Chapter 3: The Procurement Process.

Chapter 4: The Fulfillment Process.

Chapter 5: The Production Process.

Chapter 6: Integrated Processes.
See More
Simha R. Magal, Ph.D.
is Professor of Management (MIS) and Director, ERP initiative, in the Seidman College of Business, Grand Valley State University, Michigan.  He received his Ph.D. from the University of Georgia.  His primary research interests include e-business and enterprise systems.  His articles have appeared in such publications as MIS Quarterly, Journal of MIS, and Information and Management, among others.  He is Editor of AISWorld Net 
www.aisworld.org
and has served on the editorial boards of several journals.  He served as co-chair of the inaugural conference of the Midwest Association for Information Systems (MWAIS) in 2006 and as the president of MWAIS during 2008-2009.
Jeff Word, Vice President of Product Strategy, SAP AG. Mr. Word is responsible for defining SAP's future product strategy and fostering product innovation inside SAP.
Mr.. Word has more than 14 years' experience in business consulting and IT strategy working for Global 1000 companies in the high tech industry.  Over the last 8 years at SAP, he has driven the evolution of enterprise technology strategy with focus on corporate process improvement initiatives and services-based IT architecture design.
Mr.. Word is currently completing a doctorate in Information Systems at Manchester Business School in England.  His research focus is on event-driven process design and next-generation enterprise architecture.  He earned an MBA in International Management from the Thunderbird School of Global Management (1999.) 
See More
Business Processes and Information Systems
uses a blended-learning approach comprised of
three unique aspects
, in addition to standard textbook content:
Case Study:  The book illustrates all of the key concepts by utilizing a straightforward case study of an individual company throughout the book.  The case describes a manufacturing organization in terms of its key processes.  Student assignments are also based on this case.
A 2-Step Learning Process:  Students will first execute processes on paper (i.e., create the process flowcharts and documents associated with the process) then execute them in a simulated SAP® environment.
Simulated SAP Environment: Assignments and exercises in the textbook can be completed using the market-leading enterprise software, SAP®.  This book is written in partnership with SAP® and includes access to a hosted system that simulates the use of the most recent SAP® software.  Access to a live SAP® system or membership in the SAP University Alliance will not be required to use the simulated environment. This simulated SAP® environment is indistinguishable from an actual system. Assignments are automatically graded and data regarding the assignment will be submitted to the instructor.
See More
Instructors Resources
ENHANCE YOUR COURSE
Digital evaluation copy available for this title
Request Copy

Contact your Wiley Representative
Find Your Rep

See More
See Less
Students Resources
See More
See Less
Purchase Options
Wiley E-Text&nbsp&nbsp&nbsp

Essentials of Business Processes and Information Systems
ISBN : 978-0-470-46560-8
200 pages
July 2009, ©2009
Paperback&nbsp&nbsp&nbsp
Essentials of Business Processes and Information Systems
ISBN : 978-0-470-23059-6
200 pages
January 2009, ©2009

Information about Wiley E-Texts:
Wiley E-Texts are powered by VitalSource technologies e-book software.
With Wiley E-Texts you can access your e-book how and where you want to study: Online, Download and Mobile.
Wiley e-texts are non-returnable and non-refundable.
WileyPLUS registration codes are NOT included with the Wiley E-Text. For informationon WileyPLUS, click here .
To learn more about Wiley e-texts, please refer to our FAQ.

Information about e-books:
E-books are offered as e-Pubs or PDFs. To download and read them, users must install Adobe Digital Editions (ADE) on their PC.
E-books have DRM protection on them, which means only the person who purchases and downloads the e-book can access it.
E-books are non-returnable and non-refundable.
To learn more about our e-books, please refer to our FAQ.
This title is also available on :