Textbook
Principles of Communications, 6th Edition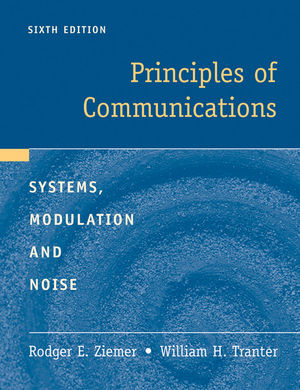 Ziemer and Tranter provide a thorough treatment of the principles of communications at the physical layer suitable for college seniors, beginning graduate students, and practicing engineers.
This is accomplished by providing overviews of the necessary background in signal, system, probability, and random process theory required for the analog and digital communications topics covered in the book. In addition to stressing fundamental concepts, sections on currently important areas such as spread spectrum, cellular communications, and orthogonal frequency-division multiplexing are provided.
While the book is aimed at a two-semester course, more than enough material is provided for structuring courses according to the needs of the students and the preferences of the instructor.


Table of Contents
CHAPTER 1: INTRODUCTION.
1.1 The Block Diagram of Communication System.
1.2 Channel Characteristics.
1.3 Summary of Systems Analysis Techniques.
1.4 Probabilistic Approaches to System Optimization.
1.5 Preview of This Book.
Further Reading.
CHAPTER 2: SIGNAL AND LINEAR SYSTEM ANALYSIS.
2.1 Signal Models.
2.2 Signal Classifications.
2.3 Generalized Fourier Series.
2.4 Further Series.
2.5 The Fourier Transform.
2.6 Power Spectral Density and Correlation.
2.7 Signals and Linear Systems.
2.8 Sampling Theory.
2.9 The Hilbert Transform.
2.10 Discrete Fourier Transform and Fast Fourier Transform.
Summary.
Further Reading.
Problems.
Computer Exercises.
CHAPTER 3: BASIC MODULATION TECHNIQUES.
3.1 Linear Modulation.
3.2 Angle Modulation.
3.3 Interference.
3.4 Feedback Demodulators: The Phase-Locked Loop.
3.5 Analog Pulse Modulation.
3.6 Delta Modulation and PCM.
3.7 Multiplexing.
Summary.
Further Reading.
Problems.
Computer Exercises.
CHAPTER 4: PRINCIPLES OF BASEBAND DIGITAL DATA TRANSMISSION.
4.1 Baseband Digital Data Transmission Systems.
4.2 Line Codes and Their Power Spectra.
4.3 Effects of Filtering of Digital Data: ISI.
4.4 Pulse Shaping: Nyquist⠙s Criterion for Zero ISI.
4.5 Zero-Forcing Equalization.
4.6 Eye Diagrams.
4.7 Synchronization.
4.8 Carrier Modulation of Baseband Digital Signals.
Summary.
Further Reading.
Problems.
Computer Exercises.
CHAPTER 5: OVERVIEW OF PROBABILITY AND RANDOM VARIABLES.
5.1 What is Probability?
5.2 Random Variables and Related Functions.
5.3 Statistical Averages.
5.4 Some Useful pdfs.
Summary.
Further Reading.
Problems.
Computer Exercises.
CHAPTER 6: RANDOM SIGNALS AND NOISE.
6.1 A Relative-Frequency Description of Random Processes.
6.2 Some Terminology of Random Processes.
6.3 Correlation and Power Spectral Density.
6.4 Linear Systems and Random Processes.
6.5 Narrowband Noise.
Summary.
Further Reading.
Problems.
Computer Exercises.
CHAPTER 7: NOISE IN MODULATION SYSTEMS.
7.1 Signal-to-Noise Ratios.
7.2 Noise and Phase Errors in Coherent Systems.
7.3 Noise in Angle Modulation.
7.4 Threshold Effect in FM Demodulation.
7.5 Noise in Pulse-Code Modulation.
Summary.
Further Reading.
Problems.
Computer Exercises.
CHAPTER 8: PRINCIPLES OF DATA TRANSMISSION IN NOISE.
8.1 Baseband Data Transmission in White Gaussian Noise.
8.2 Binary Data Transmission with Arbitrary Signal Shapes.
8.3 Modulation Schemes Not Requiring Coherent References.
8.4 M-ary PAM.
8.5 Comparison of Digital Modulation Systems.
8.6 Performance of Zero-ISI Digital Data Systems.
8.7 Multipath Interference.
8.8 Flat Fading Channels.
8.9 Equalization.
Summary.
Further Reading.
Problem.
Computer Exercises.
CHAPTER 9: ADVANCED DATA COMMUNICATIONS TOPICS.
9.1 M-ary Data Communications Systems.
9.2 Power Spectra for Quandrature Modulation Techniques.
9.3 Synchronization.
9.4 Spread-Spectrum Communication Systems.
9.5 Multicarrier Modulation and Orthogonal Frequency Division Multiplexing.
9.6 Satellite Communications.
9.7 Cellular Radio Communication Systems.
Summary.
Further Reading.
Problems.
Computer Exercises.
CHAPTER 10: OPTIMUM RECEIVERS AND SIGNAL SPACE CONCEPTS.
10.1 Bayes Optimization.
10.2 Vector Space Representation of Signals.
10.3 Maximum A Posteriori Receiver for Digital Data Transmission.
10.4 Estimation Theory.
10.5 Applications of Estimation Theory to Communications.
Summary.
Further Reading.
Problems.
Computer Exercises.
CHAPTER 11: INFORMATION THEORY AND CODING.
11.1 Basic Concepts.
11.2 Source Coding.
11.3 Communication in Noisy Environments: Basic Ideas.
11.4 Communication in Noisy Channels: Block Codes.
11.5 Communication in Noisy Channels: Convolutional Codes.
11.6 Communication in Noisy Channels: Other Techniques.
11.7 Modulation and Bandwidth Efficiency.
11.8 Bandwidth and Power Efficient Modulation.
Summary.
Further Reading.
Problems.
Computer Exercises.
APPENDIX A: PHYSICAL NOISE SOURCES.
A.1 Physical Noise Sources.
A.2 Characterization of Noise in Systems.
A.3 Free-Space Propagation Example.
A.4 Further Reading.
A.5 Problems.
APPENDIX B: JOINTLY GAUSSIAN RANDOM VARIABLES.
B.1 The Probability Density Function.
B.2 The Characteristics Function.
B.3 Linear Transformations.
APPENDIX C: PROOF OF THE NARROWBAND NOISE MODEL.
APPENDIX D: ZERO-CROSSING AND ORIGIN ENCIRCLEMENT STATISTICS.
D.1 The Zero-Crossing Problem.
D.2 Average Rate of Zero Crossings.
D.3 Problems.
APPENDIX E: CHI-SQUARE STATISTICS.
APPENDIX F: QUANTIZATION OF RANDOM PROCESSES.
APPENDIX G: MATHEMATICAL AND NUMERICAL TABLES.
G.1 The Gaussian Q-Function.
G.2 Trigonometric Identities.
G.3 Series Expansions.
G.4 Integrals.
G.5 Fourier Transform Pairs.
G.6 Fourier Transform Theorems.
References.
Author Index.
Subject Index.
Hallmark Features
Examples illustrating key points in the text included in each chapter. Provides student with illustrations on how to apply theory developed in the text. Assists the instructor in development of material to be used in future chapters.
Computational Computer Examples included in each chapter. Illustrates the use of the computer for calculation of various performance curves. Allows instructor to have student reproduce performance curves included in text or add to them; the student is taught not to take something on "face value" but to illustrate it for his or her own edification.
Simulation Computer Examples included in many chapters. Shows student how to use the computer as a simulation tool, thereby allowing waveforms, spectra, and performance curves to be generated. Allows the instructor to illustrate how various performance curves were generated, such as Figures 3.52 and 3.53, or to verify statements in the text that system A, which can't be analyzed, performs worse than ideal system B but that the loss isn't great enough to warrant approximating the ideal system better.
Chapter summaries arranged as bullet items. Provides a concise checklist for the student to use in reviewing for examinations. Provides a concise checklist for the instructor in seeing if essential points have been covered or in making up examinations.
Wide variety of problems included at the end of each chapter, categorized according to section. Allows the student to practice on concepts given in text. Allows the instructor to make assignments to check on the students' understanding of presented concepts in class.
Available Versions