Textbook
Managerial Economics, 6th Edition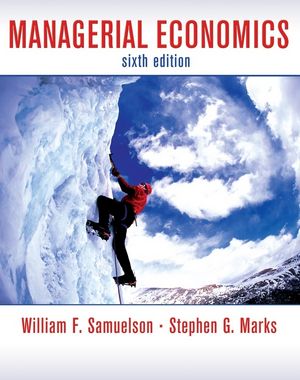 Known for its consistent emphasis on decision-making,
Samuelson & Mark's 6th edition
provides a detailed introduction to managerial economics for undergraduates, MBAs, and executives alike. Each chapter opens with a description of a managerial problem that challenges the reader and concludes by revisiting and analyzing the decision.
In addition to its inclusion of real-world applications and problems, The 6th Edition has been revised to incorporate up-to-date coverage of international topics and e-commerce. This new edition offers the framework and economics tools necessary to prepare students for better decision-making in a future managerial role. 
See More
Chapter 1. Introduction to Economic Decision Making.
Seven Examples Of Managerial Decisions.
Six Steps To Decision Making.
Step 1: Define the Problem.
Step 2: Determine the Objective.
Step 3: Explore the Alternatives.
Step 4: Predict the Consequences.
Step 5: Make a Choice.
Step 6: Perform Sensitivity Analysis.
Private And Public Decisions: An Economic View.
Things To Come.
The Aim of This Book.
Section I. Decisions Within Firms.
Chapter 2. Optimal Decisions Using Marginal Analysis.
Siting a Shopping Mall.
A Simple Model Of The Firm.
A Microchip Manufacturer.
Marginal Analysis.
Marginal Analysis and Calculus.
Marginal Revenue And Marginal Cost.
Marginal Revenue.
Marginal Cost.
Profit Maximization Revisited.
Sensitivity Analysis.
Asking What if.
Appendix To Chapter 2: Calculus And Optimization Techniques.
Special Appendix To Chapter 2: Optimization Using Spreadsheets.
Chapter 3. Demand Analysis And Optimal Pricing.
Determinants Of Demand.
The Demand Function.
The Demand Curve and Shifting Demand.
General Determinants of Demand.
Elasticity Of Demand.
Price Elasticity.
Other Elasticities.
Price Elasticity and Prediction.
Demand Analysis And Optimal Pricing.
Price Elasticity, Revenue, and Marginal Revenue.
Maximizing Revenue.
Optimal Markup Pricing.
Price Discrimination.
Information Goods.
Appendix To Chapter 3: Consumer Preferences And Demand.
Chapter 4. Estimating and Forecasting Demand.
Collecting Data.
Consumer Surveys.
Controlled Market Studies.
Uncontrolled Market Data.
Regression Analysis.
Ordinary Least-Squares Regression.
Interpreting Regression Statistics.
Potential Problems in Regression.
Choosing a Regression Equation.
Forecasting.
Time-Series Models.
Fitting a Simple Trend.
Barometric Models.
Forecasting Performance.
Final Thoughts.
Appendix To Chapter 4: Regression Using Spreadsheets.
Special Appendix To Chapter 4: Statistical Tables.
Chapter 5. Production.
Basic Production Concepts.
Production Technology.
Production With One Variable Input.
Short-Run and Long-Run Production.
Optimal Use of an Input.
Production In The Long Run.
Returns to Scale.
Least-Cost Production.
Measuring Production Functions.
Linear Production.
Production with Fixed Proportions.
Polynomial Functions.
The Cobb-Douglas Function.
Estimating Production Functions.
Other Production Decisions.
Multiple Plants.
Multiple Products.
Chapter 6. Cost Analysis.
Relevant Costs.
Opportunity Costs and Economic Profits.
Fixed and Sunk Costs.
Profit Maximization with Limited Capacity: Ordering a Best Seller.
The Cost Of Production.
Short-Run Costs.
Long-Run Costs.
Returns To Scale And Scope.
Returns to Scale.
Economies of Scope.
Cost Analysis And Optimal Decisions.
A Single Product.
The Shut-Down Rule.
Multiple Products.
Appendix To Chapter 6: Transfer Pricing.
Special Appendix To Chapter 6: Short-Run And Long-Run Costs.
Section II. Competing Within Markets.
Chapter 7. Perfect Competition.
The Basics Of Supply And Demand.
Competitive Equilibrium.
Decisions of the Competitive Firm.
Market Equilibrium.
Market Efficiency.
Private Markets: Benefits and Costs.
International Trade.
Chapter 8. Monopoly.
Pure Monopoly.
Barriers to Entry.
Perfect Competition Versus Pure Monopoly.
Cartels.
Natural Monopolies.
Monopolistic Competition.
Chapter 9. Oligopoly.
Oligopoly.
Industry Concentration.
Concentration And Prices.
Quantity Competition.
A Dominant Firm.
Competition Among Symmetric Firms.
Price Competition.
Price Rigidity And Kinked Demand.
Price Wars And The Prisoner's Dilemma.
Other Dimensions Of Competition.
Advertising.
Strategic Commitments.
Appendix To Chapter 9: Tying And Bundling.
Chapter 10. Game Theory And Competitive Strategy.
Sizing Up Competitive Situations.
Analyzing Payoff Tables.
Equilibrium Strategies.
Competitive Strategy.
Market Entry.
Bargaining.
Sequential Competition.
Repeated Competition.
Appendix To Chapter 10: Mixed Strategies.
Chapter 11. Regulation, Public Goods, And Benefit-Cost Analysis.
I. Market Failures And Regulation.
Market Failure Due To Monopoly.
Government Responses.
Market Failure Due To Externalities.
Remedying Externalities.
Subsidizing Positive Externalities.
Market Failure Due To Imperfect Information.
II. Benefit-Cost Analysis And Public Goods Provision.
Public Goods.
Public Goods And Efficiency.
The Basics Of Benefit-Cost Analysis.
Applying The Net Benefit Rule.
Dollar Values.
Efficiency Versus Equity.
Evaluating A Public Project.
Public Investment In A Bridge.
Valuing Benefits And Costs.
Market Values.
Nonmarketed Benefits And Costs.
Section III. Decision-Making Applications.
Chapter 12. Decision Making Under Uncertainty.
Uncertainty, Probability, And Expected Value.
Expected Value.
Decision Trees.
An Oil Drilling Problem.
Features Of The Expected-Value Criterion.
Sequential Decisions.
Risk Aversion.
Expected Utility.
Expected Utility And Risk Aversion.
Chapter 13. The Value Of Information.
The Value Of Information.
The Oil Wildcatter Revisited.
Imperfect Information.
Revising Probabilities.
Bayes Theorem.
Other Applications.
Predicting Credit Risks.
Intuitive Prediction.
Business Behavior And Decision Pitfalls.
Optimal Search.
Optimal Stopping.
Optimal Sequential Decisions.
The Value Of Additional Alternatives.
Simultaneous Search.
Chapter 14. Asymmetric Information And Organizational Design.
Asymetric Information.
Adverse Selection.
Signalling.
Principals, Agents, And Moral Hazard.
Organizational Design.
The Nature Of The Firm.
The Breadth Of The Firm.
Assigning Decision-Making Responsibilities.
Monitoring And Rewarding Performance.
Separation Of Ownership And Control In The Modern Corporation.
Appendix To Chapter 14: A Principal-Agent Model.
Chapter 15. Bargaining And Negotiation.
The Economic Sources Of Beneficial Agreements.
Resolving Disputes.
Differences In Values.
Contingent Contracts.
Multiple-Issue Negotiations.
Continuous Variablee.
Negotiation Strategy.
Perfect Information.
Imperfect Information.
Chapter 16. Actions And Competitive Bidding.
The Advantages Of Auctions.
Bidder Strategies.
English And Dutch Auctions.
Sealed-Bid Auctions.
Common Values And The Winner's Curse.
Optimal Auctions.
Expected Auction Revenue.
Competitive Procurement.
Chapter 17. Linear Programming.
Linear Programs.
Graphing The LP Problem.
A Minimization Problem.
Sensitivity Analysis And Shadow Prices.
Changes In The Objective Function.
Shadow Prices.
Formulation And Computer Solution.
For Larger LP Problems.
Computer Solutions.
Answers To Odd-Numbered Questions.
See More
William F. Samuelson is professor of economics and finance at Boston University School of Management. He received his B.A. and Ph.D. from Harvard University. His research interests include game theory, decision theory, bidding, bargaining, and experimental economics. He has published a variety of articles in leading economics and management science journals including The American Economic Review, The Quarterly Journal of Economics, Econometrica, The Journal of Finance, Management Service, and Operations Research. His teaching and research have been sponsored by the National Science Foundation and National Institute for Dispute Resolution, among others. He is currently on the editorial boards fo the Journal of Economic Behavior and Organization and Group Decision and Negotiation.
See More
New Discussions and Analysis of E-Commerce. Examines the economics of information goods, e-commerce, and the Internet.  Applications appear throughout the text in Chapter 3 (demand), Chapter 6 (cost), Chapters 7 and 9 (competitive effects), and Chapter 14 (organization of the firm).
Updated and Expanded Coverage of International Topics and Applications.
New Application Feature: Business Behavior. The authors provide numerous assessments (based on cutting edge research findings) of real-world decision making behavior, noting the most common pitfalls to avoid.
Updated applications. Applications and decision-making examples are central to this book. Many have been updated in this edition.
Revised and Updated End-of-Chapter Problems. These range from basic to advanced problems and also include wide-ranging discussion questions.
Revamped Organization. Working hard to focus student attention on the most important economic and decision making principles, the text is a slim 17 chapters.
See More
Extensive decision-making examples. These include:
Pricing airline seats (Chapter 3)
Producing auto parts (Chapter 5)
Choosing between risky research and development projects (Chapter 12)
Negotiating David Letterman's contract (Chapter 15)
Decision Making Under Uncertainty. Managerial success depends on making decisions that involve risk and uncertainty. Chapter 12 shows how decision trees can be used to structure decisions in high-risk environments. Chapter 13 examines the value of acquiring information about relevant risks, including optimal search strategies.
Game Theory illuminates the firm's strategic choices. Game-theoretic principles are essential to understanding strategic behavior. An entire chapter (Chapter 10) is devoted to this topic.
End-of-Chapter Spreadsheet Problems offer a powerful way of portraying economic decisions and finding optimal solutions. Spreadsheet problems are provided in 15 chapters.
Real-world applications throughout the text.
See More
Instructors Resources
ENHANCE YOUR COURSE

Instant access to textbooks as eTextbooks.
Learn more

Digital evaluation copy available for this title
Request Copy

Contact your Wiley Representative
Find Your Rep

See More
See Less
Students Resources
Wiley Student Companion Site
Coming Soon!
View Sample content below:
See More
See Less
Purchase Options

Information about Wiley E-Texts:
Wiley E-Texts are powered by VitalSource technologies e-book software.
With Wiley E-Texts you can access your e-book how and where you want to study: Online, Download and Mobile.
Wiley e-texts are non-returnable and non-refundable.
WileyPLUS registration codes are NOT included with the Wiley E-Text. For informationon WileyPLUS, click here .
To learn more about Wiley e-texts, please refer to our FAQ.

Information about e-books:
E-books are offered as e-Pubs or PDFs. To download and read them, users must install Adobe Digital Editions (ADE) on their PC.
E-books have DRM protection on them, which means only the person who purchases and downloads the e-book can access it.
E-books are non-returnable and non-refundable.
To learn more about our e-books, please refer to our FAQ.
This title is also available on :