Textbook
Organizational Behavior, 11th Edition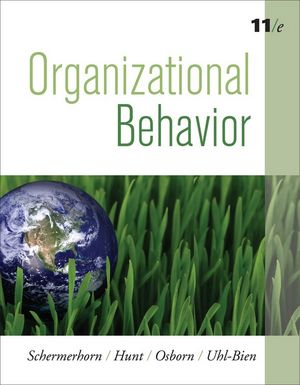 What students do with their talents will not only shape the contributions of the institutions of society but also fundamentally alter lives around the globe.  In the changing, dynamic, and increasingly global work environment, it is important for each student to reach their full potential and find a satisfying job and career.  Schermerhorn, Hunt and Osborn's
Organizational Behavior
continues to meets these needs by remaining the clearest, most current, and applicable OB text today. 
Known throughout the world for sound pedagogy, research, and theory and well-loved for a rich framework of personal and organizational skills, OB presents students with a full portfolio of skills that will enable them to thrive in whatever area of business they eventually choose.  The authors' new 11th Edition places emphases on ethics, leadership, and sustainability—with the same organization, content, and cohesive voice that guides students in the right direction.
See More
PART 1: Organizational Behavior Today.
1 Introducing Organizational Behavior.
PART 2: Individual Behavior and Performance.
2 Individual Differences, Values, and Diversity.
3 Emotions, Attitudes, and Job Satisfaction.
4 Perception, Attribution, and Learning.
5 Motivation Theories.
6 Motivation and Performance.
PART 3: Teams and Teamwork.
7 Teams in Organizations.
8 Teamwork and Team Performance.
9 Decision Making and Creativity.
10 Conflict and Negotiation.
PART 4: Influence Processes and Leadership.
11 Communication and Collaboration.
12 Power and Politics.
13 Leadership Essentials.
14 Leadership Challenges and Organizational Change.
PART 5: Organizational Context.
15 Organizational Culture and Innovation.
16 Organizational Goals and Structures.
17 Strategy, Technology, and Organizational Design.
OB Skills Workbook.
Learning Style Inventory.
Student Leadership Practices Inventory.
Self-Assessment Portfolio.
Team and Experiential Exercises.
Cases for Critical Thinking.
Glossary.
Self-Test Answers.
Notes.
Photo Credits.
Organizations Index.
Name Index.
Subject Index.
See More
Dr. John R. Schermerhorn, Jr
. is the Charles G. O'Bleness Professor Emeritus of Management in the College of business at Ohio University where he teaches undergraduate and MBA courses in management, organizational behavior, and Asian business. He also serves the university as Director of the center for Southeast Asian Studies. He earned a Ph.D. in organizational behavior from Northwestern University, after receiving an M.B.A. (with distinction) in management and international business from New York University, and a B.S. in business administration from the State University of New York at Buffalo.
Dedicated to instructional excellence and serving the needs of practicing managers, Dr. Schermerhorn continually focuses on bridging the gap between the theory and practice of management in both the classroom and in his textbooks. He has won awards for teaching excellence at Tulane University, The University of Vermont, and Ohio University, where he was named a University Professor, the university's leading campus-wide award for his service as Chair of the Management Education and Development Division of the Academy of Management.
The late Dr. James G. (Jerry) Hunt was the Paul Whitfield Horn Professor of Management, Professor of Health Organization Management, Former Director, Institute for Leadership Research, and former department chair of Management, Texas Tech University. He received his PhD and master's degrees from the University of Illinois after completing a BS (with honors) at Michigan technological University. Dr. Hunt co-authored an organization theory text and Core Concepts of Organizational behavior (Wiley, 2004) and authored or co-authored three leader-ship monographs. He founded the Leadership Symposia Series and co-edited the eight volumes based on the series. He was the former editor of the Journal of Management and The Leadership Quarterly. He presented or published some 200 articles, papers, and book chapters, and among his better-known books are Leadership: A New Synthesis, published by Sage, and Out-of-the Box Leadership, published by JAI. The former was a finalist for the Academy of Management's 1993 Terry Distinguished Book Award. Dr. Hunt received the Distinguished Service Award from the Academy of Management, the Sustained Outstanding Service Award from the Southern Management Association, and the Barnie E. Rushing, Jr. Distinguished Researcher Award from Texas Tech University for his long-term contributions to management research and scholarship. He also lived and taught in England, Finland, and Thailand, and taught in china.
Dr. Richard N. Osborn is a Wayne State University Distinguished Professor, Professor of Management Emeritus, and former Board of Governors Faculty Fellow. He has received teaching awards at Southern Illinois University at Carbondale and Wayne State University, and he has also taught at Arizona State University, Monash University (Australia), Tulane University, University of Munich, and the University of Washington. He received a DBA from Kent State University after earning an MBA at Washing State University ad a BS from Indiana University. With over 200 presentations and publications, he is a charter member of the Academy of Management Journals Hall of Fame. Dr. Osborn is a leading authority on international alliances in technology-intensive industries and is co-author of an organization theory text as well as Basic Organizational Behavior (John Wiley & Sons, 1995, 1998). He has served as editor of international strategy for the Journal. He serves or has served as a member of the editorial boards for The Academy of Management Journal, The Academy of Management review, Journal of High Technology Management, The Journal of Management, Leadership Quarterly, and Technology Studies, among others. He is very active in the Academy of Management, having served as divisional program chair and president, as well as the Academy representative for the International Federation of Scholarly Associations of Management. Dr. Osborn's research has been sponsored by the Department of Defense, Ford Motor Company, National Science Foundation, Nissan, and the Nuclear Regulatory Commission, among others. In addition to teaching, Dr. Osborn spent a number of years in private industry, including a position as a senior research scientists with the Battelle Memorial Institute in Seattle, where he worked on improving the safety of commercial nuclear power.
Dr. Mary Uhl-Bien is the Howard Hawks chair in Business Ethics and Leadership and associate Director of the Leadership Institute at the University of Nebraska-Lincoln. She earned her Ph.D. and MBA in organizational behavior at the University of Cincinnati after completing an undergraduate degree in International business and Spanish. She teaches organizational behavior, leadership, and ethics courses at the undergraduate and graduate (MBA and doctoral) levels, and has been heavily involved in executive education, teaching to business executives and physicians in the United States, china, Europe, and Saudi Arabia and to the senior executive service of the U.S. government for The Brookings Institute in Washington, D.C. she has been a visiting professor/scholar at Pablo de Olavide University in Seville, Spain, the Universidade Nova de Lisboa/Catolica Portuguesa in Lisbon Portugal, and University Lund in Sweden.
See More
New Co-Author:  Professor Mary Uhl-Bien brings her expertise in ethics and leadership, her teaching experience, and fresh perspectives to the book. As the Interim Director of the Leadership Institute at the University of Nebraska, Howard Hawks Chair in Business Ethics and Leadership, and Associate Director at Global Leadership Institute, her primary research interests and contributions to OB 11e are in ethics, advancing complexity and relational theories of leadership, developing more practical and useful ways of viewing leadership for today's work environments, and followership and leading-up.
New environmental and sustainability coverage throughout the text, cases, and video offerings.
Greater emphasis on leadership:  Broadening of "Leaders on Leadership" feature box to profile leaders at different levels throughout organizations, including those that aren't "super corporate."
Brand new end-of-book cases have been developed to supplement and reinforce lessons, theories, and skills presented in the text.
Increased flexibility for professors with more applied and experiential teaching styles and shorter course cycles.
Added focus of "Making Ethics Personal" for students.  Ethics questions will get them thinking and engaged in the ethical dilemmas of managers.
Significantly enhanced "Research Insights" features provide engaging exercises in each chapter that can be used by the class or for team projects. 
See More
The unique OB Skills Workbook at the end of the book includes: The Jossey-Bass/Pfeiffer Classroom Collection, Case for Critical Thinking, Experiential Exercises, and Self-Assessment Inventories
An Integrated Study Guide at the end of each chapter includes three components, including chapter self-tests, to help students consolidate their learning and prepare for quizzes and exams.
OB Savvy boxes, which are integrated throughout the text, help ground OB concepts and theories in practical tips and applications.
Annotated margin photos provide additional real-world examples of OB in practice.
See More
Instructors Resources
ENHANCE YOUR COURSE

Customize your book the way you teach your course.
Learn more

Digital Evaluation Available
Request Copy

Contact your Wiley Representative
Find Your Rep

See More
See Less
Students Resources
See More
See Less
Purchase Options
Organizational Behavior, 11th Edition
ISBN : 978-0-470-57139-2
April 2010, ©2010
Paperback&nbsp&nbsp&nbsp
Organizational Behavior, Eleventh Edition Binder Ready Version
ISBN : 978-0-470-55672-6
688 pages
January 2010, ©2010
Hardcover&nbsp&nbsp&nbsp
Organizational Behavior, 11th Edition
ISBN : 978-0-470-29441-3
672 pages
January 2010, ©2010

Information about Wiley E-Texts:
Wiley E-Texts are powered by VitalSource technologies e-book software.
With Wiley E-Texts you can access your e-book how and where you want to study: Online, Download and Mobile.
Wiley e-texts are non-returnable and non-refundable.
WileyPLUS registration codes are NOT included with the Wiley E-Text. For informationon WileyPLUS, click here .
To learn more about Wiley e-texts, please refer to our FAQ.

Information about e-books:
E-books are offered as e-Pubs or PDFs. To download and read them, users must install Adobe Digital Editions (ADE) on their PC.
E-books have DRM protection on them, which means only the person who purchases and downloads the e-book can access it.
E-books are non-returnable and non-refundable.
To learn more about our e-books, please refer to our FAQ.
This title is also available on :