Textbook
Strategic Market Management, 9th Edition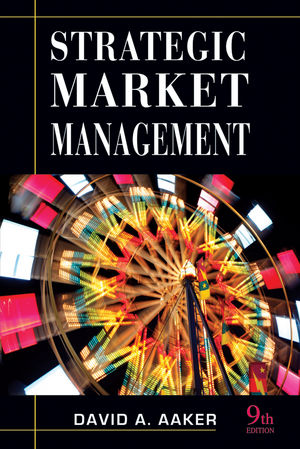 Developing and implementing strategies today is very different than only a few decades ago; nearly all firms today operate in dynamic markets.  Completely revised and updated, Aaker's best-selling book,
Strategic Market Management
, helps managers identify, implement, prioritize, and adapt market-driven business strategies that will enjoy sustainable advantage in dynamic markets that are increasingly complex and cluttered.  The intent is to provide decision makers with concepts, methods, and procedures by which they can improve the quality of their strategic decision making and developing growth strategies.
The new 9th Edition supplies students in strategic marketing, policy, planning, and entrepreneur courses with the critical knowledge and skills—strategic analysis, innovation, getting control of the multiple business units, and knowing how to develop sustainable advantage.
See More
Chapter 1 Strategic Market Management: An Overview
Part I  STRATEGIC ANALYSIS
Chapter 2 External and Customer Analysis
Chapter 3 Competitor Analysis
Chapter 4 Market/Submarket Analysis
Chapter 5 Environmental Analysis and Strategic Uncertainty
Chapter 6 Internal Analysis
Case Challenges for Part I
Part II CREATING AND IMPLEMENTING STRATEGIES
Chapter 7 Creating Advantage: Synergy and Commitment vs. Opportunism vs. Adaptability
Chapter 8 Alternative Value Propositions
Chapter 9 Building and Managing Brand Equity
Chapter 10 Energizing the Business
Chapter 11 Leveraging the Business
Chapter 12 Creating New Businesses 
Chapter 13. Global Strategies
Chapter 14 Setting priorities for Businesses and brands—The Exit, Milk, and Consolidate Options
Chapter 15 From Silos to Synergy—Harnessing the Organization
Case Challenges for Part II
 - Hobart
 - Dove
 - Competing Against Wal-Mart
 - Contemporary Art
 - Sony vs. iPod
Appendix: Planning Form
See More
New Theme - How to develop and execute strategy in dynamic markets to create sustainable advantage from a marketing/external perspective.
New Perspectives and Philosophies - The text has a new blended philosophy and is written more from the viewpoint of a CMO or senior marketing manager.

New case challenges:  Contemporary Art and Sony vs. iPod.

Chapter 10 on Energizing the Business has now three sections: 
- Innovating the offering by improving the product or experience and branding that improvement through the use of branded differentiators
- Energizing the brand  by involving the customer, promotions and the use of branded energizers,
- Increasing the usage of existing customers.

Chapter 13: Organization - Contextualized to demonstrate how to overcome the barriers that powerful organizational silos create to inhibit cooperation and communication.

New in Chapter 12: Creating New Business – A Why is it Hard" section that taps into innovation literature.

New and Improved coverage on the following topics:
- The role of corporate social responsibility (CSR) has been expanded.
- Being green is explored under external analysis and the potential of social programs.
- Creating strategy in tough economic times.
- Using the Internet in communities to engage customers and get ideas.
- Revised section on quality value proposition option, its rationale, the texture of service quality, and handling disasters.
- The Nintendo case study - The power of competitive analyses in leading to strategies.
- Dimensions of fit for extensions, communicating value without harming the brand, country customization of strategy is needed, and evaluating transformational innovation.
See More
Business strategy defined to include product/market scope, value proposition, assets and competences, and functional strategies.
A structured strategic analysis including a detailed customer, competitor, market, and environmental analysis plus an internal or self analysis with a set of "planning forms" in the appendix that provide a template for strategists.
Concepts of strategic commitment, opportunism, and adaptability.
Growing the business by energizing the business, leveraging the business, creating new business, and going global.
Bases of a value proposition and strong brands.
See More
Instructors Resources
ENHANCE YOUR COURSE

Instant access to textbooks as eTextbooks.
Learn more

Digital evaluation copy available for this title
Request Copy

Contact your Wiley Representative
Find Your Rep

See More
See Less
Purchase Options

Information about Wiley E-Texts:
Wiley E-Texts are powered by VitalSource technologies e-book software.
With Wiley E-Texts you can access your e-book how and where you want to study: Online, Download and Mobile.
Wiley e-texts are non-returnable and non-refundable.
WileyPLUS registration codes are NOT included with the Wiley E-Text. For informationon WileyPLUS, click here .
To learn more about Wiley e-texts, please refer to our FAQ.

Information about e-books:
E-books are offered as e-Pubs or PDFs. To download and read them, users must install Adobe Digital Editions (ADE) on their PC.
E-books have DRM protection on them, which means only the person who purchases and downloads the e-book can access it.
E-books are non-returnable and non-refundable.
To learn more about our e-books, please refer to our FAQ.
This title is also available on :