Textbook
Marketing Research, 10th Edition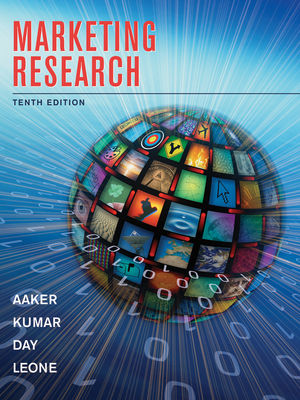 Marketing Research
offers the best approach toward communicating the intricacies of this field and its usefulness to the marketing organization.  "Macro-micro-macro" in design, and fitting for students in the intermediate or advanced courses, this highly-regarded text focuses on market intelligence, strategy, theory, and application.
The new 10th edition retains its coverage of the most advanced and current marketing research methodologies and points out their limitations, as well their potential for enhancing research results.  It also brings to the forefront the relevance of marketing intelligence, the power of the Internet in marketing research applications, and much more.
See More
PART I: The Nature and Scope of Marketing Research.
Chapter 1 A Decision-Making Perspective on Marketing Intelligence.
Chapter 2 Marketing Research in Practice.
Chapter 3 The Marketing Research Process.
Chapter 4 Research Design and Implementation.
PART II: Data Collection.
SECTION A: Secondary and Exploratory Research.
Chapter 5 Secondary Sources of Marketing Data.
Chapter 6 Standardized Sources of Marketing Data.
Chapter 7 Marketing Research on the Internet.
Chapter 8 Information Collection: Qualitative and Observational Methods.
SECTION B: Descriptive Research.
Chapter 9 Information from Respondents: Issues in Data Collection.
Chapter 10 Information from Respondents: Survey Methods.
Chapter 11 Attitude Measurement.
Chapter 12 Designing the Questionnaire.
SECTION C: Causal Research.
Chapter 13 Experimentation.
SECTION D: Sampling.
Chapter 14 Sampling Fundamentals.
Chapter 15 Sample Size and Statistical Theory.
PART III: Data Analysis.
Chapter 16 Fundamentals of Data Analysis.
Chapter 17 Hypothesis Testing: Basic Concepts and Tests of Associations.
Chapter 18 Hypothesis Testing: Means and Proportions.
PART IV: Special Topics in Data Analysis.
Chapter 19 Correlation Analysis and Regression Analysis.
Chapter 20 Discriminant and Canonical Analysis.
Chapter 21 Factor and Cluster Analysis.
Chapter 22 Multidimensional Scaling and Conjoint Analysis.
Chapter 23 Presenting the Results.
PART V: Applications of Marketing Intelligence.
Chapter 24 Traditional Applications: Product, Price, Distribution, and Promotion.
Chapter 25 Contemporary Applications: Competitive Advantage, Brand Equity, Customer Satisfaction, and Total Quality Management.
Chapter 26 Emerging Applications: Database Marketing, E-Commerce, Relationship Marketing, & Customer Intelligence.
Appendices: Tables A1-A6.
Glossary.
Index.
See More
Prof Robert Leone joins Aaker, Kumar and Day.  Prof Leone has over 30 years of experience teaching UG and MBA and Executive Education Marketing Research courses at UT Austin, Ohio State and TCU, as well as in programs in China and Mexico.  Along with his extensive teaching experience, Prof Leone has also consulted with leading companies such as P&G, Mary Kay, Victoria's Secret and provided marketing research insights to those companies.
NEW content on online marketing research content
Specific importance has been given to the concepts of Customer Lifetime Value, Mobile Marketing, Social Marketing and Experiential Marketing.
- Mobile Marketing coverage includes how companies are struggling with way to connect with customers via widely used multifunctional PDAs (iPods, Blackberry).
- Social Networking includes how companies are increasingly interested in creating a venue for customer to gather in order to research buying activity.  The challenge is to validate the reliability of the data gained from such sites as MySpace, Facebook, & Twitter.
Tracks the most recent developments in the area of relationship marketing, such as the metrics to manage customer loyalty and Word-of-Mouth marketing.
More emphasis on addressing the advancement of marketing research to the forefront of business strategies that involve the increased effort to win customers' share of purchases.
See More
The analytical and student-friendly style of the text communicates the essence of marketing research to future managers and future researchers in a lucid manner.

Emphasizes the importance of marketing intelligence in the areas of marketing research and helps develop decision-making skills through the use of appropriate case-studies.

The text has been made current by the addition of discussions on new topics of interest such as e-commerce, database marketing, relationship marketing and social networking.

Beginning macro-level treatment of what marketing research is, where it fits within an organization, and how it helps in managerial decision making.

Body of the text takes a micro-level and decision-oriented approach, detailing each and every step of the marketing research process.

Ends with a macro-level treatment of the applications of marketing research. Topics discussed include traditional 4P research, customer satisfaction research, and emerging issues that continue to fascinate marketers like e-commerce, direct marketing, database marketing, and relationship marketing.
See More
Instructors Resources
ENHANCE YOUR COURSE
Digital evaluation copy available for this title
Request Copy

Contact your Wiley Representative
Find Your Rep

See More
See Less
Students Resources
See More
See Less
Purchase Options

Information about Wiley E-Texts:
Wiley E-Texts are powered by VitalSource technologies e-book software.
With Wiley E-Texts you can access your e-book how and where you want to study: Online, Download and Mobile.
Wiley e-texts are non-returnable and non-refundable.
WileyPLUS registration codes are NOT included with the Wiley E-Text. For informationon WileyPLUS, click here .
To learn more about Wiley e-texts, please refer to our FAQ.

Information about e-books:
E-books are offered as e-Pubs or PDFs. To download and read them, users must install Adobe Digital Editions (ADE) on their PC.
E-books have DRM protection on them, which means only the person who purchases and downloads the e-book can access it.
E-books are non-returnable and non-refundable.
To learn more about our e-books, please refer to our FAQ.
This title is also available on :