Textbook
Economics of Strategy, 5th Edition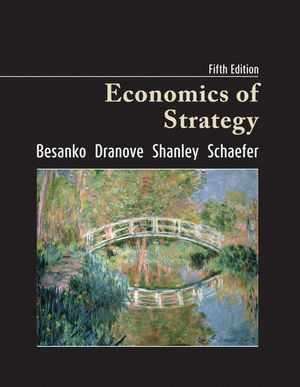 In today's global recession, strong management of firms and organizations are of the utmost importance.  Best-selling
Economics of Strategy
focuses on the key economic concepts students must master in order to develop a sound business strategy.  Bringing economic theory and strategic analysis to life in an engaging and uniquely modern way, Besanko et al. have collaborated for over 15 years to build an introductory business course that combines basic concepts from economic theory of the firm and industrial organization with ideas from modern strategy literature.
The newly revised 5th edition offers more real-world applications to make materials studied in undergraduate Managerial Economics, Business Strategy, and Industrial Organization courses relevant.  Armed with general principles, today's students—tomorrow's future managers—will be prepared to adjust their firms' business strategies to the demands of the ever-changing environment.
See More
INTRODUCTION: STRATEGY AND ECONOMICS.
PART ONE: ECONOMIC FOUNDATIONS OF STRATEGY.
1 Basic Microeconomic Principles.
2 Economies of Scale and Scope.
3 Agency and Coordination.
4 The Power of Principles: A Historical Perspective.
PART TWO: FIRM BOUNDARIES.
5 The Vertical Boundaries of the Firm.
6 Organizing Vertical Boundaries: Vertical Integration and Its Alternatives.
7 Diversification.
PART THREE: MARKET AND COMPETITIVE ANALYSIS.
8 Competitors and Competition.
9 Strategic Commitment.
10 The Dynamics of Pricing Rivalry.
11 Entry and Exit.
12 Industry Analysis.
PART FOUR: STRATEGIC POSITION AND DYNAMICS.
13 Strategic Positioning for Competitive Advantage.
14 Sustaining Competitive Advantage.
15 The Origins of Competitive Advantage: Innovation, Evolution, and the Environment.
PART FIVE: INTERNAL ORGANIZATION.
16 Performance Measurement and Incentives in Firms.
17 Strategy and Structure.
18 Environment, Power, and Culture.
Glossary.
Index.
See More
David Besanko, PhD, is the Alvin J. Huss Distinguished Professor of Management and Strategy at the Kellogg School of Management at Northwestern University. He received his PhD in Managerial Economics and Decision Sciences and his AB in Political Science from Ohio University. He has received grants from the National Science Foundation and from the Citicorp Behavioral Science Research Council to support this research.
See More
Improved "Economics Primer" - Part 1 now introduces and reviews essential microeconomics concepts:

Demand, costs, pricing, and game theory
Economies of scale, a concept fundamental to competition, entry, positioning and sustainability
Incentives, vital material for understanding integration and organization structure
The scope of business history to illustrate the importance of economic principles

Enhanced discussions of current topics such as industry dynamics, competitive strategy, industrial organization, the theory of the firm, economics of regulation, strategic positioning, personnel economics, and much more.
New and updated figures, tables, Example boxes, Chapter Summaries, Questions, and Endnotes added to each chapter.
See More
Comprehensive, cutting-edge academic thinking about business strategy from an economics approach.
Supplies students with an economic lens for viewing the activities of firms and a logical framework for strategic analysis.
Focuses on breadth and a higher level of analysis while offering illustrative and highly engaging real-world examples.
The four "big" issues businesses face: boundaries of the firm, market and competitive analysis, position and dynamics, and internal organization.
Porter's Five Forces:  Perspective on how to use this model of industry analysis as an organizational tool.
Delves into economic principles and models without overemphasizing advanced math. 
Many examples involving international businesses and business practices from the eighteenth century to the present day.
See More
Instructors Resources
ENHANCE YOUR COURSE

Instant access to textbooks as eTextbooks.
Learn more

Digital evaluation copy available for this title
Request Copy

Contact your Wiley Representative
Find Your Rep

See More
See Less
Purchase Options
Economics of Strategy, 5th Edition
ISBN : 978-0-470-45387-2
632 pages
September 2010, ©2009
Paperback&nbsp&nbsp&nbsp
Economics of Strategy, Fifth Edition Binder Ready Version
ISBN : 978-0-470-55666-5
624 pages
July 2009, ©2010
Hardcover&nbsp&nbsp&nbsp
Economics of Strategy, 5th Edition
ISBN : 978-0-470-37360-6
624 pages
September 2009, ©2010

Information about Wiley E-Texts:
Wiley E-Texts are powered by VitalSource technologies e-book software.
With Wiley E-Texts you can access your e-book how and where you want to study: Online, Download and Mobile.
Wiley e-texts are non-returnable and non-refundable.
WileyPLUS registration codes are NOT included with the Wiley E-Text. For informationon WileyPLUS, click here .
To learn more about Wiley e-texts, please refer to our FAQ.

Information about e-books:
E-books are offered as e-Pubs or PDFs. To download and read them, users must install Adobe Digital Editions (ADE) on their PC.
E-books have DRM protection on them, which means only the person who purchases and downloads the e-book can access it.
E-books are non-returnable and non-refundable.
To learn more about our e-books, please refer to our FAQ.
This title is also available on :