Textbook
Global Marketing Management, 5th Edition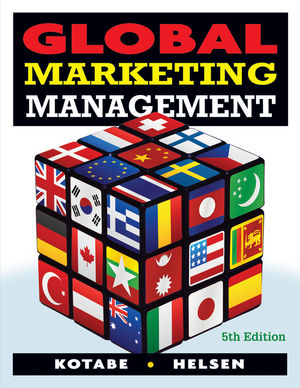 Global Marketing Management
prepares students to become effective managers overseeing global marketing activities in an increasingly competitive environment.  The text's guiding principle, as laid out clearly and methodically by authors Kotabe and Helsen, is that the realities of international marketing are more "multilateral."  The
5th Edition
further addresses some peculiar phenomenon being observed in global marketing today
. 
Whether they choose to pursue marketing careers, all students learn how marketing managers can affect other business functions for effective corporate performance on a global basis and how to work effectively with others for the same corporate goal.  Global Marketing Management brings timely coverage in various economic and financial as well as marketing issues that arise from the acutely recessionary market environment.
See More
1 Globalization Imperative.
2 Economic Environment.
3 Financial Environment.
4 Global Cultural Environment and Buying Behavior.
5 Political and Legal Environment.
6 Global Marketing Research.
7 Global Segmentation and Positioning.
8 Global Marketing Strategies.
9 Global Market Entry Strategies.
10 Global Product Policy Decisions I: Developing New Products for Global Markets.
11 Global Product Policy Decisions II: Marketing Products and Services.
12 Global Pricing.
13 Communicating With the World Consumer.
14 Sales and Cross-Cultural Management.
15 Global Logistics and Distribution.
16 Export and Import Management.
17 Planning, Organization, and Control of Global Marketing Operations.
18 Marketing Strategies for Emerging Markets.
19 Global Marketing and the Internet.
Cases.
Subject Index.
Author Index.
Company Index.
See More
Masaaki "Mike" Kotabe
holds the Washburn chair Professorship in International Business and Marketing, and is Director of research at the Institute of Global Management Studies at the Fox School of Business at Temple University. Prior to joining Temple University in 1998, he was Ambassador Edward Clark centennial Endowed Fellow and Professor of Marketing and International Business at the University of Texas at Austin. Dr. Kotabe also served as Vice President of the Academy of International Business in the 1997-1998 term. He received his Ph.D. in Marketing and International Business at Michigan State University. Dr. Kotabe teaches international marketing, global sourcing strategy (R&D, manufacturing, and marketing interfaces) and Asian business practices at the undergraduate and MBA levels, and teaches theories of international business at the Ph.D. level. He has lectured widely at various business schools around the world, including Austria, Brazil, China, Colombia, Finland, Germany, Indonesia, Japan, Korea, Mexico, Norway, Sweden, and Turkey. For his research, he has worked closely with leading companies such as AT&T, Kohler, NEC, Nissan, Philips, Sony, and Seven &  I Holdings (parent of 7-Eleven stores), and served as advisor to the United Nations' and World Trade Organization's Executive Forum on National Export Strategies.
Kristiaan Helsen has been an associate professor of marketing at the Hong Kong University of Science and Technology (HKUST) since 1995. Prior to joining HKUST, he was on the faculty of the University of Chicago for five years. He has lectured at Nijenrode University (Netherlands), the International University of Japan, Purdue University, the Catholic University of Lisbon, and China Europe International Business School (CEIBS) in Shanghai, China. Dr. Helsen received his Ph.D. in Marketing at the Wharton School of the University of Pennsylvania.
His research areas include promotional strategy, competitive strategy, and hazard-rate modeling. His articles have appeared in journals such as Marketing Science, Journal of Marketing, Journal of Marketing research, and European Journal of Operations Research, among others. Dr. Helsen is on the editorial board of the International Journal of Research in Marketing. 
See More
Every chapter has been thoroughly updated!  A significant focus has been placed on how economic and financial environments have drastically worsened on a global scale.
BRAND NEW chapter on Emerging Markets!
Greater recognition of the effect of terrorism on the global economy and global marketing, particularly since it fundamentally affects the nature and cost of doing business abroad.
Integration of global sourcing into the global marketing strategy (Ch 8) and the logistics and distribution chapter (Ch 15) for a smoother flow.
NEW section on the timing of entry and a section on exit strategies.
MORE extensive coverage of international retailing
Two new customer management practices:  Global Account Management and Global Customer Relationship Management.  Also covered is the very latest on cultural value systems, including an elaborate discussion of GLOBE.
The Communication chapter has been expanded considerably by covering 21st century forms of communications (viral marketing, mobile marketing, product placement).
Expanded coverage of non-advertising communication modes in Ch 13: Communicating with the World Consumer
Market segmentation and positioning are stressed as the two most important aspects of marketing management in Ch 7: Global Segmentation and Positioning.
Significant discussions on logistical management and an enhanced section on International Retailing.
Topics on the internet and IT are discussed where relevant throughout the entire book, and the Internet chapter provides a final wrap-up.
See More
Over 40 excellent case studies, both long and short!  Students will develop global strategic thinking with these real-world examples. Six are in the text, and the rest are on the book's companion website. 
Good balance between theoretical perspective & application.
"Global Perspectives" Inserts - These serve as either up-to-the-minute news stories that can double as "Mini-Cases" for class discussion, or as controversial issues that students should be aware of.
Stimulating, real-life Discussion and Review Questions listed at the end of each chapter.
Authors' pedagogical orientation embraces the existing stock of useful marketing knowledge and methods but also sets itself apart from the competition in a number of fundamental ways: 
- Global Orientation—The book takes the view that the term "global" symbolizes the competitive pressure and market opportunities from around the world and the firm's need to optimize its market performance on a global basis.  This is a multilateral perspective.
- Cultural Sensitivity—The book shows the reader how to balance both scale and sensitivity in order to effectively position products.
- Research Orientation—reflects the belief that theory is useful to the extent it helps practices.
- Interdisciplinary Perspective
- Proactive Orientation
- Practical Orientation
- Internet Implications
See More
"In a sense, Kotabe and Helsen's would not be a "typical" text book. The conceptual framework, together with the examples, cases, analyses and comments reveal a deep knowledge of the authors about various countries on the spot. Their background indicates that living in so many different countries, even for a limited period of time, has given them an extremely rich exposure to real situations.  Their 5
th
edition excels in presenting the complex issues and consequences of the global financial crisis that have affected the world since 2008. As a citizen from one of the so-called BRIC nations (Brazil, Russia, India and China), it struck me to see how elegant and objective the authors were, as they described the increasing presence of these countries as current global competitors.  It is an impressive book. Anyone in academia or in the business community should find the opportunity to read it soon.  It exceeds what is usually expected for regular international marketing courses. It serves as serious support to decision makers in any part of the world, because it really is global." 
   - Maria Cecilia Coutinho de Arruda, Fundação Getulio Vargas, São Paulo, Brazil
"The fifth edition of Global Marketing Management covers the latest advances in the area of international marketing. The new chapter on marketing strategies in emerging markets includes very useful know-how and insights on marketing in these markets. I also highly recommend Kotabe and Helsen's Global Marketing Management  to marketing practitioners."
   - Dipak Jain, Sandy and Morton Goldman Professor in Entrepreneurial Studies and a professor of marketing, Northwestern University
"The Global Marketing Management 5th Edition provides a truly global perspective on the marketing function and presents a unifying framework to understand and organize global marketing activities. It features comprehensive discussions on a wide variety of topics related to global marketing. The chapters offer a unique outlook on issues spanning the global environment, mirroring the complexities and interrelationships of the various macro factors. The importance and relevance of the planning elements, such as segmentation and market research in developing competitive strategies are clearly articulated in several chapters. The authors are able to productively capture the dynamic and ever changing nature of the strategies and operational realities in the global market place with many case histories and examples of the strategies used by multi national corporations. The section on Global Operations is a collection of chapters that offer state of the art analysis on emerging issues that will shape global business in the future. The conclusions offered in each of the chapters will be valuable tools for both practicing managers as well as management students. This is an exceptional textbook that effectively integrates academic research and business practices in the global context and develops extraordinary insights on multinational business operations."   
   - Durairaj Maheswaran, Paganelli Bull Professor of Marketing, New York University, USA
"Kotabe and Helsen's text is relevant, timely, scholarly, and thought-provoking.  The authors have done an excellent job in integrating materials from various disciplines including marketing, economics, and knowledge management.  The blend of solid research frameworks with real-life examples and contemporary cases from all corners of the world will significantly enhance the learning experience and strengthen the cultural sensitivity awareness required of successful global marketing managers."
   - Ikujiro Nonaka, Graduate School of International Corporate Strategy, Hitotsubashi University, Japan
"The global economic and financial context and its changes is the starting point. For that reason marketing scholars and business executives will highly value and use the newest edition of Global Marketing Managementby Kotabe & Helsen. The book provides a compelling framework and source for successful marketing decisions in the every changing environment of globalization. Five capstones organize the knowledge: Globalization, Global Marketing Environment, Development of Competitive Strategy, Global Marketing Strategy Development and Managing Global Operations. What makes the book so valuable and rewarding? It is easy to read and gives a sound theoretical orientation. It is illustrated by a fine and adequate selection of interesting and practical case studies. By that it covers the most recent developments in the global business and is a must for the global marketer. I wish the book every success."
   - Gerhard A. Wührer, Dean of the Faculty of Social and Economic Sciences, Johannes Kepler University, Linz, Austria
"The Kotabe and Helsen Global Marketing Management text is the best on the market.  This excellent text prepares students with a comprehensive and holistic understanding of the complexities of the global market.  The chapters and cases help students gain theoretical knowledge and hands-on experience in developing global marketing strategies that lead to a sustainable competitive advantage for global companies."
   - Janet Y. Murray, E. Desmond Lee Professor, Professor of Marketing, University of Missouri-St. Louis
"I find the writing very engaging, as it is replete with captivating examples of a wide variety of products from across the globe, not merely a handful from the same countries over and over...  The book is very engaging and perfectly written for either undergrads or MBA students.  New terms are always carefully explained."
   - Chip Miller, Associate Professor of Marketing, Drake University, Des Moines, IA
"I enjoy the authors' approach to using examples from all corners of the globe.  Many texts are too subjective to the home country, and this hinders the overall teaching of global thinking and decision making."
   - Angela Kinworthy, Visiting Instructor, Business Administration, Columbia College, Columbia, MO
"The reason why I have not switched books over the years in spite of overtures from competitors is because I consider this book to be among the best…. in my estimation very well written.  The material is appropriately covered in them and the examples/global perspectives are right on point.  Up to date tables, pictures and charts provided are very useful resources.  The post chapter exercises and cases are suitable for either undergraduate or graduate students…  The fact is that this textbook is an outstanding piece of work."
   - Justin Peart, Associate Professor in the College of Business and Founding Director for the Institute for Global Entrepreneurship, St. Thomas University, Miami, FL
See More
Instructors Resources
ENHANCE YOUR COURSE
Digital evaluation copy available for this title
Request Copy

Contact your Wiley Representative
Find Your Rep

See More
See Less
Students Resources
See More
See Less
Purchase Options

Information about Wiley E-Texts:
Wiley E-Texts are powered by VitalSource technologies e-book software.
With Wiley E-Texts you can access your e-book how and where you want to study: Online, Download and Mobile.
Wiley e-texts are non-returnable and non-refundable.
WileyPLUS registration codes are NOT included with the Wiley E-Text. For informationon WileyPLUS, click here .
To learn more about Wiley e-texts, please refer to our FAQ.

Information about e-books:
E-books are offered as e-Pubs or PDFs. To download and read them, users must install Adobe Digital Editions (ADE) on their PC.
E-books have DRM protection on them, which means only the person who purchases and downloads the e-book can access it.
E-books are non-returnable and non-refundable.
To learn more about our e-books, please refer to our FAQ.
This title is also available on :