Textbook
Human Geography: People, Place, and Culture, 9th Edition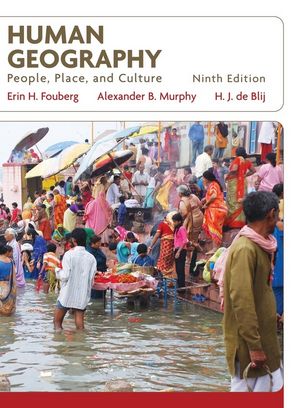 Human Geography: People, Place, and Culture, Ninth Edition helps students appreciate the role people play in shaping places and provides context for the issues. This text provides the comprehensive background information needed for students to think critically about their world and to better understand the events, peopole and movements that shape geographers' study of it.

for
Human Geography: People, Place, and Culture, 9th Edition
. Learn more at
WileyPLUS.com


Table of Contents
1 Introduction to Human Geography.
2 Population.
3 Migration.
4 Local Culture, Popular Culture, and Cultural Landscape.
5 Identity: Race, Ethnicity, Gender, and Sexuality.
6 Language.
7 Religion.
8 Political Geography.
9 Urban Geography.
10 Development.
11 Agriculture.
12 Industry and Services.
13 Human Environment.
14 Globalization and the Geography of Networks.
New To This Edition
Data, maps, figures and photos have all been fully updated for the ninth edition.
Additional Field Notes and Guest Field Notes have been added throughout the text.
Chapter 2, Population, now features a new section on Medical Geography.
Hallmark Features
"From the Field" examine a specific place, its location, what the issues are, geographers' field research and what the authors found in their own observations.
"Applying geographic knowledge" sections at the end of each chapter, address the key concepts used within the chapter and force students to apply geographic concepts.
All geographic concepts are shown and explained with the most up-to-date photos, illustrations and maps.
MAP strengths known to all de Blij titles (Maps, Accuracy, and Photos).
"Key questions" are listed after the opening field note of each chapter and serve as the outline for the chapter.
"Thinking Geographically" questions ask the reader to apply a geographic concept to a real life example.
Available Versions