Textbook
Psychology and the Challenges of Life, 11th Edition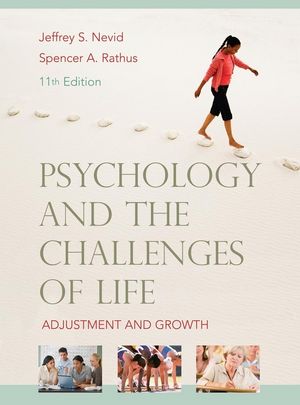 A long-respected standard in the psychology of adjustment, Psychology and the Challenges of Life, 11th edition, has been thoroughly updated and contemporized to provide students the ability to reflect on the many ways in which psychology relates to the lives we live and the important roles that psychology can play in helping us adjust to the challenges we face. Authors Jeffrey Nevid and Spencer Rathus explore the many applications of psychological concepts and principles used to meet the challenges of daily life, while encouraging students to apply concepts to themselves through active learning exercises, self-assessment questionnaires, and journaling exercises.   The text's modular organization goes even further to increase student understanding by breaking down lengthy chapters into individualized study units designed to fit the busy lifestyles of today's students.

for
Psychology and the Challenges of Life, 11th Edition
. Learn more at
WileyPLUS.com


Table of Contents
Chapter 1- Psychology and the Challenges of Life
Chapter 2- Personality
Chapter 3- Stress: What Is It and How to Manage It?
Chapter 4- Psychological Factors and Health
Chapter 5- Developing Healthier Behaviors
Chapter 6- The Self in a Social World
Chapter 7- Social Influence: Being Influenced By- And Influencing- Others
Chapter 8- Psychological Disorders
Chapter 9- Therapies: Ways of Helping
Chapter 10- Gender Roles and Gender Differences
Chapter 11- Interpersonal Attraction: Of Friendship and Love
Chapter 12- Relationships and Communication: Getting From Here to There
Chapter 13- Sexual Behavior
Chapter 14- Adolescent and Adult Development: Going Through Changes
Chapter 15- The Challenges of the Workplace
New To This Edition
A focus on Positive Psychology: the emerging field of positive psychology and its content is integrated and highlighted throughout the text.
A new feature Psychology and Modern Life focuses on research in positive psychology that addresses the question, "What Makes People Happy?"
A new and thorough update of the latest research findings and scientific developments relating to processes of psychological adjustment and personal growth.
A new end-of-chapter feature that provides links to related videos and instructional materials to deepen the students understanding of the text in WileyPLUS.
WileyPLUS now offered for the first time with this textbook!
WileyPLUS is an online teaching & learning environment integrating the entire digital textbook with the most effective instruction & student resources to fit every learning style.
Hallmark Features
Applies psychological principles to aid readers in meeting the challenges they face in their daily lives, to solve problems, and reach their individual potentials.
Communicates the scientific nature of psychology through coverage of research methods, and the review of classic and current studies in the field.
Integrated coverage of human diversity throughout the text.
Psychology in Daily Life modules help students see how psychological knowledge discussed in the chapter applies to problems and issues of modern life.
Available Versions