Textbook
Making Choices for Multicultural Education: Five Approaches to Race, Class and Gender, 6th Edition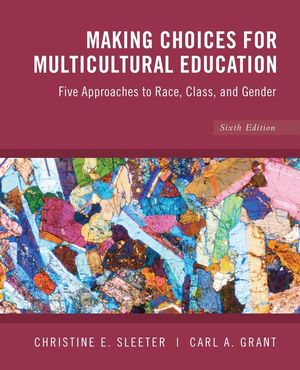 Focusing on what multicultural education actually looks like in the classroom, "Making Choices for Multicultural Education, Sixth Edition" encourages all to examine the latest theoretical perspectives on multicultural education, as well as personal beliefs about classroom diversity. The authors show how schools reflect broad patterns of institutional discrimination, and then offer five different approaches to addressing such problems in the classroom.


Table of Contents
Chapter 1: Illusions of Progress, Business as Usual
Chapter 2: Teaching the Exceptional and the Culturally Different
Chapter 3: Human Relations
Chapter 4: Single-group Studies
Chapter 5: Multicultural Education
Chapter 6: Multicultural Social Justice Education
Chapter 7: Our Choice: Multicultural Social Justice Education
Author Information
Christine Sleeter
is Professor Emeritus at California State University-Monterey Bay and Vice President of Division K, Teaching and Teacher Education, of the America Educational Research Association.
Carl Grant is Professor of Teacher Education in the Department of Curriculum and Instruction at the University Wisconsin-Madison and Chair of the Publication Committee of the American Education Research Association. He is a past president of the National Association for Multicultural Education.
Hallmark Features
Incorporates the most recent demographic data and literature relevant to ongoing struggles.

Discusses intercultural education as practiced in Europe and Asia and how it differs from multicultural education in the US

Features a stronger global perspective that contextualizes globalization, oppression, and other topics using examples from both the US and other countries

Examines and contextualizes poverty, both personal and group, and its influences on the ideas discussed
Available Versions