Textbook
Turning on Learning: Five Approaches for Multicultural Teaching Plans for Race, Class, Gender and Disability, 5th Edition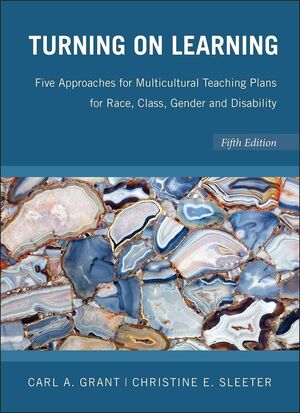 With a wealth of ready-to-use lesson plans for grade levels K-12 covering a variety of subject areas, "Turning on Learning, Fifth Edition" shows students how to apply the principles of multicultural education in the classroom. This practical, lesson-based companion to Sleeter and Grant's "Making Choices for Multicultural Education:Five Approaches to Race, Class and Gender" features additional lesson plans and new resource material, along with updates of existing lesson plans.


Table of Contents
Chapter 1: What Turns Your Students On?

Chapter 2: Teaching the Exceptional and Culturally Different

Chapter 3: Human Relations

Chapter 4: Single-Group Studies

Chapter 5: Multicultural Education

Chapter 6: Multicultural and Social Justice Education
Author Information
Carl Grant
is Professor of Teacher Education in the Department of Curriculum and Instruction at the University Wisconsin-Madison and Chair of the Publication Committee of the American Education Research Association. He is a past president of the National Association for Multicultural Education.
Christine Sleeter is Professor Emeritus at California State University-Monterey Bay and Vice President of Division K, Teaching and Teacher Education, of the America Educational Research Association.
Hallmark Features
Updated demographic data in all lesson plans. Both group population demographics (e.g., use of latest census data) and published material (e.g. ,latest edition of a publication and adding more contemporary discussion to a topic) have been updated.

Inclusion within current lesson plans attention to "poverty" and at least two new plans that deal with poverty.

Inclusion within current lesson plans attention to "globalization" and new lesson plans that deal with the effects of globalization(e.g., outsourcing)

Revision of the TOC for the lesson plans are more user friendly.
Available Versions