Textbook
Latin America and the Caribbean: A Systematic and Regional Survey, 6th Edition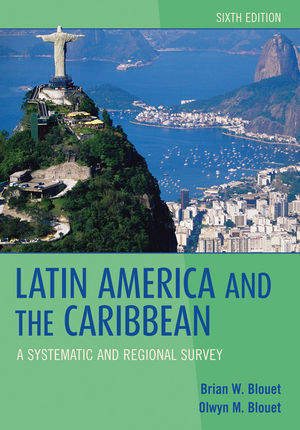 Updated and revised with many new detailed maps and photographs, this sixth edition enables geographers to explore the changes and major issues facing this dynamic region today. The historical material has been streamlined in order to focus on contemporary issues. Key environmental issues are highlighted in new boxes throughout the chapters. The Systematic surveys have been restructured. New profiles of Latin American countries and major issues are also covered. This approach will help geographers visit the dynamic people and places of Latin America.
See More
Chapter 1
INTRODUCING LATIN AMERICA
Brian W. Blouet and Olwyn M. Blouet
Political Stability
Modernizing Trends
Defining Latin America
Export Economies
Democracy and Development
Overview of Systemic Chapters
Overview of Regional Chapters
Review Questions
PART I
SYSTEMATIC SURVEY
Chapter 2
PHYSICAL ENVIRONMENTS AND ENVIRONMENTAL ISSUES
Brian W. Blouet
Latin America in the Global Environmental System
Environmental History
Environmental Hazards
Tectonic Plates and Structural Regions
Major Climate and Vegetation Regions
Air Masses and Atmospheric Circulation
Distribution of Precipitation
Soil Types
Natural Vegetation Types
River Systems
Environmental Determinism
Sustainable Development
Latin America and Global Warming
Review Questions
Chapter 3
HISTORICAL AND CULTURAL GEOGRAPHY
Brian W. Blouet, Olwyn M. Blouet and Charles S. Sargent
Introduction
1491:  Early American Peoples, Economies and Societies   
Farming in 1491
The Shaping of the Atlantic World
Centers of European Conquest and Settlement
Impact of Encounter and Colonial Rule
Columbian Exchange
Economy and Society
Colonial Transport Patterns
Urban Patterns
Cultural Patterns and Cultural Landscapes
The Age of Revolution:  New Political Geographies
Economic Booms in the Nineteenth Century
Summary
Review Question
Chapter 4
INTERNATIONAL RELATIONS AND GLOBAL AFFAIRS
Brian W. Blouet and Olwyn M. Blouet
Introduction
The Origins of Boundaries and Countries
Geopolitics
Relations between Latin American States
Latin America and the United States
Impact of World War I
The Great Depression
World War II
The Cold War
ISI in the 1960s - Stagflation in the 1970s – the Lost Decade of the 1980s – Growth in the 1990s
More U.S. Interventions
The End of the Cold War
Post Nine Eleven (9/11)
Globalization
Review Questions
Chapter 5
PEOPLE AND SOCIETY
Brian W. Blouet
Introduction: Change since 1945
Population Density
Distribution
The Demographic Transition
Population Migration
Living Standards:  Quality and Inequality
Women and Society
Education in Latin America
National Identities, Ethnicity and Race
Indigenous Issues
Review Questions
Chapter 6
EVOLVING ECONOMIES AND GLOBILAZTION
Brian W. Blouet
Introduction
Economic Policies
Sectors of the Economy
The Primary Sector
The Manufacturing Sector
The Service Sector
International Economic Groupings in Latin America
Summary
Review Questions
Chapter 7
THE CONTEMPORARY CITY
Alan Gilbert
Urban Growth since 1950
Migration to the City
Life in the City
Challenges
Summary
Review Questions
MODELS OF URBAN STRUCTURE
Charles S. Sargent
PART II
REGIONAL SURVEY:  MIDDLE AMERICA
Chapter 8
CARIBBEAN CONTRASTS
Olwyn M. Blouet
Physical Environments and Hazards
The Making of the Island Caribbean
The Contemporary Caribbean
Economies
The Greater Antilles
The Lesser Antilles
Guyana, Suriname, and French Guiana (Guyane)
Summary
Review Questions
Chapter 9
MODERNIZING MEXICO
Peter Rees
The Ties that Bind
Physical Landscapes and Environmental Pressures
Origins of the Contemporary Landscape
Regions of Mexico
The Independent North
The Central Metropolitan Axis
The Southern Poverty Belt
Challenges to Modernity
Review Questions
Chapter 10
CENTRAL AMERICA:  THE SEARCH FOR UNITY
Peter Rees
Introduction
Physical Environment
Origins of the Contemporary Landscape
The Modern Era
Guatemala
El Salvador
Honduras
Nicaragua
Costa Rica
Belize
Panama and the Panama Canal
Summary
Review Questions
 
PART III
REGIONAL SURVEY:  SOUTH AMERICA
Chapter 11
ANDEAN AMERICA
Brian W. Blouet
Colombia
Venezuela
The Central Andes:  Ecuador, Peru, and Bolivia
The Southern Andes:  Chile
Review Questions
Chapter 12
BRAZIL AND BRAZILIAN AMAZONIA
C. Gary Lobb
Introduction
The Physical Background
Historical Development
Political Economy
The Agricultural Economy
Social Geography
Regional Disparity
Political Issues
Brazilian Amazonia:  The Physical Setting
Human Ecology:  The Place of Humankind in the Amazonian Biosphere
Recent Human Activity
Problems and Promise of Amazonia
Review Questions
Chapter 13
ARGENTINA, URUGUAY, AND PARAGUAY
Charles S. Sargent and Brian W. Blouet
Introduction
Physical Geography
Argentina
Uruguay
Paraguay
Summary
Review Questions
GLOSSARY
FURTHER READING
PHOTO CREDITS
INDEX
See More
A new chapter on Economic Geography includes discussion of the role of globalization in broadening markets for Latin American commodities, particularly in Asia.

A new chapter, entitled The Contemporary Latin American City, describes how major cities in the region have responded to rapid urbanization and urban problems.

All the regional chapters, covering the Caribbean Contrasts, Modernizing Mexico, Central America: the Search fo Unity, Andean America, Brazil and Brazilian Amazonia, Argentina, Uruguay, and Paraguay have been rewritten and revised to highlight political and economic changes in the regions.

New maps and photographs.
See More
•     This text provides a collection of perspective by numerous contributors yet has been crafted to read smoothly, consistently and cohesively.
•     Provides a unique combination of systemic and regional approaches to study of this area.
•     Covers the basic geographic concepts and explains many of the major issues which are facing this dynamic region.
•     Known for its currency and clear presentation of key concepts.
See More
Instructors Resources
ENHANCE YOUR COURSE
Digital evaluation copy available for this title
Request Copy

Contact your Wiley Representative
Find Your Rep

See More
See Less
Students Resources
See More
See Less
Purchase Options
Wiley E-Text&nbsp&nbsp&nbsp

Latin America and the Caribbean: A Systematic and Regional Survey, 6th Edition
ISBN : 978-0-470-57431-7
476 pages
October 2010, ©2010
Paperback&nbsp&nbsp&nbsp
Latin America and the Caribbean: A Systematic and Regional Survey, 6th Edition
ISBN : 978-0-470-38773-3
476 pages
September 2009, ©2010
$147.95&nbsp&nbsp&nbsp
BUY

Information about Wiley E-Texts:
Wiley E-Texts are powered by VitalSource technologies e-book software.
With Wiley E-Texts you can access your e-book how and where you want to study: Online, Download and Mobile.
Wiley e-texts are non-returnable and non-refundable.
WileyPLUS registration codes are NOT included with the Wiley E-Text. For informationon WileyPLUS, click here .
To learn more about Wiley e-texts, please refer to our FAQ.

Information about e-books:
E-books are offered as e-Pubs or PDFs. To download and read them, users must install Adobe Digital Editions (ADE) on their PC.
E-books have DRM protection on them, which means only the person who purchases and downloads the e-book can access it.
E-books are non-returnable and non-refundable.
To learn more about our e-books, please refer to our FAQ.
This title is also available on :