Textbook
The Earth Through Time, 9th Edition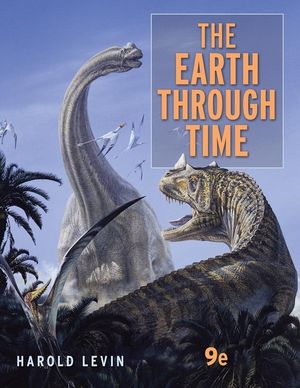 In
The Earth Through Time, Ninth Edition
, Harold Levin invites you on an excursion into the Earth s geologic past. Through Levin s lively and engaging narrative, students will gain an appreciation for the unique perspective and value of historical geology.
Now, more than ever, as the media seems to warn us daily of the many environmental dangers we face in the early years of the twenty-first century, a clearer understanding of how each component of our past interacts with and affects our present planet will help us make informed decisions about the many critical environmental issues that confront us. The Earth Through Time, Ninth Edition will illustrate to readers that there are lessons to be learned from ancient life.


Table of Contents
Chapter 1. The Science of Historical Geology
Chapter 2. Early Geologists Tackle History's Mysteries

Chapter 3. Time and Geology

Chapter 4. Rocks and Minerals:  Documents that Record Earth's History

Chapter 5. The Sedimentary Archives

Chapter 6. Life on Earth:  What Do Fossils Reveal?

Chapter 7. Plate Tectonics Underlies All Earth History

Chapter 8. The Earth's Formative Stages and the Archean Eon

Chapter 9. The Proterozoic:  Dawn of a More Modern World

Chapter 10. Early Paleozoic Events

Chapter 11. Late Paleozoic Events

Chapter 12. Life of the Paleozoic

Chapter 13. Mesozoic Events

Chapter 14. Life of the Mesozoic

Chapter 15. Cenozoic Events

Chapter 16. Life of the Cenozoic

Chapter 17. Human Origins

New To This Edition
• A more lively and engaging narrative to clearly convey the unique perspective and value of historical geology.
• Seventeen chapters have been organized under three major divisions to provide a clearer outline of the subject matter.
• Updated and improved explanations, and better illustrations are found throughout the text.
Hallmark Features
• Balanced coverage of basic geology and paleontology, with a strong approach to stratigraphy and paleontology.
• Each chapter begins with a concise list of Key Chapter Concepts and ends with a Summary of these essential ideas.
• By using the Questions for Review, students can test their knowledge and further process what they have learned from a chapter.
• A wealth of information is provided to students in the Appendices, including the Classification of Living Things, Periodic Table and Symbols for Chemical Elements, and a Glossary, to name a few.
Available Versions