Textbook
Principles of Genetics, 5th Edition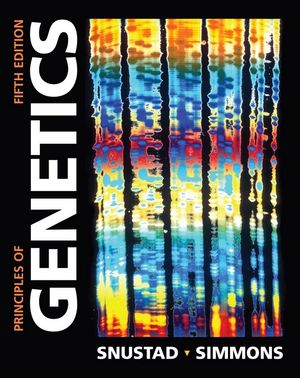 Principles of Genetics is one of the most popular texts in use for the introductory course. It opens a window on the rapidly advancing science of genetics by showing exactly how genetics is done.  Throughout, the authors incorporate a human emphasis and highlight the role of geneticists to keep students interested and motivated. The Fifth Edition is now completely current with the latest developments in the field of genetics. The Fifth Edition continues to educate today's students for tomorrow's science by focusing on features that aid in content comprehension and application. 
See More
Introduction and Fundamentals
Chapter 1 The Science of Genetics
Chapter 2 Cellular Reproduction and Model Genetic Organisms
Classical Genetic Analysis
Chapter 3 Mendelism: The Basic Principles of Inheritance
Chapter 4 Extensions of Mendelism
Chapter 5 The Chromosomal Basis of Mendelism
Chapter 6 Variation in Chromosome Number and Structure
Chapter 7 Linkage, Crossing Over, and Chromosome Mapping in Eukaryotes
Chapter 8 The Genetics of Bacteria and their Viruses
Chapter 9 DNA and the Molecular Structure of Chromosomes
Chapter 10 Replication of DNA and Chromosomes 
Chapter 11 Transcription and RNA Processing  
Chapter 12 Translation and the Genetic Code  
Chapter 13 Mutation, DNA Repair, and Recombination  
Chapter 14 Definitions of the Gene  
Chapter 15 The Techniques of Molecular Genetics  
Chapter 16   Genomics   
Chapter 17 Applications of Molecular Genetics
Chapter 18 Transposable Genetic Elements
Chapter 19 Regulation of Gene Expression in Prokaryotes and their Viruses
Chapter 20 Regulation of Gene Expression in Eukaryotes
Chapter 21 Genetic Control of Animal Development
Chapter 22 The Genetic Basis of Cancer
Chapter 23 Inheritance of Complex Traits
Chapter 24 Population Genetics
Chapter 25 Evolutionary Genetics
See More
New focus for this edition is Problem Solving.
A new feature called Focus on Problem Solving is a box in each chapter that guides the student through the analysis and solution of a representative genetic problem.  This is designed to teach the student a methodology for problem solving.  We have chosen a problem that involves important material in the chapter.  The box lists the facts and concepts that are relevant to the problem and then explains how to obtain the solution. Further discussion on the problem in included within WileyPLUS.  (Compare to Griffiths "Unpacking the Problem")
GO Problems in WileyPLUS provide a step by step walk through of some of the most difficult end of chapter questions and problems in the book.  Again these are intended to provide students with the tools for solving similar problems on their own.
See More
Provides a balance between concepts and experimental detail, using experiments to help explain the "how" and "why" concepts were developed

Offers the human perspective on genetics, through numerous examples and pedagogical elements found in the text.

  Features an excellent illustration program with many stepped-out figures.  Also uses micrographs in conjunction with illustrations to show the "real" micrograph and "ideal" illustration together.

  Includes a comprehensive set of problems and problem solving aids with all the tools necessary for successful student understanding of Genetics.
See More
Instructors Resources
ENHANCE YOUR COURSE
Customize your book the way you teach your course.
Learn more

Digital evaluation copy available for this title
Request Copy

Contact your Wiley Representative
Find Your Rep

See More
See Less
Students Resources
See More
See Less
Purchase Options
Principles of Genetics, 5th Edition
ISBN : 978-0-470-47308-5
October 2008, ©2009
Paperback&nbsp&nbsp&nbsp
Principles of Genetics, Fifth Edition Binder Ready Verison
ISBN : 978-0-470-40406-5
896 pages
December 2008, ©2009
Hardcover&nbsp&nbsp&nbsp
Principles of Genetics, 5th Edition
ISBN : 978-0-470-38825-9
848 pages
December 2008, ©2009

Information about Wiley E-Texts:
Wiley E-Texts are powered by VitalSource technologies e-book software.
With Wiley E-Texts you can access your e-book how and where you want to study: Online, Download and Mobile.
Wiley e-texts are non-returnable and non-refundable.
WileyPLUS registration codes are NOT included with the Wiley E-Text. For informationon WileyPLUS, click here .
To learn more about Wiley e-texts, please refer to our FAQ.

Information about e-books:
E-books are offered as e-Pubs or PDFs. To download and read them, users must install Adobe Digital Editions (ADE) on their PC.
E-books have DRM protection on them, which means only the person who purchases and downloads the e-book can access it.
E-books are non-returnable and non-refundable.
To learn more about our e-books, please refer to our FAQ.
This title is also available on :
Learn more about