Textbook
Modern Portfolio Theory and Investment Analysis, 8th Edition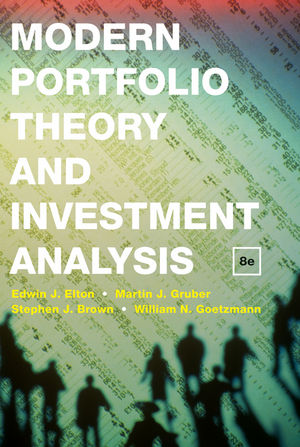 An update of a classic book in the field,
Modern Portfolio Theory
examines the characteristics and analysis of individual securities as well as the theory and practice of optimally combining securities into portfolios.   It stresses the economic intuition behind the subject matter while presenting advanced concepts of investment analysis and portfolio management. Readers will also discover the strengths and weaknesses of modern portfolio theory as well as the latest breakthroughs.
An update of a definitive investment text, Modern Portfolio Theory is a comprehensive guide to asset allocation, portfolio optimization, asset pricing models, and securities analysis, with an emphasis on practical, empirical methodology and technique. The 8th edition been updated with new developments in behavioral finance and choice theory, recent results in asset pricing models, new research on hedge funds and mutual funds, and novel approaches to optimization, including the liability framework and simulation methods for investment decision making and risk analysis.
Available Versions