Textbook
Understanding Motivation and Emotion, 5th Edition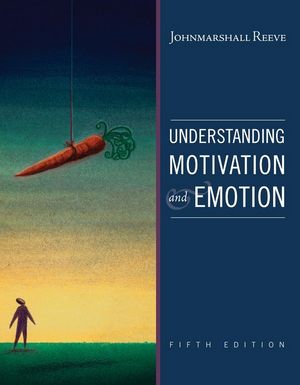 Why do people do what they do? From where does a motivational sense of "wanting to" come? How can one person help motivate another? Addressing these key questions and more, the fifth edition of
Understanding Motivation and Emotion
 helps readers understand motivation, where it comes from, how and why it changes over time, and how motivation can be increased and its quality can be enhanced. The book also shows how to apply the principles of motivation in applied settings, such as in schools, in the workplace, on the athletic field, in counseling, and in one?s own personal strivings.
Johnmarshall Reeve?s engaging writing captures the excitement of recent advances in the field to show the reader what contemporary motivation psychologists are excited about. Reeve uses effective examples and explains how motivation study can be applied to readers? daily lives. By combining a strong theoretical foundation with current research and practical applications, Reeve provides readers with a valuable tool for understanding why people do what they do and why people feel what they feel.  
See More
Preface.
Chapter 1. Introduction.
Chapter 2. Motivation in Historical and Contemporary Perspectives.
Chapter 3. The Motivated and Emotional Brain.
Part I. Needs.
Chapter 4. Physiological Needs.
Chapter 5. Intrinsic and Extrinsic Motivations.
Chapter 6. Psychological Needs.
Chapter 7. Social Needs.
Part II. Cognitions.
Chapter 8. Goal Setting and Goal Striving.
Chapter 9. Personal Control Beliefs.
Chapter 10. The Self and Its Strivings.
Part III. Emotions.
Chapter 11. Nature of Emotion: Five Perennial Questions.
Chapter 12. Aspects of Emotion.
Part IV. Individual Differences.
Chapter 13. Personality Characteristics.
Chapter 14. Unconscious Motivation.
Chapter 15. Growth Motivation and Positive Psychology.
Chapter 16. Conclusion.
References.
Name Index.
Subject Index.
Credits.
See More
Increase in the number of new theoretical perspectives and areas of application throughout the text.
Expansion of theoretical ideas further into practical applications especially in the areas of education, work, therapy, sports, and the home, including parenting.
Expanded Instructor's Manual/Test Bank: Now includes classroom discussion questions, recommended activities, brief demonstrations of motivational principles, and other tools to help instructors teach.
See More
Up-to-date coverage
Clear and concise writing style: Compared to other texts, this book better interprets and translates the research in motivation to ways that are easy to understand.
Practical and applied perspective on motivation study: Almost every chapter walks the reader through a how-to application, showing students how to motivate themselves and others.
See More
Instructors Resources
ENHANCE YOUR COURSE
Digital evaluation copy available for this title
Request Copy

Contact your Wiley Representative
Find Your Rep

See More
See Less
Purchase Options
Wiley E-Text&nbsp&nbsp&nbsp

Understanding Motivation and Emotion, 5th Edition
ISBN : 978-0-470-47259-0
600 pages
October 2008, ©2009
Hardcover&nbsp&nbsp&nbsp
Understanding Motivation and Emotion, 5th Edition
ISBN : 978-0-470-39223-2
600 pages
November 2008, ©2009
$218.95&nbsp&nbsp&nbsp
BUY

Information about Wiley E-Texts:
Wiley E-Texts are powered by VitalSource technologies e-book software.
With Wiley E-Texts you can access your e-book how and where you want to study: Online, Download and Mobile.
Wiley e-texts are non-returnable and non-refundable.
WileyPLUS registration codes are NOT included with the Wiley E-Text. For informationon WileyPLUS, click here .
To learn more about Wiley e-texts, please refer to our FAQ.

Information about e-books:
E-books are offered as e-Pubs or PDFs. To download and read them, users must install Adobe Digital Editions (ADE) on their PC.
E-books have DRM protection on them, which means only the person who purchases and downloads the e-book can access it.
E-books are non-returnable and non-refundable.
To learn more about our e-books, please refer to our FAQ.