Textbook
Case Studies in Abnormal Psychology, 8th Edition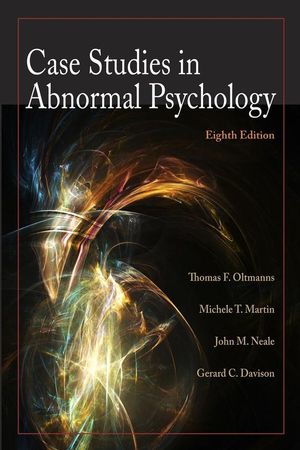 Case Studies in Abnormal Psychology, Eighth Edition
takes mental disorders from the realm of theory into the complex reality of human lives. The 23 cases that comprise this book present comprehensive descriptions of a range of clinical problems, spanning from childhood disorders to psychotic and personality disorders. The cases focus on symptoms, the clients' history, treatment, and outcome to provide detailed descriptions of a wide range of disorders.  
Here is a sample of what people are saying about Case Studies in Abnormal Psychology, Eighth Edition:
"The case studies book was by far the most interesting text book I have had for any class. The case studies helped me get a better idea of the disorders through the people that are affected by them."
 "I like the case studies a lot because they were real examples and illustrated the concepts for diseases very well."
 "I loved the case studies book and felt that it added a lot to the textbook and my understanding of each disorder."
See More
1. Obsessive Compulsive Disorder
2. Panic Disorder with Agoraphobia.
3. Posttraumatic Stress Disorder: Rape Trauma.
4. Social Phobia.
5. Hypertension in an African American Man.
6. Dissociative Identity Disorder: Multiple Personality.
7. Major Depressive Disorder.
8. Bipolar Mood Disorder.
9. Somatization Disorder.
10. Schizophrenia: Paranoid Type.
11. Psychotic Disorder (NOS), Substance Dependence, and Violence.
12. Alcohol Dependence.
13. Sexual Dysfunction: Female Orgasmic Disorder and Premature Ejaculation.
14. Paraphilias: Exhibitionism and Frotteurism.
15. Gender Identity Disorder: Transsexualism.
16. Eating Disorder: Anorexia Nervosa.
17. Eating Disorder: Bulimia Nervosa.
18. Paranoid Personality Disorder.
19. Borderline Personality Disorder.
20. Antisocial Personality Disorder: Psychopathy.
21. Autistic Disorder.
22. Attention-Deficit/Hyperactivity Disorder.
23. Oppositional Defiant Disorder.
See More
One new case has been added describing a childhood disorder. This case provides important coverage of the successful use of treatment procedures combining behavioral and family systems perspectives.
Critical Thinking Questions: Featured at the end of each chapter and designed to draw the reader's attention to challenging and potentially controversial issues raised by the cases in the text.
See More
Strong coverage of cultural, ethnic, gender, and women's issues.
Best known for its in-depth discussion sections.
Includes a number of transcripts of therapy sessions, giving students a realistic view of psychotherapy.
Excellent balance in various perspectives and treatments.
Comprehensive and scholarly.
See More
Instructors Resources
ENHANCE YOUR COURSE

Instant access to textbooks as eTextbooks.
Learn more

Digital evaluation copy available for this title
Request Copy

Contact your Wiley Representative
Find Your Rep

See More
See Less
Purchase Options

Information about Wiley E-Texts:
Wiley E-Texts are powered by VitalSource technologies e-book software.
With Wiley E-Texts you can access your e-book how and where you want to study: Online, Download and Mobile.
Wiley e-texts are non-returnable and non-refundable.
WileyPLUS registration codes are NOT included with the Wiley E-Text. For informationon WileyPLUS, click here .
To learn more about Wiley e-texts, please refer to our FAQ.

Information about e-books:
E-books are offered as e-Pubs or PDFs. To download and read them, users must install Adobe Digital Editions (ADE) on their PC.
E-books have DRM protection on them, which means only the person who purchases and downloads the e-book can access it.
E-books are non-returnable and non-refundable.
To learn more about our e-books, please refer to our FAQ.
This title is also available on :