Textbook
A Guide to Writing as an Engineer, 3rd Edition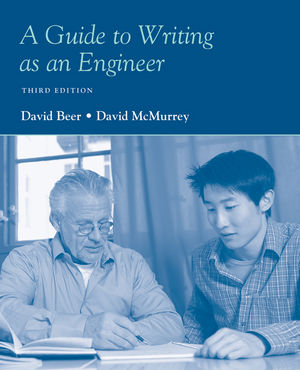 This book shows engineering students how to write and speak more effectively and develop the communication skills essential to success in their academic careers and on the job. The authors focus specifically on what an engineer needs on a day-to-day basis, providing an "engineering approach" to technical communication that features practical examples and situations from today's industry.
Based on the engineering concept that anything that interferes with efficient communication is "noise," the book shows students how to make their signal-to-noise ratio as high as possible. Such things as grammar errors, typos, poor organization, and fuzzy thinking are treated as noise that needs to be eliminated from the message, so that communication can be as effective and efficient as the engineering ideas it conveys.



Table of Contents
1. Engineers and Writing.
EngineersWrite a Lot.
EngineersWrite Many Kinds of Documents.
A Successful Engineering Career Requires Strong Writing Skills.
Engineers Can Learn to Write Well.
Noise and the Communication Process.
Controlling the Writing System.
Exercises.
Bibliography.
2. Eliminating Sporadic Noise in Engineering Writing.
Spelling and Spell Checkers.
Punctuation.
Sentence Sense.
Technical Usage.
Edit, Edit, Edit.
Exercises.
Bibliography.
3. Guidelines for Writing Noise-Free Engineering Documents.
Focus onWhyYou AreWriting.
Focus on Your Readers.
Satisfy Document Specifications.
Get to the Point.
Provide Accurate Information.
Present Your Material Logically.
Make Your Ideas Accessible.
Use Lists for Some Information.
Format Your Pages Carefully.

Express Yourself Clearly.
Use Efficient Wording.
Manage Your Time Efficiently.
Edit at Different Levels.
Share the Load: Write as a Team.
Exercises.
Bibliography.
4. Letters, Memoranda, Email, and Other Media for Engineers.
Which to Use?
Business Letters.
Business Memoranda.
Email.
New Internet Media.
Writing Styles for Business Correspondence.
Exercises.
Bibliography.
5. Writing Common Engineering Documents.
Some Preliminaries.
Inspection and Trip Reports.
Laboratory and Field Reports.
Specifications.
Proposals.
Progress Reports.
Instructions.
Recommendation Reports.
Exercises.
Bibliography.
6. Writing an Engineering Report.
Letter of Transmittal.
Cover and Label.
Page Numbering.
Abstract and Executive Summary.
Table of Contents.
List of Figures and Tables.
Introduction.
Body of the Report.
Conclusions.
Appendixes.
Documentation.

Generating Portable Document Files.
Using Wikis and Other Applications for Team Reports.
Exercises.
Bibliography.
7. Constructing Engineering Tables and Graphics.
Tables.
Charts and Graphs.
Illustrations.
Graphics and Tables: Guidelines.
Exercises.
Bibliography.
8. Accessing Engineering Information.
Basic Search Strategies.
Sources of Engineering Information.
Internet Engineering Information Resources.
Internet Search Tools.
Exercises.
Bibliography.
9. Engineering Your Speaking.
Preparing the Presentation.
Delivering the Presentation.
Team Presentations.
Checklist for an Oral Presentation.
Listening to a Presentation.
The Importance of Informal Communication.
Exercises.
Bibliography.
10. Writing to Get an Engineering Job.
How to Write an Engineering Resume.
How to Write an Application Letter.
How to Write a Follow-Up Letter.
Exercises.
Bibliography.
11. Ethics and Documentation in Engineering Writing.

Engineering Ethics.
The Ethics of Honest Research.
Exercises.
Bibliography.
Index.
Author Information
DAVID BEER
is professor of Electrical Engineering at the University of Texas Austin.
DAVID McMURREY is a technical writer from industry, most recently with IBM.  This combination of academic and industry perspective gives this book its broad perspective covering all aspects of writing, from academic research to effective corporate communication.
Hallmark Features
Introducing the concept of noise in communication rather than focusing on errors and poor writing, as in traditional courses, alleviates negative feelings students have about the writing and revision process.
Examples from real engineering writing focus on the engineering discipline and specific area of focus that the student is studying and will be practicing as a professional.
Coverage of ethics.  The presentation in the final chapter of two different Engineering Codes of Ethics (IEEE and ABET) shows how engineers or student interns can implement these codes on the job if faced with an ethical decision.
Avoiding ethical pitfalls when writing as an engineer.  See list in final chapter.
How to document information taken from other sources. The book provides examples of how to cite numerous kinds of sources when doing research or writing a technical report.  See complete list of citation examples in Ch. 11.

Available Versions