Textbook
Differential Equations with Boundary Value Problems: An Introduction to Modern Methods and Applications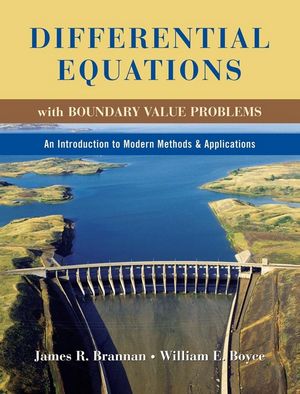 This is a textbook for a first course in differential equations. The book is intended for science and engineering majors who have completed the calculus sequence, but not necessarily a first course in linear algebra. It emphasizes a systems approach to the subject and integrates the use of modern computing technology in the context of contemporary applications from engineering and science.


Table of Contents
1. Introduction
2. First Order Differential Equations
3. Systems of Two First Order Equations
4. Second Order Linear Equations
5. The LaPlace Transform
6. Systems of First Order Linear Equations
7. Nonlinear Differential Equations and Stability
8. Series Solutions of Second Order Linear Equations
9. Partial Differential Equations and Fourier Series
10. Boundary Value Problems and Sturm-Liouville Theory
A. Matrices and Linear Algebra
B. Complex Variables
Answers to Selected Problems
References
Index
Hallmark Features
Brannan and Boyce is an offshoot, but not new edition, of the well-known textbook by Boyce and DiPrima. Readers familiar with Boyce/DiPrima will doubtless recognize in this text some of the hallmark features that distinguish that text.
Brannan/Boyce is more sharply focused on the needs of students of engineering and science, whereas Boyce/DiPrima targets a more general audience, including engineers and scientists.
Brannan/Boyce is intended to be more consistent with the way contemporary scientists and engineers actually use differential equations in the workplace.
Brannan/Boyce emphasizes systems of first order equations, introducing them earlier and also examining them in more detail. Brannan/Boyce has an extensive appendix on matrix algebra to support the treatment of systems in n dimensions.
Brannan/Boyce integrates the use of computers more thoroughly and introduces numerical approximation methods in Chapter 1, and assumes that most students will use computers to generate approximate solutions and graphs throughout the book.
Brannan/Boyce emphasizes contemporary applications to a greater extent, primarily through end-of-chapter projects.
Brannan/Boyce makes somewhat more use of graphs, with more emphasis on phase plane displays, and uses engineering language more extensively.
Available Versions