Textbook
Visualizing Geology, 2nd Edition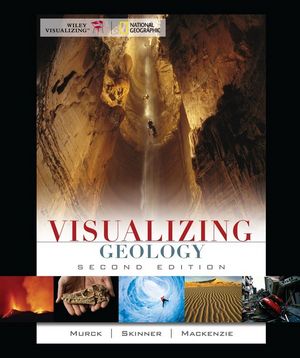 Visualizing Geology combines Wiley's expertise in creating top quality textbooks with rich visual resources such as photographs, maps, illustrations, diagrammatic art, and videos, with the content and teaching expertise of our authors. 
Visualizing Geology invites us to travel outside our familiar environment to distant parts of the world. With such photos, and with features such as Amazing Places at the end of every chapter, we seek to instill what words sometimes cannot: a sense of wonder about the planet we call home.
 Looking for a more cost-effective way to purchase this text? Check out www.wiley.com/college/wileyflex to learn more!
See More
Chapter 1. Earth as a Planet.
Chapter 2. Earth Materials.
Chapter 3. How Old is Old? The Rock Record and Deep Geologic Time.
Chapter 4. Plate Tectonics.
Chapter 5. Earthquakes and Earth's Interior.
Chapter 6. Volcanoes and Igneous Rocks.
Chapter 7. Weathering and Erosion.
Chapter 8. From Sediment to Sedimentary Rock.
Chapter 9. Folds, Faults, and Geologic Maps.
Chapter 10. Metamorphism: New Rocks From Old.
Chapter 11. Water On and Under the Ground.
Chapter 12. The Oceans and the Atmosphere.
Chapter 13. Deserts, Glaciers, and Climate Change.
Chapter 14. A Brief History of Life on Earth.
Chapter 15. Understanding Earth's Resources.
See More
Chapter 1 now includes a discussion of the scientific method and the often misunderstood terms theory and hypothesis.
Chapter 4 now includes an introduction to the supercontinent cycle.
Chapter 14 has been revised to bring it up to date with developments in the field of paleontology.
Several Chapter Summaries have been streamlined to make them more useful to the student.
Every Process Diagram and What a Geologist Sees feature now includes an Interesting Question.
See More
Learning Objectives at the beginning of each section head indicate in behavioral terms what the student must be able to do to demonstrate mastery of the material in the chapter.
Concept Check questions at the end of each section give students the opportunity to test their comprehension of the learning objectives.
Marginal Glossary Boxes introduce each chapter s most important terms, often reinforced with a thumbnail photograph.
What a Geologist Sees features highlight a concept or phenomenon, using photos and figures that would stand out to a professional in the field, and helping students to develop observational skills.
Global Locator Maps that accompany figures addressing issues encountered in a particular geographic region feature insets of hemispheric locator maps to help students visualize where the area is.
Process Diagrams present a series of figures or a combination of figures and photos that describe and depict a complex process, helping students to observe, follow and understand the process.
The illustrated Case Studies that cap off the text sections of each chapter offer a wide variety of in-depth examinations that address important issues in the field of environmental science.
Illustrations, Photos, and Cartoons support concepts covered in the text, elaborate relevant issues, and add visual detail. Many of the photos originate from National Geographic s rich sources.
Tables and graphs, with data sources cited at the end of the text, summarize and organize important information.
The Chapter Summary revisits each learning objective and redefines each marginal glossary term, featured in boldface here, and included in a list of Key Terms.
See More
Instructors Resources
ENHANCE YOUR COURSE
Digital evaluation copy available for this title
Request Copy

Contact your Wiley Representative
Find Your Rep

See More
See Less
Students Resources
See More
See Less
Purchase Options
Visualizing Geology, 2nd Edition
ISBN : 978-0-470-47109-8
October 2008, ©2009
Loose-leaf&nbsp&nbsp&nbsp
Visualizing Physical Geology: Binder Ready Version, 2nd Edition
ISBN : 978-0-470-43976-0
560 pages
February 2009, ©2010
Paperback&nbsp&nbsp&nbsp
Visualizing Geology, 2nd Edition
ISBN : 978-0-470-41947-2
560 pages
February 2009, ©2010

Information about Wiley E-Texts:
Wiley E-Texts are powered by VitalSource technologies e-book software.
With Wiley E-Texts you can access your e-book how and where you want to study: Online, Download and Mobile.
Wiley e-texts are non-returnable and non-refundable.
WileyPLUS registration codes are NOT included with the Wiley E-Text. For informationon WileyPLUS, click here .
To learn more about Wiley e-texts, please refer to our FAQ.

Information about e-books:
E-books are offered as e-Pubs or PDFs. To download and read them, users must install Adobe Digital Editions (ADE) on their PC.
E-books have DRM protection on them, which means only the person who purchases and downloads the e-book can access it.
E-books are non-returnable and non-refundable.
To learn more about our e-books, please refer to our FAQ.
This title is also available on :
Learn more about