Textbook
Fonética y fonología españolas, 4th Edition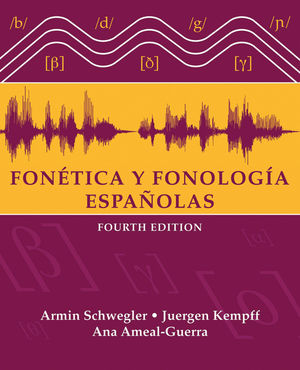 With 21 revised and updated chapters,
Fonética y fonología, 4th Edition
continues with three principal aims that characterized its successful previous editions. First, it provides an unparalleled introduction to phonetics and phonology. Second, the text allows students, native English speakers, to acquire semi-native pronunciation. Third, it offers to students their first introduction to dialectic phonetic variations of Latin American Spanish and peninsular Spanish.  Adding new co-author, Ana Ameal-Guerra, a native of Galicia, Spain, amplifies various sections about peninsular dialects and other varieties in the Spanish speaking world.
See More
Índice
Capítulo 1: Fonética y fonología: nociones básicas e introducción al texto
Capítulo 2: Fonética articulatoria: las vocales
Capítulo 3: La sílaba - Los diptongos - El hiato
Capítulo 4: Las consonantes [j] y [w]
Diptongos y semivocales: repaso y más detalles
Capítulo 5: La sílaba - Las vocales - El ritmo
Capítulo 6: Vocales en contacto
Más sobre la schwa
Repaso de algunos puntos importantes
Capítulo 7: Fonética articulatoria: las consonantes
Capítulo 8: La transcripcíon fonética
Capítulo 9: Fonemas y alófonos: fonología y fonética
Capítulo 10: Los fonemas oclusivos /p, t, k/
El fonema africado /tf/
Capítulo 11: Las consonants nasales
Capítulo 12: Las obstruyentes sonoras: /b, d, g/ -- /j/
Capítulo 13: Las vibrantes /r/ simple y /r/ multiple
Capítulo 14: La consonante lateral /l/
Capítulo 15: Los fonemas fricativos /f, s, x/
Capítulo 16: La entonación
Capítulo 17: El sistema vocálico del inglés
Capítulo 18: El español ayer y hoy
Capítulo 19: El español peninsular
Capítulo 20: El español americano: variación dialectal y sociolingüística
Capítulo 21: El español en los Estados Unidos
See More
More than 100 additional pages of text and exercises added to fourth edition.
Free access to all digital materials; students no longer need passcode to gain entry.
Updated written and oral pronunciation exercises, with more options on internet. User can decide how to download materials.
Printed exercises with or without answer keys at discretion of the professor.
Extra digital material accessible on web includes recorded samples of dialects.

Sociolinguistic and dialectical information has been updated.

Dozens of figures and tables have been updated. New maps have been added, and previous maps have been revised.

Text includes a new and expanded Glosario de términos.

The bibliography has been expanded.

Listening exercises, exercise keys, speech samples, practice exams, and other supplemental material are now on-line.
See More
Fonética y fonología españolas has been completely revised and updated for the fourth edition.
The text offers an introduction to various phonetic dialects of Spanish in the Americas and Spain.
See More
Instructors Resources
Digital evaluation copy available for this title
Request Copy

Contact your Wiley Representative
Find Your Rep

See More
See Less
Purchase Options

Information about Wiley E-Texts:
Wiley E-Texts are powered by VitalSource and accessed via the VitalSource Bookshelf reader, available online and via a downloadable app.
Wiley E-Texts are accessible online and offline, and can be read on a variety of devices, including smartphones and tablets.
Wiley E-Texts are non-returnable and non-refundable.
Wiley E-Texts are protected by DRM. For specific DRM policies, please refer to our FAQ.
WileyPLUS registration codes are NOT included with any Wiley E-Text. For informationon WileyPLUS, click here .
To learn more about Wiley E-Texts, please refer to our FAQ.

Information about e-books:
E-books are offered as e-Pubs or PDFs. To download and read them, users must install Adobe Digital Editions (ADE) on their PC.
E-books have DRM protection on them, which means only the person who purchases and downloads the e-book can access it.
E-books are non-returnable and non-refundable.
To learn more about our e-books, please refer to our FAQ.