Textbook
Crescendo!: An Intermediate Italian Program with Text Audio CD, 2nd Edition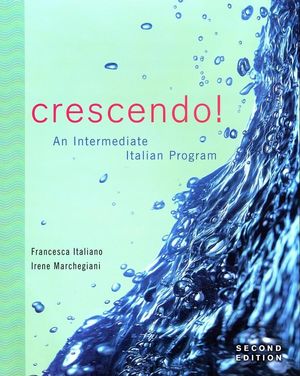 CRESCENDO! is a comprehensive intermediate Italian program that promotes the development of all four skills, encourages the acquisition of vocabulary, and provides a full review and expansion of Italian grammar-all within a rich cultural framework. Sophisticated, respected and functionally organized, CRESCENDO! emphasizes learning language in context through extensive use of authentic materials, including short stories by well-known modern Italian authors. In each thematically organized chapter, the vocabulary, situations, culturally relevant authentic readings, grammar structures and exercises are all correlated to reinforce the topics and structures featured and to give students the tools they need to express their thoughts and ideas on the themes treated.
Table of Contents
Chapter 1. Conosciamoci meglio!                       
Chapter 2. Tanti Racconti del passato                
Chapter 3. Tanti sogni nel cassetto!                    
Chapter 4. Tu vuoi far l'Americano                      
Chapter 5. Migrazioni: Chi va e chi viene                      
Chapter 6. E il mondo si fa sempre più piccolo: L'Italia nell'UE.
Chapter 7. Le tradizioni e la cultura popolare
Chapter 8. Mangiare all'Italiana
Chapter 9. L'Italia del passato: Il ventennio fascista e il neorealismo
Chapter 10. L'economia: il «sistema» Italia e le nuove sfide
Chapter 11. La cultura Italiana nel mondo
Chapter 12. Ricapitoliamo
English
Chapter 1. Let's get to know each other better
Chapter 2. A lot of stories of the past
Chapter 3. A lot of dreams in the drawer
Chapter 4. You want to be an American
Chapter 5. Migration: Who comes and who goes
Chapter 6. And the world keeps getting smaller: Italy in the European Union
Chapter 7. Traditions and popular culture
Chapter 8. Eating Italian
Chapter 9. Italy of the past: The fascist period and neo-realism
Chapter 10. The economy: the Italian system and the new challenges
Chapter 11. Italian culture in the world
Chapter 12. Let's recap
Hallmark Features
Facciamo conversazione emphasizes chapter-focused vocabulary for review and acquisition, and corresponding short cultural readings with related activities.
Strutture provides a review of and expansion upon functionally related grammatical structures, with related practice.
Ascoltiamo emphasizes the development and practice of listening skills in a chapter-related context
Testi e contesti: devoted to the reading of a longer authentic text by a famous Italian author, with pre-reading tasks and activities, as well as post-reading comprehension and discussion questions.
Per scrivere focuses on the presentation and practice of a specific writing strategy which prepares the student for an actual writing assignment.
Available Versions