Textbook
Con Fantasia: Reviewing and Expanding Functional Italian Skills, 3rd Edition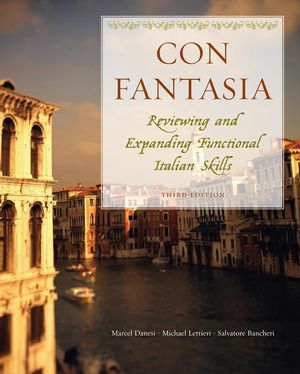 Con Fantasia allows students to use their prior knowledge of Italian as a basis for expansion and practice of more complex linguistic and cultural topics. Each chapter is built around a thematic focus, and the book's activities are related to these themes. In this revised edition, each chapter now features four main parts, each consisting of the same elements, sections, and overall flow, a unique organization of the lexical, grammatical, communicative, and cultural material that distinguishes Con Fantasia from other intermediate Italian textbooks.


Table of Contents
1. Gente.
2. L'amore.
3. La salute.
4. I mass media.
5. L'ora.
6. La famiglia.
7. Viaggiare.
8. La cucina italiana.
9. Trasporto.
10. Lo sport e il tempo.
11. Incontri.
12. Al lavoro.
13. Il mondo degli animali e del cinema.
14. Donne, uomini e la casa.
15. La moda.
16. Verbs.
Glossary.
Index.
Hallmark Features
Review-and-expand approach allows students to use prior knowledge of the language to move on to more complex linguistic and cultural topics.
Exposes students to different aspects of Italian culture and presents creative opportunities to explore chapter themes and then reflect on them orally or in writing.
Navigare su Internet sections encourage students to conduct guided online research on authentic Italian websites.
New and updated realia and excerpts from Italian writers provide authentic reading materials.
Available Versions