Textbook
Web 2.0 for Business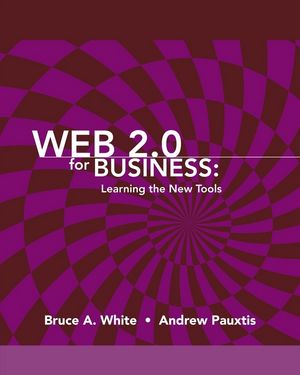 White,
Web 2.0 for Business
is a brief, inexpensive paperback designed for use along with a main course text for the introduction to information systems course.
Covering the emergence of Web 2.0 from niche applications to permeating every day life, the authors explore how popular web applications such as blogging, Facebook, Twitter and other collaborative sites can be applied to business.
See More
Preface.
Acknowledgements.
Chapter 1 A Brand New Web.
1.1 What is Web 2.0?
1.2 What are the Major Components of Web 2.0?
1.3 A Brief History of Web 2.0.
1.4 Why is Web 2.0 Important?
Chapter 2 Social Networking.
2.1What is Social Networking?
2.2 Getting Connected to a Social Network.
2.3 Social Networking Applications.
2.4 Other Social Networks.
2.5 What is the Future of Social Networking?
Chapter 3 Blogging for Business.
3.1 What is Blogging?
3.2 Overview and Basics
3.3 How to Create Your Own Site.
3.4 Conclusion. 
Chapter 4 Wikis for Business.
4.1 What is a Wiki?
4.2 Major Wiki Sites
4.3 Common Features of Wiki Sites.
4.4 Business and Wikis.
4.5 How Do Wikis Make Money?
4.6 How is a Wiki Different from a Blog?
4.7 Conclusion.
Chapter 5 Web 2.0 Media.
5.1 What is Web 2.0 Media?
5.2 How Popular is Web 2.0 Media?
5.3 Web 2.0 Media Sites You Should Know.
5.4 Web 2.0 Media: Business, Advertising, and Corporate Uses.
5.5 The Future and Growth Potential of Web 2.0 Media.
Chapter 6 Forums.
6.1 What are Forums?
6.2 Other Forums That Might Be of Interest. 
Chapter 7 Collaboration.
7.1 What is Collaboration?
7.2 Collaboration in the Web 2.0 World.
7.3 Business Use of Collaboration Tools.
Chapter 8 Virtual Teams and Collaboration.
8.1 Virtual Teams.
8.2 Managing Virtual Teams.
8.3 Telecommuting.
8.4 What is a Virtual Company?
8.5 What is Outsourcing?
Chapter 9 Leveraging Web 2.0.
9.1 Web 2.0 Utilization.
9.2 Creatinga a Sustainable Web 2.0 Business Model.
9.3 Marketing with Web 2.0.
9.4 Protecting Yourself.
Glossary.
Index.
See More
Bruce White, P

h

D, is the chair of the Information Systems Management Department in the School of Business, Quinnipiac University. He is very active in Information Systems Education, having served as conference chair for ISECON (Information Systems Education Conference) four times, an ABET IS accreditation visitor, on the board of directors of the Center for Computing Education Research (CCER), a lead developer for the IS Assessment Test from CCER, on the editorial review board for the Journal of Information Systems Education, and regularly reviews papers for conferences, textbook publishers and submits papers to several academic conferences. He also received the AITP-EDSIG Educator of the Year award for 2008.
Andrew Pauxtis graduated from Quinnipiac University in 2007 with an undergraduate degree in Communications, and again in 2008 with a Master's degree in Information Systems Management.  He is the founder of Apaxmedia, Inc., an internet new media marketing company.
See More
Inexpensive supplement to Intro IS texts.
Covers key topics including social networking, blogs and wiki.
Includes engaging and challenging projects and assignments.
Author maintained blog keeps book updated as needed and provides a forum for discussion of new topics.
See More
Purchase Options
Paperback&nbsp&nbsp&nbsp
Web 2.0 for Business
ISBN : 978-0-470-43618-9
96 pages
October 2009, ©2010

Information about Wiley E-Texts:
Wiley E-Texts are powered by VitalSource technologies e-book software.
With Wiley E-Texts you can access your e-book how and where you want to study: Online, Download and Mobile.
Wiley e-texts are non-returnable and non-refundable.
WileyPLUS registration codes are NOT included with the Wiley E-Text. For informationon WileyPLUS, click here .
To learn more about Wiley e-texts, please refer to our FAQ.

Information about e-books:
E-books are offered as e-Pubs or PDFs. To download and read them, users must install Adobe Digital Editions (ADE) on their PC.
E-books have DRM protection on them, which means only the person who purchases and downloads the e-book can access it.
E-books are non-returnable and non-refundable.
To learn more about our e-books, please refer to our FAQ.