Textbook
Economics: Theory and Practice, 9th Edition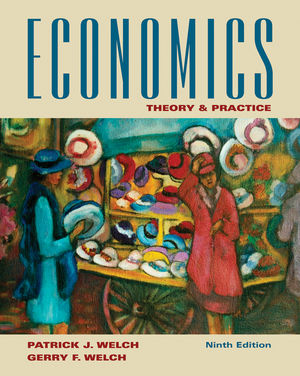 Designed for the Survey of Economics course,
Economics: Theory and Practice
introduces students to basic economic concepts, institutions, relationships, and terminology. This text prepares students to use economic thinking in their classes, careers, and everyday lives.
Flexible in approach, instructor-friendly in structure, and student-friendly in language, the new 9th Edition contains an essential coverage of both microeconomics and macroeconomics, in any sequence.  Whether addressing topics such as the effects of inflation on interest rates or an economy's response to a price increase in consumer goods, no survey of economics course is complete without Patrick and Gerry Welch's classic text.
See More
PART ONE: Introduction to Economics.
Chapter 1 Introduction Economics.
Chapter 2 Economic Decision Making and Economic Systems.
Chapter 3 Demand, Supply, and Price Determination.
PART TWO: The Macroeconomy.
Chapter 4 Goals and Problems of the Macroeconomy: Employment, Prices, and Production.
Chapter 5 Foundations of the Macroeconomy.
Chapter 6 The Role of Government in the Macroeconomy.
Chapter 7 Money, Financial Institutions, and the Federal Reserve.
Chapter 8 Money Creation, Monetary Theory, and Monetary Policy.
Chapter 9 Macroeconomic Viewpoints and Models.
PART THREE: The Microeconomy.
Chapter 10 Household and Businesses: An Overview.
Chapter 11 Benefits, Costs, and Maximization.
Chapter 12 Production and the Costs of Production.
Chapter 13 Competition and Market Structures.
Chapter 14 Government and the Markets.
Chapter 15 Labor Markets, Unions, and the Distribution of Income.
PART FOUR: The International Economy.
Chapter 16 International Trade.
Chapter 17 International Finance.
Glossary.
Answers to "Test Your Understanding".
Index.
See More
NEW Applications. Over 20 new applications have been integrated into the ninth edition. Chapters average at least 3 applications each. These applications:
•     Demonstrate the breadth of subject matter in economics.
•     Connects economics to other disciplines.
•     Connects economics to real world experiences.
"Green" Approach.  The authors have taken available opportunities to discuss "green economics" and how business and the environment are related.
Data Updates. Thoroughly revised for the most recently available qualitative data at the time of publication.
See More
Critical Thinking Cases

Featured at the end of each chapter, these cases encourage critical thinking skills while enriching concepts.
Up For Debate
Looks at the competing sides of a current economic issue. Examples of issues include: 
 - Raising minimum wage
 - Should the Federal Reserve be controlled by Congress?
Test Your Understanding
Reinforces key concepts and material by focusing on a particular case or way of using the concept.
Student-friendly writing style
Flexibility
The organization of the material allows instructors to take either a macro/micro or micro/macro sequence.
See More
Instructors Resources
ENHANCE YOUR COURSE
Digital evaluation copy available for this title
Request Copy

Contact your Wiley Representative
Find Your Rep

See More
See Less
Students Resources
See More
See Less
Purchase Options

Information about Wiley E-Texts:
Wiley E-Texts are powered by VitalSource technologies e-book software.
With Wiley E-Texts you can access your e-book how and where you want to study: Online, Download and Mobile.
Wiley e-texts are non-returnable and non-refundable.
WileyPLUS registration codes are NOT included with the Wiley E-Text. For informationon WileyPLUS, click here .
To learn more about Wiley e-texts, please refer to our FAQ.

Information about e-books:
E-books are offered as e-Pubs or PDFs. To download and read them, users must install Adobe Digital Editions (ADE) on their PC.
E-books have DRM protection on them, which means only the person who purchases and downloads the e-book can access it.
E-books are non-returnable and non-refundable.
To learn more about our e-books, please refer to our FAQ.
This title is also available on :
Learn more about