Textbook
Fundamentals of Modern Manufacturing: Materials, Processes, and Systems, 4th Edition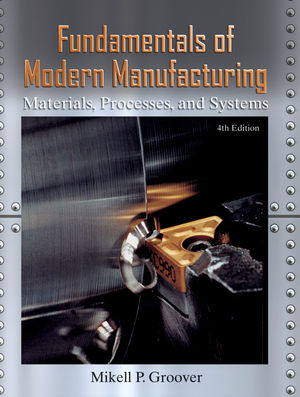 In this introductory book, Groover not only takes a modern, all-inclusive look at manufacturing processes but also provides substantial coverage of engineering materials and production systems. It follows a more quantitative and design-oriented approach than other texts in the field, helping students gain a better understanding of important concepts. Students will also discover how material properties relate to the process variables in a given process as well as how to perform manufacturing science and quantitative engineering analysis of manufacturing processes.
See More
1 Introduction and Overview of Manufacturing.
PART I: MATERIAL PROPERTIES AND PRODUCT ATTRIBUTES.
2 The Nature of Materials.
3 Mechanical Properties of Materials.
4 Physical Properties of Materials.
5 Dimensions, Surfaces, and their Measurement.
PART II: ENGINEERING MATERIALS.
6 Metals.
7 Ceramics.
8 Polymers.
9 Composite Materials.
PART III: SOLIDIFICATION PROCESSES.
10. Fundamentals of Metal Casting.
11 Metal Casting Processes.
12 Glassworking.
13 Shaping Processes for Plastics.
14 Rubber-Processing Technology.
 15 Shaping Processes for Polymer Matrix Composites.
PART IV: PARTICLATE PROCESSING OF METALS AND CERAMICS.
16 Powder Metallurgy.
17 Processing of Ceramics and Cermets.
PART V: METAL FORMING AND SHEET METALWORKING.
18 Fundaments of Metal Forming.
19 Bulk Deformation Processes in Metal Working.
20 Sheet Metalworking.
PART VI: MATERIAL REMOVAL PROCESSES.
21. Theory of Metal Machining.
22 Machining Operations and Machine Tools.
23 Cutting-Tool Technology.
24 Economic and Product Design Considerations in Machining.
25 Grinding and Other Abrasive Processes.
26 Nontraditional Machining and Thermal Cutting Processes.
PART VII: PROPERTY ENHANCING AND SURFACE PROCESSING OPERATIONS.
27 Heat Treatment of Metals.
28 Surface Processing Operations.
PART VIII: JOINING AND ASSEMBLY PROCESSES.
29 Fundamentals of Welding.
30 Welding Processes.
31 Brazing, Soldering, and Adhesive Bonding.
32 Mechanical Assembly.
PART IX: SPECIAL PROCESSING AND ASSEMBLY TECHNOLOGIES.
33 Rapid Prototyping.
34 Processing of Integrated Circuits.
35 Electronics Assembly and Packaging.
36 Microfabrication Technologies.
37 Nanofabrication Technologies.
PART X: MANUFACTURING SYSTEMS.
38 Automation Technologies for Manufacturing Systems.
39 Integrated Manufacturing Systems.
PART XI: MANUFACTURING SUPPORT SYSTEMS.
40 Manufacturing Engineering.
41 Production Planning and Control.
42 Quality Control and Inspection.
Index.
See More
Mikell P. Groover
is Professor of Industrial and Systems Engineering at Lehigh University, where he also serves as faculty member in the Manufacturing Systems Engineering Program. He received his B.A. in Arts and Science (1961), B.S. in Mechanical Engineering (1962), M.S. in Industrial Engineering (1966), and Ph.D. (1969), all from Lehigh. He is a Registered Professional Engineer in Pennsylvania. His industrial experience includes several years as a manufacturing engineer with Eastman Kodak Company. Since Joining Lehigh, he has done consulting, research, and project work for a number of industrial companies.
His teaching and research areas include manufacturing processes, production systems, automation, material handling, facilities planning, and work systems. He has received a number of teaching awards at Lehigh University, as well as the Albert G. Holzman Outstanding Educator Award from the Institute of Industrial Engineers (1995) and the SME Education Award from the Society of Manufacturing Engineers (2001). His publications include over 75 technical articles and ten books (listed below). His books are used throughout the world and have been translated into French, German, Spanish, Portuguese, Russian, Japanese, Korean, and Chinese. The first edition of the current book Fundamentals of Modern Manufacturing received the IIE Joint Publishers Award (1996) and the M. Eugene Merchant Manufacturing Textbook Award from the Society of Manufacturing Engineers (1996).
Dr. Groover is a member of the Institute of Industrial Engineers, American Society of Mechanical Engineers (ASME), the Society of Manufacturing Engineers (SME), the North American Manufacturing Research Institute (NAMRI), and ASM International. He is a Fellow of IIE (1987) and SME (1996).
See More
Content
The 4th edition introduces more modern topics, including new materials, processes and systems.
Increased emphasis on Nanotechnology.
Discussion of Green Engineering and Sustainability and relationship to Manufacturing.
Each chapter includes an end of chapter summary highlighting key concepts.
2 color presentation to allow for better understanding of the tools, machinery and processes
Updated and enhanced artwork with 3D shading to help students visualize concepts better.  
Examples
Added examples across the textbook, approximately 30% new or updates from 3e.
Homework Problems
End of chapter problems will be thoroughly revised (approx 40% new or updated). 
See More
· End-of-chapter problems. More than 750 end-of-chapter review questions and almost 500 multiple-choice quiz questions with many new and revised review questions and multiple-choice quizzes for all chapters.
· A DVD, based on the SME Fundamental Manufacturing Processes series, showing action videos of many of the manufacturing processes is included free with the book.
· Emphasis on manufacturing science and quantitative analysis of manufacturing processes. This emphasis enables student to understand the relationships among the material properties and the process variable in a given manufacturing process.
· Quantitative problems appear in every main section of the text. These problems offer good, assignable homework opportunities and provide balance to the more descriptive material in the text.
· Guide to Processing - Offers a Guide to Processing section in each of the four chapters on engineering materials which identifies the principal manufacturing processes used for that particular material type. Chapters and articles in the text are listed where these processes are described.
· Detailed Coverage of Topics Not Found in Other Texts: Provides a strong emphasis on ceramics, polymers, composites and their processing technologies, where most other books focus primarily on metals and the processing of metals only. This text contains full chapters on composites manufacturing, rubber processing, glass working, coating processes, mechanical assembly, electronics packaging and assembly, nanofabrication, and production lines--topics usually given less coverage in other texts. 
   · Product Design Considerations - Offers Product  Design Considerations which present guidelines on design and nearly 40 Historical Notes of particular manufacturing technology origins.
See More
Purchase Options
Wiley E-Text&nbsp&nbsp&nbsp

Fundamentals of Modern Manufacturing: Materials, Processes, and Systems, 4th Edition
ISBN : 978-0-470-57180-4
October 2010, ©2010
Hardcover&nbsp&nbsp&nbsp
Fundamentals of Modern Manufacturing: Materials, Processes, and Systems, 4th Edition
ISBN : 978-0-470-46700-8
1024 pages
January 2010, ©2010
$213.95&nbsp&nbsp&nbsp
BUY

Information about Wiley E-Texts:
Wiley E-Texts are powered by VitalSource technologies e-book software.
With Wiley E-Texts you can access your e-book how and where you want to study: Online, Download and Mobile.
Wiley e-texts are non-returnable and non-refundable.
WileyPLUS registration codes are NOT included with the Wiley E-Text. For informationon WileyPLUS, click here .
To learn more about Wiley e-texts, please refer to our FAQ.

Information about e-books:
E-books are offered as e-Pubs or PDFs. To download and read them, users must install Adobe Digital Editions (ADE) on their PC.
E-books have DRM protection on them, which means only the person who purchases and downloads the e-book can access it.
E-books are non-returnable and non-refundable.
To learn more about our e-books, please refer to our FAQ.
This title is also available on :