Textbook
Health Economics and Financing, 4th Edition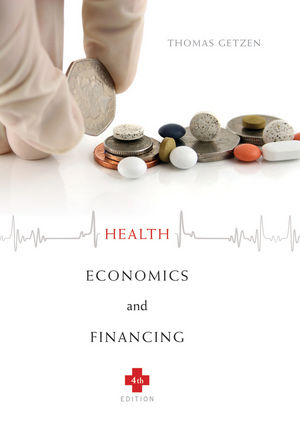 Health Economics and Financing
is a primer for the economic analysis of medical markets. Its intended audiences are students of medicine, public health, policy and administration who wish to engage the central economic issues of their field without prolonged preparatory work--beginning students in economics who wish to study an applied area in detail without recourse to extensive mathematical manipulation; and more advanced students in economics who may be familiar with analytical techniques, but lack knowledge of the many institutional features which make the study of health and health care so unique and rewarding.
The New 4th Edition draws upon the work of many scholars, but in keeping with its design as a primer for introducing students to the principles and concepts of health economics rather than its literature and research methods, the use of attribution, footnotes and references is purposely limited.
See More
Preface.
Acknowledgments.
About the Author.
Foreword.
1 Choices: Money, Medicine, and Health.
2 Demand and Supply.
3 Cost-Benefit and Cost-Effectiveness Analysis.
4 Health Insurance: Financing Medical Care.
5 Insurance Contracts and Managed Care.
6 Physicians.
7 Medical Education, Organization, and Business Practices.
8 Hospitals.
9 Management and Regulation of Hospital Costs.
10 Long-Term Care.
11 Pharmaceuticals.
12 Capital Financing and Ownership of Health Care Providers.
13 Macroeconomics of Medical Care.
14 The Role of Government.
15 Public Goods and Public Health.
16 History, Demography, and the Growth of Modern Medicine.
17 International Comparisons of Health and Health Expenditures.
18 Value for Money in the Future of Health Care.
Glossary.
Index.
See More
Thomas E. Getzen is Professor of Risk, Insurance and Health Management at Temple University and the founder and Executive Director of iHEA, the International Health Economics Association. After receiving an undergraduate degree in literature from Yale University, he worked for the U.S.P.H.S. Centers for Disease Control Venereal Disease program in New York and Los Angeles, and then obtained an MHA degree in Medical Care Organization and Ph.D. in Economics from the University of Washington. Dr. Getzen's main research contributions have been in the areas of contracting, price indexes and forecasting of health care spending. His consulting work has included employee benefit negotiations, projections of health care cost trends and premiums, laboratory diagnostics, risk assessment, and capital financing for managed care. Dr. Getzen has been a visiting professor at the University of Toronto, the Center for Health and Wellbeing of the Woodrow Wilson School at Princeton University, the Wharton School at the University of Pennsylvania, and the University of York (UK). He has served on the boards of Covenant House, a local community health center in northwest Philadelphia, MSI, a venture-capital financed managed behavioral health care corporation, and CHE, a multi-institutional health provider system with over 60 hospitals and nursing homes. Dr. Getzen has written more than 80 papers in the field and serves on the editorial board of the journal Health Economics.
See More
NEW C-B and CEA case studies, linkage to demand curves distinguishing marginal from average benefits.

NEW coverage on emerging Health Care System in China

NEW investment cases and ROI of specialty Medical Education.

NEW sections on Health Care Reform: Path Dependence and the emergence of an "Obama Plan"

NEWLY REVISED Chapter 18:  United States on the cusp of a major change in health care and medical financing—the potential for change, and the well-grounded expectation that any changes will grow out of what has come before (a process known as "path dependence") is addressed.  Also includes forecasts, a brief introduction to behavioral economics, the dynamics of technological change, the expansion of welfare to include "happiness" and alternative valuations of "GDP," disequilibrium, and some other issues that are now at the forefront of contemporary economics research. 

Updated WWW references are used throughout the text to provide access to current material.  There are links to a variety of major sources of health economics data and commentary such as the NCHS, WHO, OECD, CDC, CMS, GAO, and others.
See More
Basic principles and concepts as tools for economic analysis presented in Chapters 1 & 2.
Traces the flow of funds through the system to illustrate ownership and incentives.
Analyses of capital financing, ownership, and social insurance.
Extensive quantitative and qualitative problem sets (200+) and instructor's manual.
See More
Instructors Resources
ENHANCE YOUR COURSE
Digital evaluation copy available for this title
Request Copy

Contact your Wiley Representative
Find Your Rep

See More
See Less
Students Resources
See More
See Less
Purchase Options

Information about Wiley E-Texts:
Wiley E-Texts are powered by VitalSource technologies e-book software.
With Wiley E-Texts you can access your e-book how and where you want to study: Online, Download and Mobile.
Wiley e-texts are non-returnable and non-refundable.
WileyPLUS registration codes are NOT included with the Wiley E-Text. For informationon WileyPLUS, click here .
To learn more about Wiley e-texts, please refer to our FAQ.

Information about e-books:
E-books are offered as e-Pubs or PDFs. To download and read them, users must install Adobe Digital Editions (ADE) on their PC.
E-books have DRM protection on them, which means only the person who purchases and downloads the e-book can access it.
E-books are non-returnable and non-refundable.
To learn more about our e-books, please refer to our FAQ.
This title is also available on :