Textbook
Introduction to Information Systems: Enabling and Transforming Business, 3rd Edition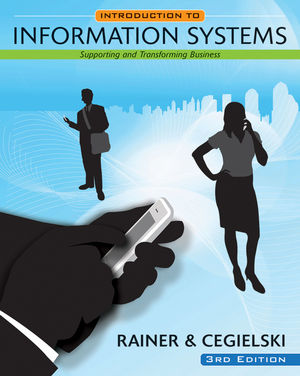 Information technology surrounds us—in how we communicate, how we do business, how we shop, and how we learn. Smart phones, iPods, PDAs, and wireless devices dominate our lives, and yet it's all too easy for students to take Information Technology for granted. Rainer and Cegelski's Introduction to Information Systems, 3rd edition helps make Information Technology come alive in the classroom. This text takes students where IT impacts business helping them understand how valuable information technology is to their future careers. This 3rd edition provides a concise and accessible coverage of core IT topics while connecting these topics to Accounting, Finance, Marketing, Management, Human Resources, and Operations, enabling students to discover how critical IT is to each functional area and every business. Supported with a robust online teaching and learning environment WileyPLUS (SOLD SEPARATELY), Rainer/Cegelski is the complete solution to your Intro IS course needs.

for
Introduction to Information Systems: Enabling and Transforming Business, 3rd Edition
. Learn more at
WileyPLUS.com


Table of Contents
Chapter 1
The Modern Organization in the Global, Web-Based Environment.
1.1 Business Processes and Business Process Management.
1.2 Information Systems: Concepts and Definitions.
1.3 The Global Web-Based Platform.
1.4 Business Pressures, Organizational Responses, and IT Support.
1.5 Why Are Information Systems Important to Me?
1.6 The Plan of the Book.
Chapter 2 Information Systems: Concepts and Management.
2.1 Types of Information Systems.
2.2 Competitive Advantage and Strategic Information Systems.
2.3 Why Are Information Systems So Important to Organizations and Society?
2.4 Managing Information Resources.
Chapter 3 Ethics, Privacy, and Information Security.
3.1 Ethical Issues.
3.2 Threats to Information Security.
3.3 Protecting Information Resources.
Chapter 4 Data and Knowledge Management.
4.1 Managing Data.
4.2 The Database Approach.
4.3 Database Management Systems.
4.4 Data Warehousing.
4.5 Data Governance.
4.6 Knowledge Management.
Chapter 5 Network Applications.
5.1 Network Applications.
5.2 Web 2.0.
5.3 E-Learning and Distance Learning.
5.4 Telecommuting.
Chapter 6 E-Business and E-Commerce.
6.1 Overview of E-Business and E-Commerce.
6.2 Business-to-Consumer (B2C) Electronic Commerce.
6.3 Business-to-Business (B2B) Electronic Commerce.
6.4 Electronic Payments.
6.5 Ethical and Legal Issues in E-Business.
Chapter 7 Wireless, Mobile Computing, and Mobile Commerce.
7.1 Wireless Technologies.
7.2 Wireless Computer Networks and Internet Access.
7.3 Mobile Computing and Mobile Commerce.
7.4 Pervasive Computing.
7.5 Wireless Security.
Chapter 8 Organizational Information Systems.
8.1 Transaction Processing Systems.
8.2 Functional Area Information Systems.
8.3 Enterprise Resource Planning Systems.
Chapter 9 Customer Relationship Management.
9.1 Defining Customer Relationship Management.
9.2 Operational CRM.
9.3 Analytical CRM.
9.4 Other Types of CRM.
Chapter 10 Supply Chain Management.
10.1 Supply Chains.
10.2 Supply Chain Management.
10.3 Information Technology Support for Supply Chain Management.
Chapter 11 Managerial Support Systems.
11.1 Managers and Decision Making.
11.2 Business Intelligence.
11.3 Data Visualization Technologies.
11.4 Intelligent Systems.
Chapter 12 Acquiring Information Systems and Applications.
12.1 Information Technology Project Management.
12.2 Planning for and Justifying IT Applications.
12.3 Strategies for Acquiring IT Applications.
12.4 The Traditional Systems Development Life Cycle.
12.5 Alternative Methods and Tools for Systems Development.
12.6 Vendor and Software Selection.
Technology Guide 1 Computer Hardware.
TG1.1 Introduction.
TG1.2 Strategic Hardware Issues.
TG1.3 Innovations in Hardware Utilization.
TG1.4 Computer Hierarchy.
TG1.5 Input and Output Technologies.
TG1.6 The Central Processing Unit.
TG1.7 Computer Memory.
Technology Guide 2 Computer Software.
TG2.1 Significance of Software.
TG2.2 Software Issues.
TG2.3 Systems Software.
TG2.4 Application Software.
TG2.5 Programming Languages.
*Technology Guide 3 Protecting Your Information Assets.
TG3.1 Introduction.
TG3.2 Behavioral Actions.
TG3.3 Computer-Based Actions.
Technology Guide 4 Basics of Telecommunications and Networks.
TG4.1 The Telecommunications System.
TG4.2 Types of Networks.
TG4.3 Network Fundamentals.
Technology Guide 5 Basics of the Internet and the World Wide Web.
TG5.1 The Internet.
TG5.2 The World Wide Web.
Glossary.
Index.
New To This Edition
All cases and examples have been updated to include more headline technology companies.

Two new Chapters have been added:
- Chapter 9: Customer Relation Management
-Chapter 10: Supply Chain Management


UPDATED Media Resource Library (available on the instructor s site and in WileyPLUS) provides links to videos, animations, cases, and other web resources to help engage students in IT. Each Media Resource includes lecture lead-ins, class discussion questions, and assessment questions. The Library now contains the chapter opening and closing cases, and ITs About Business from previous editions. Each entry is labeled by topic addressed and applicable functional area(s) for easy searching.


New Video Clips for Chapters have been added:
- Chapters 1 and 2: Contain interviews with a CEO concerning issues raised in the first two chapters.
-Chapters 3-12: Contain interviews with a practicing manager in Accounting, Finance, Marketing, Production/Operations, and Human Resources. Each manager responds to questions covering major topics of the book.


All new IT's About Business in every chapter.




New PowerPoint slides incorporating extensive images and videos.




New and updated Test Bank with questions labeled according to difficulty: easy, medium, and hard.



Hallmark Features
What's in IT for Me? - show how IT topics relate to students in each major––Accounting, Finance, Marketing, Operations Management, MIS, and Human Resource Management.

IT Is About Business – extensive use of vivid examples from large corporations, small businesses, government and non-for-profit organizations to show the connection between IT and business.

Active Learning - featuring hands-on exercises, activities, mini-cases with exercises that incorporate software application tools, and an online Virtual Company continuing case (Club IT).

Successes and Failures – present examples of IT successes and IT failures with lessons learned.

Global Focus – provides a broad selection of international cases and examples showing how IT facilitates export and import, the management of multinational companies, and electronic trading around the globe.

Technology Guides – offer additional material on current hot topics in the IT market.

Focus on Ethics – In addition to a chapter dedicated ethics, privacy and security (Chapter 3), ethical cases and examples are integrated throughout the text. Additional ethic mini-cases are available on the student companion website.
Available Versions