Textbook
IFRS Primer International GAAP Basics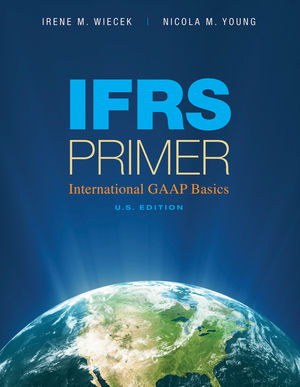 The IFRS Primer: International GAAP Basics serves as a roadmap to provide guidance and a path through the period of transition to convergence of GAAP and international reporting standards for both students and instructors. As in introduction to International Financial Reporting Standards (IFRS), the IFRS Primer is a stand alone and logical supplement for use with existing U.S. introductory, intermediate, and advanced financial accounting textbooks.
See More
SECTION 1:
Introduction and Reporting Basics
1 Introduction and IAS Framework
2 Presentation of Financial Statements: IAS 1
3 Statement of Cash Flows: IAS 7
4 Non-current Assets Held for Sale and Discontinued Operations: IFRS 5
5 Provisions, Contingent Liabilities and Contingent Assets: IAS 37
6 Revenue: IAS 18
SECTION 2:
Non-financial Assets
7 Inventories: IAS 2
8 Construction Contracts: IAS 11
9 Agriculture: IAS 41
10 Property, Plant and Equipment: IAS 16
11 Investment Property: IAS 40
12 Exploration for and Evaluation of Mineral
Resources: IFRS 6
13 Borrowing Costs: IAS 23
14 Accounting for Government Grants and Disclosure of Government Assistance: IAS 20 C O N T E N T S
15 Intangible Assets: IAS 38
16 Impairment of Assets: IAS 36
SECTION 3:
Financial Assets and Liabilities
17 Basic Financial Instruments: IAS 32, IAS 39, and IFRS 7
18 Financial Instruments—Recognition and Measurement: IAS 39
19 Financial Instruments—Presentation: IAS 32
20 Financial Instruments—Disclosure: IFRS 7
SECTION 4:
Special Topics
21 Accounting Policies, Changes in Accounting Estimates and Errors: IAS 8
22 Events After the Reporting Period: IAS 10
23 Income Taxes: IAS 12
24 Leases: IAS 17
25 Employee Benefi ts: IAS 19
26 Related Party Disclosures: IAS 24
27 Earnings per Share: IAS 33
28 Interim Financial Reporting: IAS 34  
29 Share-based Payment: IFRS 2  
SECTION 5
Reporting Entity
30 Investments in Associates: IAS 28  
31 Business Combinations: IFRS 3  
32 Consolidated and Separate Financial Statements: IAS 27  
33 Interests in Joint Ventures: IAS 31
34 Operating Segments: IFRS 8  
35 The Effects of Changes in Foreign Exchange Rates: IAS 21
SECTION 6:
Specialized Applications
36 Specialized Industries and Hyperinfl ation: IFRS 4, IAS 26, IAS 29
37 First-time Adoption of International Financial Reporting Standards: IFRS 1
See More
Each chapter begins by identifying the specific IFRS section, and its U.S. counterparts, followed by a list of other IFRSs related to the chapter topic.
The content of each chapter follows the same headings as used in the IASB statement: objective and scope, recognition, measurement, etc.
Illustrations and tables are included to enhance students' understanding by a walkthrough of mini scenarios and exercises interspersed throughout the chapter. Short excerpts/note disclosures from actual financial statements prepared under IFRS are also provided.
End of chapter material contains quantitative mini-exercises and qualitative mini-scenarios based primarily on unfamiliar or different requirements than those that exist under U.S. GAAP now.
See More
Instructors Resources
Digital evaluation copy available for this title
Request Copy

Contact your Wiley Representative
Find Your Rep

See More
See Less
Purchase Options

Information about Wiley E-Texts:
Wiley E-Texts are powered by VitalSource and accessed via the VitalSource Bookshelf reader, available online and via a downloadable app.
Wiley E-Texts are accessible online and offline, and can be read on a variety of devices, including smartphones and tablets.
Wiley E-Texts are non-returnable and non-refundable.
Wiley E-Texts are protected by DRM. For specific DRM policies, please refer to our FAQ.
WileyPLUS registration codes are NOT included with any Wiley E-Text. For informationon WileyPLUS, click here .
To learn more about Wiley E-Texts, please refer to our FAQ.

Information about e-books:
E-books are offered as e-Pubs or PDFs. To download and read them, users must install Adobe Digital Editions (ADE) on their PC.
E-books have DRM protection on them, which means only the person who purchases and downloads the e-book can access it.
E-books are non-returnable and non-refundable.
To learn more about our e-books, please refer to our FAQ.