Textbook
Multicultural Education: Issues and Perspectives, 7th Edition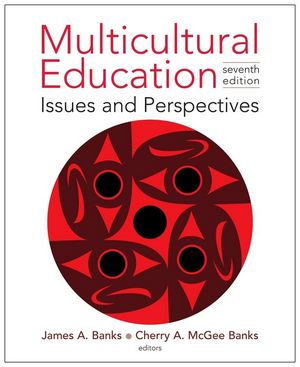 Multicultural Education: Issues and Perspectives,
Seventh Edition, is designed to help current and future educators acquire the concepts, paradigms, and explanations needed to become effective practitioners in culturally, racially, and linguistically diverse in today's classrooms and schools. This revision reflects current and emerging research, concepts, and debates about the education of students from both genders and from different cultural, racial, ethnic, and language groups. Exceptionality is a part the concept of diversity because there are exceptional students in each group discussed in this book.
Organized in six parts, the book discusses specific issues that are highlighted in the multicultural education course and allows students to go directly to the sections of it that will provide them with the information they need.
See More
Part I. Issues and Concepts 1
Chapter 1. Multicultural Education: Characteristics and Goals 3
Chapter 2. Culture is Society and in Educational Practices 31
Chapter 3. Race, Class, Gender, and Disability in the Classroom 61
Part II. Social Class and Religion 85
Chapter 4. Social Class and Educational Equality 87
Chapter 5. Christian Nation or Pluralistic Culture: Religion in American Life 110
Part III. Gender 133
Chapter 6. Gender Bias: From Colonial America to Today's Classrooms 135
Chapter 7. Classrooms for Diversity: Rethinking Curriculum and Pedagogy 164
Chapter 8. Transforming the Curriculum: Teaching about Women of Color 186
Part IV. Race, Ethnicity, and Language 209
Chapter 9. Educational Equality for Students of Color 211
Chapter 10. Approaches to Multicultural Curriculum Reform 242
Chapter 11. The Colorblind Perspectives in School: Causes and Consequences 265
Chapter 12. Language Diversity and Education 289
Part V. Exceptionality 315
Chapter 13. Educational Equality for Students with Disabilities 317
Chapter 14. School Inclusion and Multicultural Issues in Special Education 350
Chapter 15. Recruiting and Retaining Gifted Students from Diverse Ethnic, Cultural, and Language Groups 379
Part VI. School Reform 399
Chapter 16. School Reform and Student Learning: A Multicultural Perspective 401
Chapter 17. Families and Teachers Working Together for School Improvement 421
Appendix: Multicultural Resources 443
Index 457
See More
Chapter 8, a new chapter in the text, describes how race and gender interact as opposed to being separate variables.
Chapter 9, also new to this edition, examines the role of queer studies as well as sexual and gender minorities in multicultural education.
The Multicultural Resources in the Appendix have been fully revised and updated.
A new section on Sexual and Gender Minorities has been added to the Appendix.
The Glossary has been updated to incorporate new census data as well as developments in the field.
New co-authors for chapters 14 and 16 bring new insights, information, and perspectives to the chapters.
See More
Leading authors in the field offer their perspectives on Multicultural Education.
Edited reader providing the most up-to-date research in the field.
See More
Instructors Resources
ENHANCE YOUR COURSE

Instant access to textbooks as eTextbooks.
Learn more

Digital evaluation copy available for this title
Request Copy

Contact your Wiley Representative
Find Your Rep

See More
See Less
Purchase Options
Wiley E-Text&nbsp&nbsp&nbsp

Multicultural Education: Issues and Perspectives, 7th Edition
ISBN : 978-0-470-57183-5
January 2010, ©2010
Paperback&nbsp&nbsp&nbsp
Multicultural Education: Issues and Perspectives, 7th Edition
ISBN : 978-0-470-48328-2
480 pages
September 2009, ©2010
$151.95&nbsp&nbsp&nbsp
BUY

Information about Wiley E-Texts:
Wiley E-Texts are powered by VitalSource technologies e-book software.
With Wiley E-Texts you can access your e-book how and where you want to study: Online, Download and Mobile.
Wiley e-texts are non-returnable and non-refundable.
WileyPLUS registration codes are NOT included with the Wiley E-Text. For informationon WileyPLUS, click here .
To learn more about Wiley e-texts, please refer to our FAQ.

Information about e-books:
E-books are offered as e-Pubs or PDFs. To download and read them, users must install Adobe Digital Editions (ADE) on their PC.
E-books have DRM protection on them, which means only the person who purchases and downloads the e-book can access it.
E-books are non-returnable and non-refundable.
To learn more about our e-books, please refer to our FAQ.
This title is also available on :