Textbook
Operations Management for MBAs, 4th Edition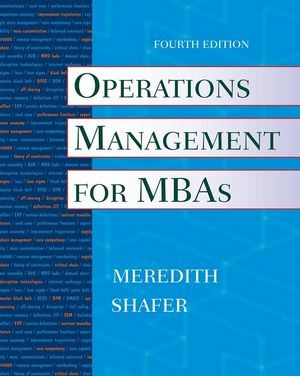 Operations Management for MBAs
provides an introduction to the basic concepts of operations management with a strategic, conceptual, and contemporary approach.  Specifically written with the needs of MBA students in mind, current topics such as supply chain management, the balanced scorecard, and yield management, as well as those specific to marketing, finance and other majors are explained.
Jack Meredith has written eight books on operations management, project management and management science, and his research's focus is on the strategic and operational problems that managers face, particularly those concerning the management of advanced technology.  Scott Shafer, one of the nation's first college professors to earn Black Belt Six Sigma certification through the American Society for Quality (ASQ), integrates Six Sigma into educational programs as Director of MA Program and Professor of Management.  Together, their new 4th Edition is even more streamlined and beneficial for MBA students across schools, markets, industries, countries.
See More
Chapter 1: Operations Strategy and Global Competitiveness.
Operations.
Customer Value.
Strategy and Competitiveness.
From Strategy to Structure.
Chapter 2: Process Planning and Design.
Forms of Transformation Systems.
Selection of a Transformation System.
Chapter 3: Controlling Processes.
Monitoring and Control.
Process Monitoring.
Process Control.
Controlling Service Quality.
Chapter 4: Process Improvement: Minimizing Variation Through Six Sigma.
Approaches for Process Improvement.
Business Process Design (Reengineering).
Six Sigma and the DMAIC Improvement Process.
Example Six Sigma Project.
The Define Phase.
The Measure Phase.
The Analyze Phase.
The Improve Phase.
The Control Phase.
Six Sigma In Practice.
Chapter 5: Process Improvement: Reducing Waste Through Lean.
History and Philosophy of Lean.
Traditional Systems Compared with Lean.
Specify Value.
Identify the Value Stream.
Make Value Flow.
Pull Value Through the Value Stream.
Pursue Perfection.
Benefits of Lean.
Lean Six Sigma.
Chapter 6: Managing Process Improvement Projects.
Defining a Project.
Planning the Project.
Scheduling the Project.
Controlling the Project: Earned Value.
Chapter 7: Supply Chain Management.
Defining Supply Chain Management.
Supply Chain Strategy.
Supply Chain Design.
Outsourcing and Global Sourcing.
Inventory Management.
Role of Information Technology.
Successful Supply Chain Management.
The Beer Game.
The Economic Order Quantity Model.
Chapter 8: Capacity, Scheduling, and Location Planning.
Long-term Capacity Planning.
Location Planning Strategies.
Locating Pure Services.
Effectively Utilizing Capacity Through Schedule Management.
Short-term Capacity Planning.
Forecasting.
Forecasting Purposes and Methods.
Time Series Analysis.
Causal Forecasting with Regression.
Cases.
Index.
See More
NEW reorganization:  Text and topics have been streamlined from 11 to just 8 chapters.

The Nature of Operations and Strategy, Operations, and Global Competitiveness combined.
Added to the Process Management chapter:  value stream mapping and a description of Six Sigma.
Added to the Controlling Processes chapter:  Standard Operations Processing and FMEA.
Added to the Managing Process Improvement Projects chapter:  additional information on scope and risk management.
Material from Inventory Management, Enterprise Resource Planning, & Lean Management chapters condensed into new Managing the Supply Chain chapter.
Scheduling of services, forecasting, and beer game supplement topics incorporated into final chapter on Capacity, Scheduling, and Location.

New Service Examples and Cases on companies including Fuddruckers, BPO, National Screen Printers, Master Locks, and many more.
Stronger focus on strategy and its role in operations topics.
NEW discussions on when to use Reengineering, Lean Management, and Six Sigma.
NEW section on sustainability, environment, recycling, and reclamation.
Enhanced discussions on Standard Operational Process and FMEA, scope and risk management, and warehousing, transport modes, and other logistics.
NEW and updated questions, problems, and excerpts.
See More
Material that is conceptual and strategic in nature for multiple audiences:

Relevant and interesting to more experienced students,
Comprehensively reviews subject matter for less experienced students

In-depth information on the strategic aspects of Supply Chain Management.
Added an extensive discussion and description of Goldratt's concept of the Critical Chain.
Presentation of quantitative material only when it provides a better understanding of key concepts.
Inclusion of The Beer Game, used in many MBA classes.
See More
Instructors Resources
ENHANCE YOUR COURSE

Instant access to textbooks as eTextbooks.
Learn more

Digital evaluation copy available for this title
Request Copy

Contact your Wiley Representative
Find Your Rep

See More
See Less
Purchase Options

Information about Wiley E-Texts:
Wiley E-Texts are powered by VitalSource technologies e-book software.
With Wiley E-Texts you can access your e-book how and where you want to study: Online, Download and Mobile.
Wiley e-texts are non-returnable and non-refundable.
WileyPLUS registration codes are NOT included with the Wiley E-Text. For informationon WileyPLUS, click here .
To learn more about Wiley e-texts, please refer to our FAQ.

Information about e-books:
E-books are offered as e-Pubs or PDFs. To download and read them, users must install Adobe Digital Editions (ADE) on their PC.
E-books have DRM protection on them, which means only the person who purchases and downloads the e-book can access it.
E-books are non-returnable and non-refundable.
To learn more about our e-books, please refer to our FAQ.
This title is also available on :