Textbook
The Organic Chem Lab Survival Manual: A Student's Guide to Techniques, 8th Edition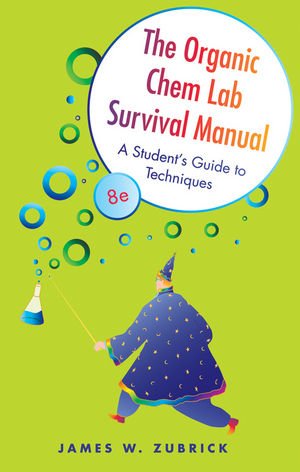 Written for the laboratory that accompanies the sophomore/junior level courses in Organic Chemistry, Zubrick provides students with a valuable guide to the basic techniques of the Organic Chemistry lab. The book will help students understand and practice good lab safety. It will also help students become familiar with basic instrumentation, techniques and apparatus and help them master the latest techniques such as interpretation of infrared spectroscopy. The guide is mostly macroscale in its orientation.


Table of Contents
Chapter 1 Safety First, Last, and Always.
Chapter 2 Keeping a Notebook.
Chapter 3 Interpreting a Handbook.
Chapter 4 Jointware.
Chapter 5 Microscale Jointware.
Chapter 6 Other Interesting Equipment.
Chapter 7 Pipet Tips.
Chapter 8 Syringes, Needles, and Septa.
Chapter 9 Clean and Dry.
Chapter 10 Drying Agents.
Chapter 11 On Products.
Chapter 12 The Melting-Point Experiment.
Chapter 13 Recrystallization.
Chapter 14 Recrystallization: Microscale.
Chapter 15 Extraction and Washing.
Chapter 16 Extraction and Washing: Microscale.
Chapter 17 Sources of Heat.
Chapter 18 Clamps and Clamping.
Chapter 19 Distillation.
Chapter 20 Microscale Distillation.
Chapter 21 The Rotary Evaporator.
Chapter 22 Reflux and Addition.
Chapter 23 Reflux: Microscale.
Chapter 24 Sublimation.
Chapter 25 Microscale Boiling Point.
Chapter 26 Chromatography: Some Generalities.
Chapter 27 Thin-Layer Chromatography: TLC.
Chapter 28 Wet-Column Chromatography.
Chapter 29 Refractometry.
Chapter 30 Gas Chromatography.
Chapter 31 HP Liquid Chromatography.
Chapter 32 Infrared Spectroscopy (And a Bit of UV-VIS, Too).
Chapter 33 Nuclear Magnetic Resonance.
Chapter 34 Theory of Distillation.
Chapter 35 Theory of Extraction.
Index.
New To This Edition
    Updated coverage of NMR Spectroscopy, and inclusion of UV spectroscopy.
   New pedagogy in the form of questions at the ends of most chapters. These exercises provide reinforcement of skills and techniques.
        In recognition of the increased emphasis on green chemistry in the lab, the author describes the more friendly materials that can be used.
      Updates in the following sections:  Safety, Distillation, Gas Chromatography, and Liquid Chromatography.
Hallmark Features
•     Praised by students and faculty for its clarity, use of humor, and appropriate amount of detail.
•     Emphasis on safety in the lab encourages students to maintain safe practices.
•     Succinct coverage of information makes it ideal for quick reference in the lab.
Available Versions