Textbook
General Organic and Biological Chemistry, 3rd Edition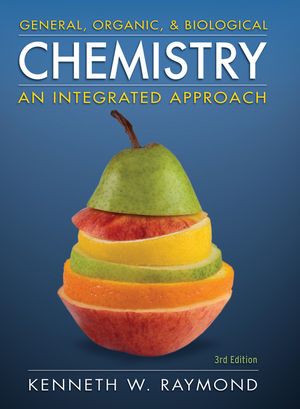 This general, organic, and biochemistry text has been written for students preparing for careers in health-related fields such as nursing, dental hygiene, nutrition, medical technology, and occupational therapy. It is also suited for students majoring in other fields where it is important to have an understanding of the basics of chemistry. Students need have no previous background in chemistry, but should possess basic math skills. The text features numerous helpful problems and learning features.
See More
Chapter 1 Science and Measurements.
Chapter 2 Atoms and Elements.
Chapter 3 Compounds.
Chapter 4 An Introduction to Organic Compounds.
Chapter 5 Reactions.
Chapter 6 Gases, Solutions, Colloids, and Suspensions.
Chapter 7 Acids, Bases, and Equilibriums.
Chapter 8 Carboxlyic Acids, Phenols, and Amines.
Chapter 9 Alcohols, Ethers, Aldehydes, and Ketones.
Chapter 10 Carbohydrates.
Chapter 11 Lipids and Membranes.
Chapter 12 Peptides, Proteins, and Enzymes.
Chapter 13 Nucleic Acids.
Chapter 14 Metabolism.
See More
End of chapter problems appear in pairs and the number of problems has increased by 30%.
Multi-step "Learning Group Problems" designed to be worked with other students have been added to each chapter.
Shortening and combining two chapters (Gases, Liquids and Solids and Solutions, Colloids and Suspensions), has reduced the total chapter count from 15 to 14.
In response to reviewer feedback, the chapter on lipids (formerly chapter 8) is now placed later in the text (chapter 11)
The order in which reactions are presented in Chapter 5 (Reactions) has been changed to improve flow.
HealthLinks and Biochemistry Links have been updated, replaced, and revised.
Increased focus on showing balanced organic and biochemical equations.
Treatment of formal charge has been dropped.
Discussion of free energy has been scaled back.
The introduction to carboxylic acids, alcohols, and esters has been removed from chapter 4.
The discussion of enantiomers and diastereomers has been moved to the carbohydrate chapter.
End of chapter summaries have been reformatted to include a table organized by the following categories: chapter section. Objective, summary of the chapter section, a listing of relevant sample and practice problems for each section, and a listing of relevant end of chapter problems for each section.
See More
Integrated approach to the Table of Contents
- In introducing GOB material, the text uses a highly integrated approach, where related general, organic, and biochemistry topics are presented in the same or adjacent chapters.  In this way, similarities can be exploited.  The result is not only a more cohesive, streamlined course, but it also helps students see the strong connections that exist between these three branches of chemistry.  This organization allows instructors to cover all topics during one semester, if they so choose.
Math Skills - Of course, many students in this course may need additional math support.  Chapter One is devoted entirely to helping students to develop and refresh their math skills, and contains numerous sample problems with suggested strategies. The text starts slowly and gradually builds on the material presented in previous chapters.    This chapter will give students the foundation they need to be successful in the course.
Applications - In A GOB course, it is essential to show how each topic relates to the students' future careers.  For this reason, the text presents the subject matter using real-life examples.
Bite-Sized Text - Given that many of today's students work, have families, and find study time to be at a premium, the material is arranged in concise, readable sections.
Chapter Introductions and Conclusions - The chapter opening vignettes focus on showing the connection between chemistry and everyday topics that students can relate to. At the end of each chapter, there is a brief conclusion that links the material covered within that chapter back to the chapter-opening vignette. 
Chapter Objectives - Each chapter begins with a list of objectives to help students chart their course through the text material. 
Boxes - Within each chapter, boxes present students with high-interest, real-life applications of the concepts covered in the chapter.  Boxed material focuses on health-related topics and topics in biochemistry.
Sample problems - Students are given sample problems, problem-solving strategies, and solutions.
Practice problems - Each sample problem is paired with a similar practice problem.
Summary of Objectives - Each chapter concludes with a brief summary, which ties in with the original chapter goals.  Reaction summaries are also included when necessary.
End of Chapter Problems - Includes Paired Problems, More Challenging problems, and Thinking it Through problems
Online Videos - For one topic in each chapter, a special icon is used to indicate that an on-line ScieneCentral article and video clip are available for viewing.  These articles and video clips are of interest because they show how the chemistry being presented pertains to current events.  Each set of end of chapter problems includes some related to the video content.                       
See More
Instructors Resources
ENHANCE YOUR COURSE

Instant access to textbooks as eTextbooks.
Learn more

Digital evaluation copy available for this title
Request Copy

Contact your Wiley Representative
Find Your Rep

See More
See Less
Students Resources
Wiley Student Companion Site
Coming Soon!
View Sample content below:
See More
See Less
Purchase Options
General Organic and Biological Chemistry, 3rd Edition
ISBN : 978-0-470-57140-8
June 2010, ©2010
Loose-leaf&nbsp&nbsp&nbsp
General, Organic, and Biological Chemistry: An Integrated Approach, 3rd Edition Binder Ready Version
ISBN : 978-0-470-55124-0
624 pages
December 2009, ©2010
Hardcover&nbsp&nbsp&nbsp
General Organic and Biological Chemistry, 3rd Edition
ISBN : 978-0-470-50476-5
624 pages
July 2010, ©2010

Information about Wiley E-Texts:
Wiley E-Texts are powered by VitalSource technologies e-book software.
With Wiley E-Texts you can access your e-book how and where you want to study: Online, Download and Mobile.
Wiley e-texts are non-returnable and non-refundable.
WileyPLUS registration codes are NOT included with the Wiley E-Text. For informationon WileyPLUS, click here .
To learn more about Wiley e-texts, please refer to our FAQ.

Information about e-books:
E-books are offered as e-Pubs or PDFs. To download and read them, users must install Adobe Digital Editions (ADE) on their PC.
E-books have DRM protection on them, which means only the person who purchases and downloads the e-book can access it.
E-books are non-returnable and non-refundable.
To learn more about our e-books, please refer to our FAQ.
This title is also available on :
Learn more about