Textbook
Ethics and Technology: Controversies, Questions, and Strategies for Ethical Computing, 3rd Edition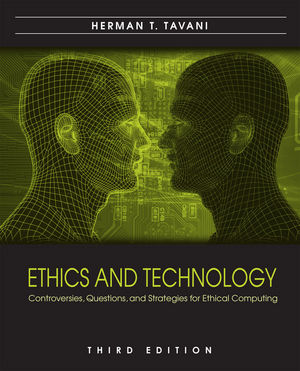 This book introduces readers to the issues and controversies that comprise the relatively new field of Cyberethics.  It treats Cyberethics as an interdisciplinary field of study and aims at addressing several audiences, including those in the computer science, philosophy, social/behavioral science, and library/information science fields.  Twelve chapters divide Tavani's text, with the first introducing the key concepts/terms appearing throughout the book.  Actual case examples and hypothetical scenarios involving privacy, security, intellectual property, and speech in cyberspace illustrate ethical controversies that convey the seriousness of the issues under consideration.  These concepts and cases receive reinforcement with review/study and discussion/essay questions at the end of each chapter that facilitate readers' comprehension and reflection of ethical issues.
See More
Preface.
Acknowledgments.
Foreword.
Chapter 1. Introduction to Cyberethics: Concepts, Perspectives, and Methodological Frameworks.
Chapter 2. Ethical Concepts and Ethical Theories: Establishing and Justifying A Moral System.
Chapter 3. Critical Thinking Skills and Logical Arguments: Tools For Evaluating Cyberethics Issues.
Chapter 4. Professional Ethics, Codes of Conduct, and Moral Responsibility.
Chapter 5. Privacy and Cyberspace.
Chapter 6. Security in Cyberspace.
Chapter 7. Cybercrime and Cyber-Related Crimes.
Chapter 8. Intellectual Property Disputes in Cyberspace.
Chapter 9. Regulating Commerce and Speech in Cyberspace.
Chapter 10. The Digital Divide and the Transformation of Work. 
Chapter 11. Community, Personal Identity, and Our Sense of Self In Cyberspace. 
12. Ethical Aspects of Emerging and Converging Technologies.
Glossary.
Index.
See More
Herman T. Tavani, Ph.D., is Professor of Philosophy at River College (New Hampshire) and President of the International Society for Ethics and Information Technology (INSEIT). He is the author, editor, or coeditor of five books on ethical and social aspects of information technology.
See More
new and/or updated scenarios in each chapter, illustrating both (practical) cases and hypothetical situations, which enable students to apply methodological concepts/frameworks and ethical theories covered in Chapters 1 and 2;
new sample arguments in many chapters, which enable students to apply the tools for argument-analysis covered in Chapter 3;
additional "review questions" and "discussion questions" at the end of each chapter;
a newly designed set of study/exercise questions called "Essay/Presentation Questions" in each chapter, which include unanalyzed scenarios that can be used for either in-class group projects or outside class assignments;
an updated and expanded glossary of key terms used in the book;
an updated Ethics and Technology Web site with new resources and materials for students and instructors.
New issues examined and analyzed include:
ethical and social aspects of blogging, including controversies involving personal blogs (or online diaries) and political blogs;
Web mining and privacy concerns, including the Facebook Beacon controversy;
controversies surrounding cyberbullying on SNSs, including the Meier incident on MySpace;
sexting incidents involving young teenagers vis-à-vis existing child pornography laws;
violence and pornography in MMORPGs;
controversies affecting virtual economies and "gold farming" in virtual worlds;
cyberespionage activities carried out by governments and state-sponsored organizations, and the implications these activities have for the security of our national infrastructure;
controversies involving "certified ethical hackers" (CEH) who carry out preemptive counter-hacking activities on the part of the organizations that hire them.
New models/conceptual frameworks include:
the Value Sensitive Design (VSD) model for computer/IT professionals to use in developing computer/information systems;
the "contextual-integrity" model of privacy for evaluating privacy-related controversies;
the precautionary principle as a model of risk analysis for cybersecurity-related issues;
a proposed scheme for assessing the pros and cons of online communities and virtual friendships.
Also included in the new edition are expanded discussions of:
ethical relativism, which is contrasted with ethical absolutism and ethical objectivism, as well as with cultural relativism;
ongoing disputes involving illicit file-sharing of copyrighted material through P2P sites, including controversies surrounding The Pirate Bay case;
digital rights management (DRM) technology and the challenge of interoperability devices for listening to online music across multiple platforms;
e-mail spam and "phishing" controversies;
global dimensions of the digital divide, including an analysis of the question whether affluent nations have a moral obligation to bridge the divide;
ethical aspects of workplace surveillance and employee-monitoring practices;
controversies that span the conventional boundaries for differentiating acts of hacktivism, cyberterrorism, and information warfare.
See More
The right topics, comprehensive coverage

Cases and scenarios

Authoritative author, "well-respected author and advocate for societal and ethicalconcerns of computing and technology" per one reviewer.

Chapter on the ethics of emerging/converging technologies, including controversies affecting bioinformatics and nanocomputing.

Expanded analysis of privacy issues, including new sections on controversies involving RFID technologies, ubiquitous communication, and pervasive surveillance.

Analysis of controversies surrounding the Patriot Act and it implications for civil liberties.

Analysis of decisions of recent court cases.

Expanded discussion of property-rights issues involving the Free Software Foundation, the Open Source Initiative, and the Creative Commons.

Analysis of implications of Digital Rights Management Systems for intellectual property rights policies.

Analysis of issues affecting the outsourcing of programming jobs and globalization.
See More
Instructors Resources
ENHANCE YOUR COURSE

Instant access to textbooks as eTextbooks.
Learn more

Digital evaluation copy available for this title
Request Copy

Contact your Wiley Representative
Find Your Rep

See More
See Less
Purchase Options
Wiley E-Text&nbsp&nbsp&nbsp

Ethics and Technology: Controversies, Questions, and Strategies for Ethical Computing, 3rd Edition
ISBN : 978-0-470-57420-1
July 2010, ©2010
Paperback&nbsp&nbsp&nbsp
Ethics and Technology: Controversies, Questions, and Strategies for Ethical Computing, 3rd Edition
ISBN : 978-0-470-50950-0
432 pages
January 2010, ©2011
$105.95&nbsp&nbsp&nbsp
BUY

Information about Wiley E-Texts:
Wiley E-Texts are powered by VitalSource technologies e-book software.
With Wiley E-Texts you can access your e-book how and where you want to study: Online, Download and Mobile.
Wiley e-texts are non-returnable and non-refundable.
WileyPLUS registration codes are NOT included with the Wiley E-Text. For informationon WileyPLUS, click here .
To learn more about Wiley e-texts, please refer to our FAQ.

Information about e-books:
E-books are offered as e-Pubs or PDFs. To download and read them, users must install Adobe Digital Editions (ADE) on their PC.
E-books have DRM protection on them, which means only the person who purchases and downloads the e-book can access it.
E-books are non-returnable and non-refundable.
To learn more about our e-books, please refer to our FAQ.
This title is also available on :
Learn more about