Textbook
Classroom Management: Creating a Successful K-12 Learning Community, 4th Edition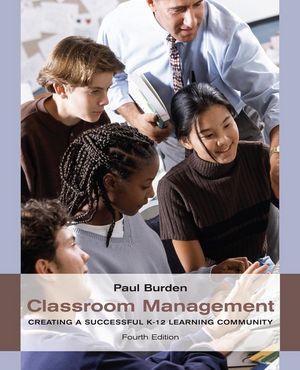 This fourth edition of Classroom Management is a logical, easy-to-follow text guiding current and prospective teachers as they create a positive classroom community, with students' involvement and cooperation. The text synthesizes current research in a practical, realistic way to present the fundamental principles of classroom management and discipline as well as ways to involve students in the creation of their learning environment. Updated to include several sections on differences and diversities, including gender and language differences, cultural diversity, socio-economic status, and exceptionalities.


Table of Contents
Preface.
1. Understanding Management and Discipline in the Classroom.
A Community of Learners.
What Is Classroom Management?
Order in the Classroom.
Areas of Responsibility.
Understanding Misbehavior.
Misbehavior in Context.
Types of Misbehavior.
Causes of Misbehavior.
Degrees of Severity.
Principles for Working with Students and Preventing Misbehavior.
What Effective Behavior Management Accomplishes.
2. Models of Discipline.
The Degree of Control.
Low Teacher Control Approaches.
Congruent Communication: Haim Ginott.
Discipline as Self-Control: Thomas Gordon.
Teaching with Love and Logic: Jim Fay and David Funk.
Inner Discipline: Barbara Coloroso.
From Discipline to Community: Alfie Kohn.
Medium Teacher Control Approaches.
Logical Consequences: Rudolf Dreikurs.
Cooperative Discipline: Linda Albert.
Positive Discipline: Jane Nelsen, Lynn Lott, and Stephen Glenn.
Noncoercive Discipline: William Glasser.
Discipline with Dignity: Richard Curwin, Allen Mendler, and Brian Mendler.
Win–Win Discipline: Spencer Kagan.
High Teacher Control Approaches.
Behavior Modification: B. F. Skinner.
Assertive Discipline: Lee and Marlene Canter.
Positive Discipline: Fredric Jones.
Discipline Without Stress: Marvin Marshall.
Determining Your Management Plan.
Your Management Philosophy.
Your Management Plan.
3. Preparing for the School Year.
Preparing for the School Year.
Making Management Preparations.
Making Instructional Preparations.
Managing Assessment, Record Keeping, and Reporting.
Establishing a Plan to Deal with Misbehavior.
Planning for the First Day.
Conducting the First Day.
Organizing Your Classroom and Materials.
Floor Space.
Storage Space.
Bulletin Boards and Wall Space.
4. Planning to Work with Families.
Reasons for Working with Families.
Understanding Families.
Why Some Families Resist Involvement.
Working through Cultural and Language Differences.
Building a Family Support System.
Contacting and Communicating with Families.
Ways to Communicate with Families.
Parent–Teacher Conferences.
5. Choosing Rules and Procedures.
Rules in the Classroom.
Examine the Need for Rules.
Select the Rules.
Teach and Review the Rules.
Obtain Commitments.
Procedures in the Classroom.
Examine the Need for Procedures.
Select the Procedures.
Teach and Review the Procedures.
6. Maintaining Appropriate Student Behavior.
Having a Mental Set for Management.
Withitness.
Emotional Objectivity.
Building Positive Teacher–Student Relationships.
Level of Dominance.
Level of Cooperation.
Types of Students.
Interacting with Students.
Managing Whole-Group Instruction.
Preventing Misbehavior.
Managing Movement Through the Lesson.
Maintaining a Group Focus.
Helping Students Assume Responsibility for Their Behavior.
Maintaining Student Attention and Involvement.
Improving Classroom Climate with Reinforcers.
Types of Reinforcers.
Using Reinforcers Effectively.
7. Motivating Students to Learn.
Planning for Motivation.
Motivational Strategies for Instruction.
Motivational Strategies for Evaluation and Feedback.
8. Addressing Issues of Diversity.
Classroom Management Implications for Diverse Classrooms.
Sources of Student Diversity.
Cognitive Area.
Affective Area.
Physical Area.
Learning Styles.
Creative Potential.
Gender.
Language.
Cultural Diversity.
Exceptionalities.
Students at Risk.
Socioeconomic Status.
Creating an Inclusive, Multicultural Classroom.
Create a Supportive, Caring Environment.
Offer a Responsive Curriculum.
Vary Your Instruction.
Provide Assistance When Needed.
9. Helping Students with Special Needs.
Students with Disabilities.
Students with Learning Disabilities.
Students with Emotional or Behavioral Problems.
Students with Attention Deficit and Hyperactivity Disorder (ADHD).
Students with Speech and Language Disorders.
Students with Hearing Impairments.
Students with Visual Impairments.
Students with Physical and Health Impairments.
Students with Limited English Proficiency.
Students Who Are Troubled.
Substance Abuse Students Who Have Been Abused or Neglected.
Students Prone to Violence, Vandalism, and Bullying.
Students Living in Poverty.
Students Facing Serious Challenges.
10. Planning and Conducting Instruction.
Planning Decisions Affect Behavior Management.
The Degree of Structure in Lessons.
Ways to Group Students for Instruction.
Planning to Hold Students Academically Accountable.
Managing Lesson Delivery.
The Beginning of a Lesson.
The Middle of the Lesson.
The Ending of a Lesson.
Managing Student Work.
Managing Seatwork Effectively.
Collecting Assignments and Monitoring.
Their Completion.
Maintaining Records of Student Work.
Managing the Paperwork.
Giving Students Feedback.
11. Responding to Inappropriate Behavior.
Interventions.
The Principle of Least Intervention.
Some Practices to Avoid.
Cautions and Guidelines for Punishment.
A Three-Step Response Plan.
Situational Assistance.
Mild Responses.
Moderate Responses.
Dealing with Chronic Misbehaviors.
12. Dealing with Challenging or Violent Students.
Understanding Challenging and Violent Students.
Behaviors.
Influences.
Early Signs of Serious Problems.
Planning to Work with Challenging and Violent Students.
Teaching Students Alternatives to Disruption and Violence.
Dealing with Anger.
Techniques for Solving Problems.
Developing New Behavioral Skills.
Responding to Disruptive or Violent Behavior.
Approaches to Use in the Classroom.
Seeking Outside Help.
References and Further Readings.
Name Index.
Subject Index.
New To This Edition
Increased coverage of student diversity.
A new section in Chapter Two on Discipline Without Stress.
Chapter Four offers a new section on working through cultural and language differences with parents and families.
Chapter Eight offers a new section on gender and language differences, as well as socio-economic status and cultural diversity.
Chapter Eight also offers new sections on exceptionalities and students at risk.
Chapter Nine includes a new section on violence and bullying.
Updated list of annotated Further Readings at the end of each chapter.
Updated references throughout the book.
Hallmark Features
Each chapter opens with an outline of headings and subheadings to serve as an organizer for chapter content.
Expected reader outcomes are identified by a list of objectives at the beginning of each chapter.
Voices from the Classroom provides an inside look into how real teachers deal with the topics presented in the chapter.
An ongoing activity, Developing Your Management Plan affords students the opportunity to write about their own management plan concerning chapter topics.
Students are engaged in the content of every chapter through What Would you Decide scenarios and questions.
Each chapter ends with a list of main concepts to summarize significant issues covered.
Activities are suggested at the end of every chapter to enable the reader to study and apply the issues addressed.
Available Versions