Textbook
Microscale Organic Laboratory: with Multistep and Multiscale Syntheses, 5th Edition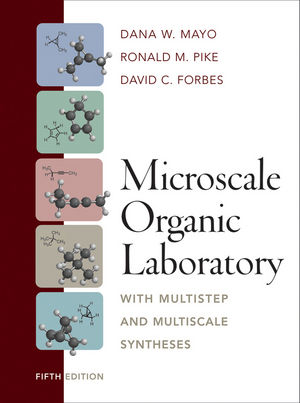 This is a laboratory text for the mainstream organic chemistry course taught at both two and four year schools, featuring both microscale experiments and options for scaling up appropriate experiments for use in the macroscale lab. It provides complete coverage of organic laboratory experiments and techniques with a strong emphasis on modern laboratory instrumentation, a sharp focus on safety in the lab, excellent pre- and post-lab exercises, and multi-step experiments. Notable enhancements to this new edition include inquiry-driven experimentation, validation of the purification process, and the implementation of greener processes (including microwave use) to perform traditional experimentation.
See More
Chapter 1 Introduction.
Chapter 2 Safety.
Chapter 3 Introduction to Microscale Organic Laboratory Equipment and Techniques.
Chapter 4 Determination of Physical Properties.
Chapter 5 Microscale Laboratory Techniques.
Chapter 6 Microscale Organic Laboratory Experiments.
Chapter 7 Sequential Syntheses: The Transition from Macro to Micro.
Chapter 8 Spectroscopic Identification of Organic Compounds.
Chapter 9 Qualitative Identification of Organic Compounds.
Glossary.
Index.
See More
A key change to the 5th edition is the modification of the procedural sections to allow for inquiry-based experimentation.  Reaction times have been replaced with guidelines, and options on how to best monitor reactions are left to the discretion of the student or instructor.  Many ideas and new approaches can stem from this change – for example, instructional sections can be split into small groups and each group can approach the monitoring of a reaction differently.  Students can then compare notes at the end of the lab period and discuss the various approaches and end results.  It is the goal of the authors that this change will allow the lab to become a more interactive experience between groups of students, should that be the wish of the instructor.  The opportunity to monitor a reaction rather than assume reaction completion by simply following a time-based instruction empowers the student and adds an element of excitement to the lab experience.
The use of microwave heating as a tool in synthetic organic chemistry is fast-growing and is becoming an enabling technology.  Optional instructions have been added to experiments to allow for the integration of microwave heating as a tool for performing reactions, allowing for shorter reaction times, higher product yields, and enhanced selectivity.  Since reaction times are so much shorter than when conventional heating methods are used, students can be introduced to chemistry that would have otherwise been inaccessible because the experiment may have taken too long to be performed within one lab period.  Optional microwave heating instructions have been added to experiments 7, 8, 15, 22, and 30.
A rich collection of end of chapter exercises and the addition of pre and post lab questions provides students with the valuable opportunity to test and practice their own understanding of each laboratory experiment.
Discussion sections that appear at the beginning of each Experiment  have been added, revised, and expanded upon.  These discussion sections provide chemical context/background for each experiment, and provide more information regarding the chemical principles involved in each experimental procedure.
Chapter 10, "Advanced Microscale Organic Laboratory Experiments", (formerly chapter 7) has been moved to the book companion web site: http://www.wiley.com/college/mayo..
See More
Experiments have been thoroughly tested on several generations of students and are cost effective.  Working within a microscale framework, the cost of equipment and reagents is kept low, and experiments do not require the use of or disposal of toxic chemicals.
Background information given with the reactions brings a rich historical perspective to the student, which adds to the excitement of discovery and provides added motivation to master the fundamental techniques employed in the laboratory.
Experiments offer strong instrumental focus – the student is responsible for generating most of his or her own data, therefore students learn to become self-reliant.
Provides instruction on microscale techniques for the professional research lab as well as the college classroom setting.  These techniques are especially compatible in settings in which homegrown lab experiments are utilized.
This lab manual allows the flexibility of creating one's own scaling sequence without being tied to prescribed set of quantities.
See More
Instructors Resources
ENHANCE YOUR COURSE

Instant access to textbooks as eTextbooks.
Learn more

Digital evaluation copy available for this title
Request Copy

Contact your Wiley Representative
Find Your Rep

See More
See Less
Purchase Options
Wiley E-Text&nbsp&nbsp&nbsp

Microscale Organic Laboratory: With Multistep and Multiscale Syntheses, 5th Edition
ISBN : 978-0-470-57397-6
July 2010, ©2011
Hardcover&nbsp&nbsp&nbsp
Microscale Organic Laboratory: With Multistep and Multiscale Syntheses, 5th Edition
ISBN : 978-0-471-21502-8
704 pages
January 2010, ©2011
$212.95&nbsp&nbsp&nbsp
BUY

Information about Wiley E-Texts:
Wiley E-Texts are powered by VitalSource technologies e-book software.
With Wiley E-Texts you can access your e-book how and where you want to study: Online, Download and Mobile.
Wiley e-texts are non-returnable and non-refundable.
WileyPLUS registration codes are NOT included with the Wiley E-Text. For informationon WileyPLUS, click here .
To learn more about Wiley e-texts, please refer to our FAQ.

Information about e-books:
E-books are offered as e-Pubs or PDFs. To download and read them, users must install Adobe Digital Editions (ADE) on their PC.
E-books have DRM protection on them, which means only the person who purchases and downloads the e-book can access it.
E-books are non-returnable and non-refundable.
To learn more about our e-books, please refer to our FAQ.
This title is also available on :