Textbook
Manager's Guide to Making Decisions about Information Systems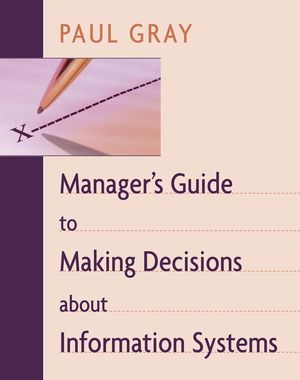 The sign of a smart decision about information systems isn't based on technical details alone; it's based on how well that decision contributes to the overall success of the business.  To obtain pay off, from investing in information systems, requires a truly managerial perspective about   IS. In Paul Gray's
Manager's Guide to Making Decisions About IS
you'll learn how IS can help the organization as a whole, and how to make key decisions on whether to undertake, upgrade, or outsource   large software systems. You'll also learn about how IS is used for all aspects of a business—from recording individual transactions to gaining competitive intelligence to business strategy.
The Manager's Guide to Making Decisions About IS first focuses on big picture issues, such as hardware, software, and the Internet; strategic uses of IS; aligning IS with the business; types of applications; and inter-organizational systems.  Gray then provides you with essential knowledge that will help you make informed decisions on big-ticket applications, including electronic commerce, enterprise requirements planning (ERP), customer relationship management (CRM), data warehousing, knowledge management, and business intelligence.  Finally, the Manager's Guide to Making Decisions About IS examines the IS issues that managers are currently facing in today's business, including outsourcing, systems integration, supply chain, people issues, mergers and acquisitions, infrastructure, and privacy, security, and ethics.
See More
Chapter 1. What is an Information System.
Chapter 2. The Big Picture: IT and Business.
Chapter 3. Electronic Commerce.
Chapter 4. Enterprise Requirements Planning.
Chapter 5. Data Warehousing.
Chapter 6. Customer Relationship Management.
Chapter 7. Knowledge Management.
Chapter 8. Business Intelligence.
Chapter 9. Outsourcing and Its Variations.
Chapter 10. Working Together: Systems Integration, Inter-Organizational Systems, Alliances, and Globalization.
Chapter 11. Is in Managing Business Operations: The Supply Chain.
Chapter 12. The Chief Information Officer, People Issues, Project Management, Change Management,
Chapter 13. Information Systems in Mergers and Acquistions.
Chapter 14. Work Systems and Infrastructure.
Chapter 15. Privacy, Security, Copyright, Patents, and Other Legal and Ethical Issues.
Appendix: The Computer Industry.
Glossary.
Index.
See More
Paul Gray is Professor Emeritus of Information Science at Claremont Graduate University and is a distinguished scholar in the discipline, with research focusing on decision support systems and data warehousing.  He received his PhD from Stanford University.  Gray worked for 18 years in research and development organizations, including 9 years at Stanford Research Institute.  He is a past president of The Institute of Management Sciences, a predecessor of INFORMS.  Gray is currently editor of the Communications of AIS as well as on the editorial boards of seven other professional journals.  He has written 13 books and 85 scientific articles.
See More
Written with executive MBA's and working MBA's in mind

Uses an easy to read style for the business student without technical know how. Technical terms are explained as they are encountered and an extensive Glossary is provided at the end of the book.

Focuses on what managers can do to make a firm's investment in IS pay off and not on technical details

Author is an authoritative, well-known figure in the IS field that has taught this course at many levels.  Recognized with the LEO award of the Association for Information Systems for lifetime achievement and founding editor of Communications of AIS.
See More
Instructors Resources
Contact your Wiley Representative
Find Your Rep

See More
See Less
Purchase Options
Hardcover
Manager's Guide to Making Decisions about Information Systems
ISBN : 978-0-471-26359-3
352 pages
September 2005, ©2006
Hardcover
Manager's Guide to Making Decisions about Information Systems with Introduction to Decision Technology Set
ISBN : 978-0-470-05431-4
752 pages
March 2006, ©2006

Information about Wiley E-Texts:
Wiley E-Texts are powered by VitalSource and accessed via the VitalSource Bookshelf reader, available online and via a downloadable app.
Wiley E-Texts are accessible online and offline, and can be read on a variety of devices, including smartphones and tablets.
Wiley E-Texts are non-returnable and non-refundable.
Wiley E-Texts are protected by DRM. For specific DRM policies, please refer to our FAQ.
WileyPLUS registration codes are NOT included with any Wiley E-Text. For informationon WileyPLUS, click here .
To learn more about Wiley E-Texts, please refer to our FAQ.

Information about e-books:
E-books are offered as e-Pubs or PDFs. To download and read them, users must install Adobe Digital Editions (ADE) on their PC.
E-books have DRM protection on them, which means only the person who purchases and downloads the e-book can access it.
E-books are non-returnable and non-refundable.
To learn more about our e-books, please refer to our FAQ.