Textbook
Advanced Accounting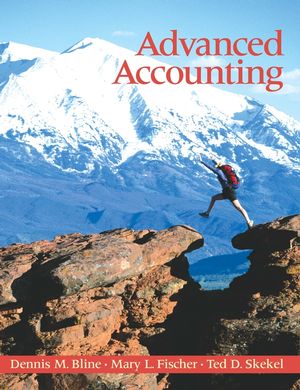 This text is intended for a senior level or graduate, one semeter course in advanced accounting. With coverage of the most commonly addressed advanced accounting topics, this text offers a current, concise treatment of advanced accounting.  The consolidations chapters follow the Entity Concept – Full Goodwill approach, consistent with the latest FASB publications.  The text emphasizes FARS accounting research and includes an instructional supplement on how to conduct
FARS
and other database searches. Taking a macro approach and then relating it back to an application, the text emphasizes the "why" behind accounting, in addition to the procedural methods. The authors currently teach the course at their respective institutions and have been using this material in the classroom for several years.
See More
Chapter 1. Introduction to Business Combinations.
Chapter 2. Consolidation at the Date of Acquisition.
Chapter 3. Consolidation Subsequent to the Date of Acquisition.
Chapter 4. Intercompany Transactions.
Chapter 5. Foreign Currency Transactions.
Chapter 6. Foreign Currency Financial Statements.
Chapter 7. Partnership Formation, Operation, and Change in Ownership.
Chapter 8. Partnership Liquidation.
Chapter 9. Nongovernment not-for-Profit Organizations.
Chapter 10. State and Local Governments: Overview, Comprehensive Annual Financial Reports, and Government-Wide Statements.
Chapter 11. State and Local Governments: Accounting and Financial Reporting for Fund Groups.
Chapter 12. Government Colleges and Universities: Accounting and Reporting.
Supplement A. A Quick Guide to Accessing Databases for the Professional Accountant.
Supplement B. Special-Purpose Entities.
Glossary.
Index.
See More
Dennis M. Bline
is professor of accounting at Bryant College where he teaches graduate and Undergraduate financial and managerial accounting. Dennis previously taught at The University of Texas at San Antonio. He received his baccalaureate degree in business administration at Indiana University Southeast and his MBA and Ph.D. from the University of Arkansas.
Professor Bline's research interests include behavioral, education, ethics, and financial accounting. He has published in Behavioral Research in Accounting, The Accounting Educators' Journal, Issues in Accounting Education, Research on Accounting Ethics, Advances in Managerial Accounting,  other accounting journals. He serves as the Editor of Global Perspectives on Accounting Education and the Associate Editor of Issues in Accounting Education. He has also served on the editorial boards of Advances in Accounting Behavioral research, Behavioral Research in Accounting, and Accounting enquiries.  Dennis is an active leader in various sections of the American Accounting Association.
Mary Fischer is the Pirtle Professor of Free Enterprise and Professor of Accounting at The University of Texas at Tyler where she teaches the advanced and government accounting courses. She Previously taught at Fairfield University in Connecticut. She received her B.S., M.A., and Ph.D. from the University of Connecticut. She also holds the CGMA designation.
Mary is a widely published author specializing in not-for-profit and financial accounting. The Southwestern American Accounting Association named her as the 2003 outstanding Accounting Educator. In 2002, she was selected as the Texas Society of CPA Outstanding Accounting Educator. She has published numerous articles in the Journal of Accounting and Financial management, Critical Perspective on Accounting,  and other  accounting journals. She is on the editorials boards of Issues in Accounting Education, Journal of Public Budgeting, Accounting and Financial Management, and Research in Healthcare Financial Management.
Ted D. Skekel is associate professor of accounting in the College of Business Administration at The University of Texas at San Antonio. He holds a B.S. with a major in accounting from Florida State University and a Ph.D. with emphasis in accounting and finance from the University of Oregon.
He has also served on the Faculties of the University of Houston, San  Diego State university, and the University of North Texas. He Primarily teaches in the financial reporting area. He has taught at all levels, including principles, intermediate, advanced, masters level theory and case study classes, and doctoral seminars. His current focus is in the intermediate and advanced accounting areas. His research includes a broad range of academic and professional publications including articles in The Accounting Review, Issues in Accounting Education, Journal of Accountancy, and Te CPA Journal. Ted is actively involved in Beta Alpha Psi, the national honors  fraternity for financial information professionals. He is currently a faculty advisor at UT-San Antonio and previously served as a faculty advisor at the University of North Texas. Beyond the Beta Alpha Psi local level, he has been the regional director for the Southwest Region, and served for several years on the Beta Alpha Psi's 1992 Arthur Andersen Outstanding Faculty Advisor Award. In addition, he has received several teaching and service awards at The University of Texas at San Antonio.
See More
  This text has been written to reflect the new FASB standards per the exposure draft that was passed in 2003. ·      Partial Equity method employed throughout consolidation chapters (cost versus partial method compared in an appendix) ·      Four chapters covering important topic of business consolidations, one chapter on Foreign Currency Transactions, one chapter on Foreign Currency Financial Statements, two chapters on Partnerships, four on Government and Not-for-profit accounting plus supplements on Special Purpose Entities and Accounting Research ·      Intercompany Transactions efficiently covered in one chapter ·      Empasis on Accounting Research (end of chapter material icon and separate appendix at back of book) ·         Integrated use of databases, like FARS, throughout the text – written with a practical approach. ·         Appropriate chapters include questions on FARS and Internet research. ·         Mini and Comprehensive Cases are included at the end of selected chapter. ·      Instructors' Manual, PowerPoints, Solutions Manual and Test Bank all written by the authors; all solutions diligently worked by authors and proven to be accurate. ·         Effective pedagogy with glossary in the margins and a professional writing style that will benefit students as they move into the accounting profession. ·      Continuous consolidations case Pratt and Sterling in chapters 1 - 4   
See More
Purchase Options
Paperback&nbsp&nbsp&nbsp
Advanced Accounting
ISBN : 978-0-471-32775-2
660 pages
January 2004, ©2004
$235.95&nbsp&nbsp&nbsp
BUY

Information about Wiley E-Texts:
Wiley E-Texts are powered by VitalSource technologies e-book software.
With Wiley E-Texts you can access your e-book how and where you want to study: Online, Download and Mobile.
Wiley e-texts are non-returnable and non-refundable.
WileyPLUS registration codes are NOT included with the Wiley E-Text. For informationon WileyPLUS, click here .
To learn more about Wiley e-texts, please refer to our FAQ.

Information about e-books:
E-books are offered as e-Pubs or PDFs. To download and read them, users must install Adobe Digital Editions (ADE) on their PC.
E-books have DRM protection on them, which means only the person who purchases and downloads the e-book can access it.
E-books are non-returnable and non-refundable.
To learn more about our e-books, please refer to our FAQ.