Textbook
Mathematics: An Applied Approach, 8th Edition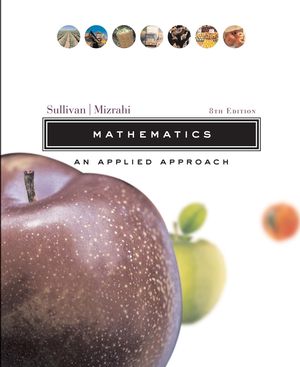 Looking for a textbook to help you motivate your students? Sullivan/Mizrahi's Mathematics: An Applied Approach 8/e continues its rich tradition of engaging students and demonstrating how mathematics applies to various fields of study. The text is packed with real data and real-life applications to business, economics, social and life sciences. The new Eighth Edition also features a new full color design and improved goal-oriented pedagogy to further help student understanding.
See More
Chapter 1. Linear Equations.
Chapter 2. Systems of Linear Equations; Matrices.
Chapter 3. Linear Programming: Geometric Approach.
Chapter 4. Linear Programming: Simplex Method.
Chapter 5. Finance.
Chapter 6. Sets; Counting Techniques.
Chapter 7. Probability.
Chapter 8. Additional Probability Topics.
Chapter 9. Statistics.
Chapter 10. Functions and Their Graphs.
Chapter 11. Classes of Functions.
Chapter 12.The Limit of a Function.
Chapter 13. The Derivative of a Function.
Chapter 14. Applications: Graphing Functions; Optimization.
Chapter 15. The Integral of a Function and Applications.
Chapter 16. Other Applications and Extensions of the Integral.
Chapter 17. Calculus of Functions of Two or More Variables.
Appendix A: Review.
Appendix B: Using LINDO to Solve Linear Programming Problems.
Appendix C: Graphing Utilities.
Answers to Odd-Numbered Problems.
Photo Credits.
Index.
See More
Michael Sullivan
is Professor Emeritus in the Department of Mathematics and Computer Science at Chicago State Universty where he taught for 35 years before retiring two years ago. Dr. Sullivan is a member of American Mathematical Society, the Mathematical Association of America, and the Mathematical Association of Two year Colleges. He is president of the Text and Academic Authors Association and represents that organization on the Authors Coalition of America. Mike has been writing textbooks for over 30 years.
Abe Mizrahi enjoyed an active career in mathematics before his untimely passing in 2001. He was a Professor of Mathematics at Indiana University Northwest and a member of the Mathematics Association of America. He wrote articles that explored topics in math education and the applications of mathematics to economics.
See More
New Features:
NEW! Full-color design improves clarity and assists student understanding with consistant pedagogical use of color.
More applications using real data enhances student motivation. Many of these applications include source lines, to show how mathematics is used in the real world.
NEW! Conceptual problems ask students to put the concepts and results into their own words. These problems are marked with an icon to make them easier to assign.
Preparing for this Section features guide the student on which concepts to review before starting each new section.
Each section begins with a set of objectives, which are highlighted and maintained throughout the section. At the end of each chapter, these objectives are reviewed, with specific Review Exercises to test the student's command of the material.
Each chapter ends with a Chapter Project that can be used in class, assigned for homework, or employed for group work.
NEW! Use of Excel Spreadsheets are now integrated throughout.
See More
Hallmark Features:
Optional use of technology:

More opportunities for the use of graphing calculator, including screen shots and instructions.

Icons clearly identify each opportunity for the use of spreadsheets or graphing calculator.

Now Work problems appear throughout the text, giving the student the chance to immediately reinforce the concept or skill they have just learned.

Chapter Reviews contain a variety of features to help synthesize the ideas of the chapter:

Objectives Check

Important Terms and Concepts

True-False Items

Fill in the Blanks

Review Exercises

Mathematical Questions from Professional Exams (CPA)
See More
Instructors Resources
Request a print evaluation copy
Contact us

Contact your Wiley Representative
Find Your Rep

See More
See Less
Students Resources
See More
See Less
Purchase Options
Hardcover
Mathematics: An Applied Approach, 8th Edition
ISBN : 978-0-471-32784-4
1260 pages
June 2004, ©2005

Information about Wiley E-Texts:
Wiley E-Texts are powered by VitalSource and accessed via the VitalSource Bookshelf reader, available online and via a downloadable app.
Wiley E-Texts are accessible online and offline, and can be read on a variety of devices, including smartphones and tablets.
Wiley E-Texts are non-returnable and non-refundable.
Wiley E-Texts are protected by DRM. For specific DRM policies, please refer to our FAQ.
WileyPLUS registration codes are NOT included with any Wiley E-Text. For informationon WileyPLUS, click here .
To learn more about Wiley E-Texts, please refer to our FAQ.

Information about e-books:
E-books are offered as e-Pubs or PDFs. To download and read them, users must install Adobe Digital Editions (ADE) on their PC.
E-books have DRM protection on them, which means only the person who purchases and downloads the e-book can access it.
E-books are non-returnable and non-refundable.
To learn more about our e-books, please refer to our FAQ.
Learn more about