Textbook
Commercial Banking: The Management of Risk, 3rd Edition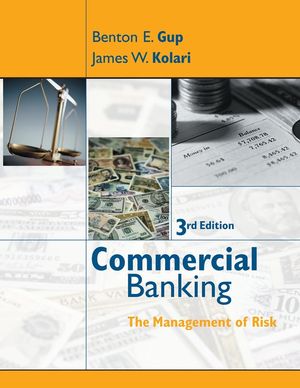 From the growth of electronic banking, to the rapid rise in overseas operations, to deregulation and recent laws, Gup and Kolari's Commercial Banking: The Management of Risk, Third Edition (formerly Fraser, Gup, and Kolari) will help your students understand these new realities and keep up with what's happening in the banking industry. With a strong emphasis on managing risk and maximizing profit, this up-to-date text provides a comprehensive, practical introduction to bank management and current banking practices used to control different kinds of risk. With its case studies, its links to the Internet, and its comprehensive coverage--including brokerage services, insurance, and trust activities, as well as deposits, loans, and investments-- Commercial Banking provides the most thorough, up-to-date coverage for the introductory course in banking.
See More
Preface.
Acknowledgements.
PART I: INTRODUCTION.
Chapter 1. Functions and Forms of Banking.
Chapter 2. The Bank Regulatory Environment.
Chapter 3. Evaluating Bank Performance.
PART II: ASSET/LIABILITY MANAGEMENT.
Chapter 4. Bank Valuation.
Chapter 5. An Overview of Asset/Liability Management (ALM).
Chapter 6. Techniques of Asset/Liability Management: Futures, Options, and Swaps.
PART III: INVESTMENT, LENDING, AND LIQUIDITY MANAGEMENT.
Chapter 7. Investment Management.
Chapter 8. Credit Evaluation Process.
Chapter 9. Commercial and Industrial Lending.
Chapter 10. Real Estate and Consumer Lending.
Chapter 11. Liquidity Management.
PART IV: CAPITAL, LIABILITIES, AND OFF-BAL-BALANCE SHEET MANAGEMENT.
Chapter 12. Capital Management.
Chapter 13. Liabilities Management.
Chapter 14. Off-Balance-Sheet Activities.
PART V: DOMESTIC AND INTERNATIONAL FINANCIAL SERVICES.
Chapter 15. Securities, Investment, and Insurance Services.
Chapter 16. Other Financial Services.
Chapter 17. Electronic Banking.
Chapter 18. Global Financial Services.
Glossary.
Index.
See More
New chapter on Credit Evaluation (Chapter 8).

New chapter on Securities, Investment, and Insurance Services (Chapter 15).

Expanded coverage of futures and options and their use in managing bank risks.

Up-to-date bank regulatory and legal changes, including forthcoming Basel II and the Financial Services Modernization Act of 1999.

Updated text and problems throughout.
See More
Risk Management Theme: Risk management concepts are integrated throughout the text to teach students how to measure and control risks in banking.
Problem Scenario Approach: Problems and examples are used whenever possible to illustrate bank management concepts. Students gain hands-on experience through these realistic problems and situations.
Cases: Short end-of-chapter cases allow for more thorough discussion of various aspects of risk management.
Managerial Issues Boxes: This feature appears in each chapter to highlight the text's applied, managerial perspective.
Managing Risk Boxes:  This feature highlights the risk management theme and focuses on techniques, companies, and situations that illustrate important concepts.
Keyed to important websites, such as The Bank for International Settlements (BIS), throughout the text.
Students learn how to use the Internet to get their own credit scores.
See More
Instructors Resources
Request a print evaluation copy
Contact us

Contact your Wiley Representative
Find Your Rep

See More
See Less
Purchase Options
Hardcover
Commercial Banking: The Management of Risk, 3rd Edition
ISBN : 978-0-471-46949-0
580 pages
August 2004, ©2005

Information about Wiley E-Texts:
Wiley E-Texts are powered by VitalSource and accessed via the VitalSource Bookshelf reader, available online and via a downloadable app.
Wiley E-Texts are accessible online and offline, and can be read on a variety of devices, including smartphones and tablets.
Wiley E-Texts are non-returnable and non-refundable.
Wiley E-Texts are protected by DRM. For specific DRM policies, please refer to our FAQ.
WileyPLUS registration codes are NOT included with any Wiley E-Text. For informationon WileyPLUS, click here .
To learn more about Wiley E-Texts, please refer to our FAQ.

Information about e-books:
E-books are offered as e-Pubs or PDFs. To download and read them, users must install Adobe Digital Editions (ADE) on their PC.
E-books have DRM protection on them, which means only the person who purchases and downloads the e-book can access it.
E-books are non-returnable and non-refundable.
To learn more about our e-books, please refer to our FAQ.