Textbook
Personal Finance: Skills for Life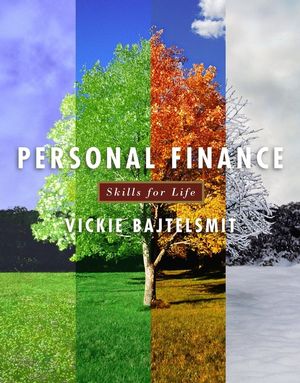 With a strong emphasis on lifelong financial planning, Vickie Bajtelsmit's new text equips students with the skills they need to plan their future and make smart financial decisions throughout their lives.
Personal Finance: Planning and Implementing Your Financial Goals provides students with a wealth of analytical tools, active learning features, and decision-making exercises--all designed to help students build a solid financial foundation. Throughout the text, real examples, personal assessments, and an integrated personal financial plan (which students create and add to throughout the semester) make the material relevant to students.
See More
Preface.
Learning Styles Quiz.
Learning Styles Chart.
PART I: THE FOUNDATIONS OF PERSONAL FINANCIAL PLANNING.
Chapter 1. The Financial Planning Process.
Chapter 2. Financial Planning Tools: Personal Financial Statements and the Time Value of Money. 
Chapter 3. Goal Setting, Career Planning, and Budgeting
Chapter 4. Income Tax Planning.
PART II: SECURING BASIC HOUSEHOLD NEEDS.
Chapter 5. Cash Management and Financial Institutions.
Chapter 6. Purchasing Decisions and Credit Cards.
Chapter 7. Consumer Loans and Credit Rights.
Chapter 8. Making Automobile and Housing Decisions.
Chapter 9. Buying Property and Liability Insurance.
Chapter 10. Evaluating Jobs and Employee Benefits: Health, Disability, and Retirement Plans.
PART III: BUILDING HOUSEHOLD WEALTH.
Chapter 11. Fundamental Concepts in Investing.
Chapter 12. Investing in Common Stock.
Chapter 13. Investing in Bonds and Preferred Stock.
Chapter 14. Investing in Mutual Funds, Real Estate, and Other Alternatives.
Chapter 15. Saving for Distant Goals: Retirement and Education.
PART IV: PROTECTING HOUSEHOLD WEALTH.
Chapter 16. Life Insurance and Long-Term Care.
Chapter 17. Estate Planning.
Appendixes: Time Value of Money Calculations.
Glossary.
Index.
Photo Credits.
See More
Learning By Doing. These unique, student-relevant exercises appear throughout each chapter and are tied to a topic. Each question asks students apply what they have learned by responding to a real-world scenario.
Go Figure! These boxes provide students with worked-out math problems that correspond to key mathematical concepts. The examples help students by giving them a model for their homework problems.
The Financial Planning Process. Every chapter begins with a discussion of how the topic fits within the integrated financial planning process that helps them to see the big picture.
Decision-Making Focus. Throughout the book, students are encouraged to apply chapter content to various cases and scenarios. These applications help make the material relevant to students and provide opportunities to practice making personal financial decisions.
Money Psychology. Boxes in the text highlight the latest research results in behavioral psychology as they apply to personal finance.
Real-World Focus. There are real-world examples throughout including:

Ask the Expert sections, which summarize an interview with an expert on topic related to the chapter.
News You Can Use sections, which bring in research or current events that apply to topics within the chapter.

Lifelong Financial Skills. The text includes features that help students understand more about their own finances and how to plan for the future. These features include:

Learning About Yourself, which gives students the opportunity to complete personal assessments to help them better understand their money style and financial decision-making.
Developing Your Skills, which asks students to complete components of a complete financial plan over the course of the semester.
See More
Instructors Resources
ENHANCE YOUR COURSE
Digital evaluation copy available for this title
Request Copy

Contact your Wiley Representative
Find Your Rep

See More
See Less
Students Resources
See More
See Less
Purchase Options
Personal Finance: Skills for Life
ISBN : 978-0-470-53031-3
January 2005, ©2006
Loose-leaf&nbsp&nbsp&nbsp
Personal Finance, Binder Ready Version
ISBN : 978-0-471-75227-1
656 pages
August 2006, ©2005
Paperback&nbsp&nbsp&nbsp
Personal Finance 1st Edition with Student Financial Planner Set
ISBN : 978-0-471-72356-1
80 pages
January 2005, ©2006
Hardcover&nbsp&nbsp&nbsp
Personal Finance: Skills for Life
ISBN : 978-0-471-47151-6
656 pages
January 2005, ©2006

Information about Wiley E-Texts:
Wiley E-Texts are powered by VitalSource technologies e-book software.
With Wiley E-Texts you can access your e-book how and where you want to study: Online, Download and Mobile.
Wiley e-texts are non-returnable and non-refundable.
WileyPLUS registration codes are NOT included with the Wiley E-Text. For informationon WileyPLUS, click here .
To learn more about Wiley e-texts, please refer to our FAQ.

Information about e-books:
E-books are offered as e-Pubs or PDFs. To download and read them, users must install Adobe Digital Editions (ADE) on their PC.
E-books have DRM protection on them, which means only the person who purchases and downloads the e-book can access it.
E-books are non-returnable and non-refundable.
To learn more about our e-books, please refer to our FAQ.
This title is also available on :