Textbook
Hotel and Lodging Management: An Introduction, 2nd Edition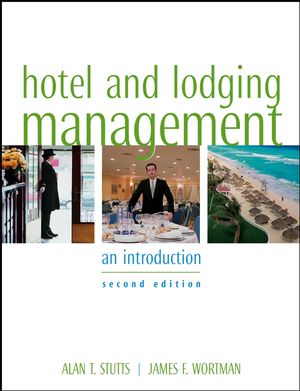 Hotel and Lodging Management, Second Edition prepares readers to succeed as managers in the hotel and lodging industry, while developing a solid foundation for a long and successful career.  This comprehensive resource combines detailed presentations of each department in a hotel or lodging establishment along with a close examination of organizational structure and the interdependent relationship among departments.
See More
Preface xiii
Introduction xv
CHAPTER 1 Growth and Development of the Lodging Industry 1
Travel and Tourism 2
The History of Lodging 4
Lodging Industry Classification 7
CHAPTER 2 Organizational Structure 27
Overview of Organizational Design 28
Job Specialization 28
The Organization of a Lodging Establishment 29
Patterns of Authority 37
Span of Control 39
The Pros and Cons of Functional Organization Design 41
Meetings and Committees 42
The Future Organization of Hotels 45
The Hotel Staffing System 47
Career Paths and Opportunities 49
CHAPTER 3 The Front Office 53
Organization 54
Reservations 56
Registration 63
Guest Services 72
Telecommunications 74
Night Audit 75
Checkout 77
CHAPTER 4 Housekeeping 87
Housekeeping Staff 88
Scheduling 93
Guest Room Cleaning 96
Public Area Cleaning 99
Inventory and Control 99
Employee Safety 105
CHAPTER 5 The Marketing and Sales Department 117
The Sales Staff 118
Characteristics of a Successful Sales Department 119
The Telephone Survey 121
The Sales Call 122
Convention Bookings 123
Marketing Functions 127
Advertising 129
Brochures and Collateral Materials 129
Packages 130
Promotions 130
Public Relations 131
Rate Management and Pricing 132
CHAPTER 6 Human Resource Management 135
What It Is and What It Is About 136
Environment 137
Work and People 145
Motivating and Paying 154
Other Issues 159
CHAPTER 7 Hotel Food and Beverage 163
Introduction to Hotel Food and Beverage 164
The Operational Areas of the Food and Beverage Department 167
The Management of Hotel Food and Beverage 177
CHAPTER 8 Loss Prevention and Security 189
Loss Prevention 190
The Security Department 197
CHAPTER 9 The General Manager 217
Operational Control, Organizational Development, and Business Maintenance 218
Total Quality Management 221
The Importance of Communication 223
The Development of a Performance Culture 226
CHAPTER 10 Yield Management 235
Introduction 236
Fundamentals 239
Ways to Achieve Yield Management 241
CHAPTER 11 Management Contracts and Franchise Agreements 247
Management Contracts 248
Franchise Agreements 255
CHAPTER 12 Time - Share and Vacation Ownership 285
History of the Time-Share Industry 287
Resort Sales and Financing 289
Resort Amenities and Fees 294
Management of a Vacation Resort 295
Rules and Regulations of Vacation Ownership 296
CHAPTER 13 Resorts, Themed Lodging, and Special Lodging Environments 301
Recreation and Leisure Activities 302
Activity-Based Lodging 304
Themed Lodging 305
Unique Facilities 314
Other Types of Nontraditional Lodging 316
Summary 318
Review Questions 318
Activities 319
References 319
Glossary 321
Index 331
See More
Alan T. Stutts is President of Brown College. He has received the Stevenson-Fletcher Academic Excellence Award from the Counsel of Hotel, Restaurant, and Institutional Educators International (CHRIE), and the Lamp of Knowledge Award from the Educational Institute of the American Hotel and Lodging Association. He is the author of four books and numerous articles, and is the editor of several publications.
James F. Wortman is a lecturer at the Conrad N. Hilton College of Hotel and Restaurant Management at the University of Houston, where he teaches hotel management and is Director of the Office of Gaming Education and Research.
See More
New chapter organization – including separate human resources, marketing and sales, and food and beverage chapters .
New case studies have been added to reflect recent trends and issues in the management of hotels.
New chapter on yield management.
New co-author, James Wortman of University of Houston.
See More
Covers the entire operation of the lodging facility, examining the interdependent relationship between departments.
Key focus of the text is on rooms management, plus coverage of front office operations, allowing the text to be used in two separate courses.
Unique chapters dedicated to resorts and time shares.
Biographical Profile in each chapter of a prominent pioneer in the Hospitality Industry.
See More
Instructors Resources
Request a print evaluation copy
Contact us

Contact your Wiley Representative
Find Your Rep

See More
See Less
Purchase Options
Hardcover
Hotel and Lodging Management: An Introduction, 2nd Edition
ISBN : 978-0-471-47447-0
368 pages
March 2005, ©2006

Information about Wiley E-Texts:
Wiley E-Texts are powered by VitalSource and accessed via the VitalSource Bookshelf reader, available online and via a downloadable app.
Wiley E-Texts are accessible online and offline, and can be read on a variety of devices, including smartphones and tablets.
Wiley E-Texts are non-returnable and non-refundable.
Wiley E-Texts are protected by DRM. For specific DRM policies, please refer to our FAQ.
WileyPLUS registration codes are NOT included with any Wiley E-Text. For informationon WileyPLUS, click here .
To learn more about Wiley E-Texts, please refer to our FAQ.

Information about e-books:
E-books are offered as e-Pubs or PDFs. To download and read them, users must install Adobe Digital Editions (ADE) on their PC.
E-books have DRM protection on them, which means only the person who purchases and downloads the e-book can access it.
E-books are non-returnable and non-refundable.
To learn more about our e-books, please refer to our FAQ.